Cat helps football club meet stadium goal
KV Mechelen football club in Belgium has been in the country's first division since 2010 and will soon benefit from a new stadium. Construction started in 2015 on the same site as the old one with Van Loo Projects in charge of demolition.
"Because we could only work between football seasons, it took three years", said Johan van Loo, who co-owns the company with his father, Jef.
"To meet our deadline, we faced a very tight schedule. It was perhaps our biggest challenge. In fact, during the second phase of the project, we only had two weeks to complete the demolition to keep construction on time."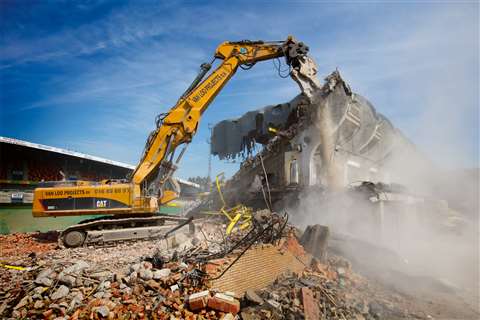 For this project, Van Loo Projects used a Cat 385 excavator equipped with the latest multi-processor. The new MP300 Cat multi-processors can handle any demolition job by using the basic housing together with a choice of six jaw sets. The operator can change the jaw sets in less than ten minutes without any specialised tools. Even wear parts can be changed in the field without sending the jaw to the workshop for surface welding. This new generation of multi-processors uses patent pending booster and speed valve technology and a patent pending jaw locking system, which translates to lower costs for customers and lower emissions for the environment.
Also contributing to faster cycle times is a patented integral hydraulic SpeedBooster. Closing of the jaw starts in speed mode until the jaws meet resistance, after which the booster mode will be activated. Thanks to this booster technique, the cylinder diameter is smaller which decreases the jaw open time. As a result, the jaw open and close times are reduced by almost half.
For Jef van Loo this kind of innovation and attention to detail has had an impact on efficiencies in the AFAS Stadion project. "Our Cat multi-processor plays a big role in helping us get our work done. It takes a lot of time to demolish this type of concrete construction and to crush the concrete. The multi-processor is about 30% more efficient than other tools, saving us two to three days."
This has been one of the most rewarding projects the company has even undertaken. "Replacing the stadium has a large emotional impact on the supporters of KV Mechelen. It gives us a sense of great pride to be part of the tradition and the rebirth of such a special place."
Two new stands have been built between seasons and construction of the new main stand is now under way.