Caterpillar sees record Q1 sales and profits
By Chris Sleight25 April 2012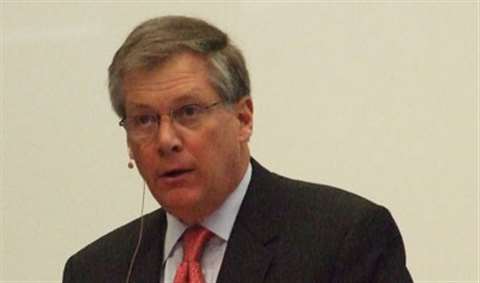 Caterpillar's revenues for the first quarter of the year were up +23% on the same period last year to US$ 15.98 billion. The company also achieved a record net profit for the first quarter, which at US$ 1.59 billion, was +29% higher than the first three months of 2011.
The company said just over half of the US$ 3 billion quarter-on-quarter increase came from higher sales volumes of existing products, while acquisitions - mostly Bucyrus - accounted for US$ 1.14 billion of the gain. Caterpillar said like-for-like sales increased in all segments and geographic regions apart from Latin America.
The biggest gain in percentage terms was in Asia Pacific, where Caterpillar's first quarter sales were up +32% to US$ 4.02 billion, driven by more than doubling of its equipment sales to resources industries such as mining. Construction equipment sales meanwhile were flat.
North America remained the company's biggest territory, with sales rising +24% to US$ 6.10 billion. Again, there was strong growth for sales of equipment to the resources sector, but at +36% the region also recorded the most robust rise in demand of any region for construction equipment.
Global growth in construction equipment sales stood at +13% for the quarter, while sales to resources industries grew +73% and sales of power systems (including diesel engines) grew +12%.
Caterpillar chairman & CEO Doug Oberhelman said, "During the quarter I visited Caterpillar facilities, customers, suppliers and dealers around the world, and saw firsthand the progress we are making on safety, product quality, improved delivery times, factory efficiencies and customer service. These improvements have been impressive considering they've occurred while we have so much going on - we are building new facilities, expanding existing facilities, integrating acquisitions and continuing the introduction of new products."
Outlook
Following the strong quarter, Caterpillar is keeping its revenues forecast for 2012 in the previously stated range of US$ 68 billion to US$ 72 billion. However, it says it now expects profit per share to be about US$ 9.50, compared to the previous forecast of US$ 9.25.
"We remain on track for another record-breaking year in 2012 at a time when US construction activity remains depressed and economies in Europe, China and Brazil have slowed. While out outlook reflects a record year, we are highly focussed on preparing for additional growth over the next few years. Although it's tough to predict the exact timing, we expect positive economic growth moving forward," said Mr Oberhelman.