Caterpillar showcases new 'Built for China' machines
By Helen Wright15 October 2013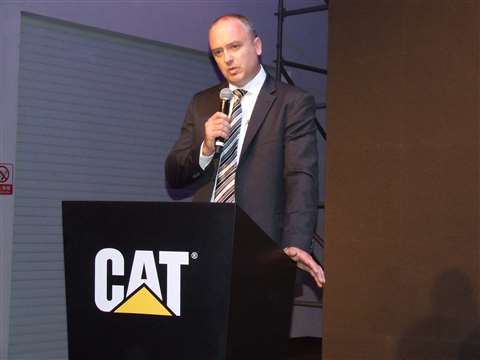 Construction equipment manufacturer Caterpillar has used the BICES exhibition in Beijing, China, as the launch pad for new tracked and wheeled excavators, as well as a wheeled loader specifically designed for the Chinese market.
The new 'Built for China' models included the 3.1 m3 class 950 GC wheeled loader, two new wheeled excavators – the 15 tonne class M315D2 and 17 tonne class M317D2 – as well as the 36 tonne class tracked 336D2 excavator and 22 tonne class 320D tracked excavator.
Key trends in the new launches include a robust and heavy-duty design and a focus on advanced hydraulics and fuel efficiency.
The 320D, for instance, features a boom and stick regeneration system that is said to save energy during boom-down and stick-in operations, reducing cycle times and adding to overall fuel efficiency.
Meanwhile, the 336D2's US Tier 2/EU Stage II-compliant Caterpillar C9 Acert engine boasts a new three-stage fuel filtration system designed to remove harmful contaminants from potentially low-quality fuel.
The aim is to improve the machine's uptime and the service life of fuel system components.
The 950 GC wheeled loader features a 168 kW C7.1 engine that meets US Tier 3/EU Stage IIIA emissions standards. It has been fitted with a new fuel-injection system specifically designed for the quality of fuel available in emerging markets.
Marketing manager for Caterpillar Global Construction & Infrastructure Asia Pacific, Phillip Pollock, said, "We are now seeing our customers in China focus on the total lifecycle of a machine. We are offering reliable machines with a focus on improved efficiency."
Over 120,000 visitors are expected to attend BICES, which takes place from 15 to 18 October at the Jiu Hua International Exhibition Center.