Cautious optimism in Europe
By Joe Malone30 October 2018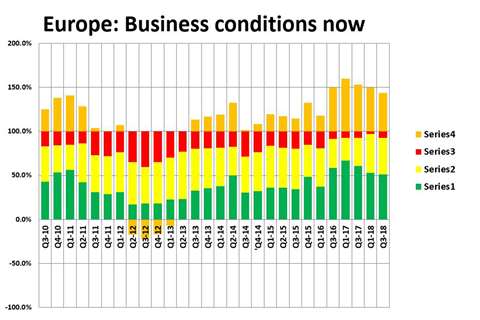 Conditions in the European rental market remain healthy, with expectations of growth apparent, despite a degree of cautiousness, according to the third-quarter ERA/IRN RentalTracker.
With almost 140 participants to the latest survey, a balance of 43.8% of respondents said they felt market conditions were improving, compared to 50% from the first quarter of this year, and 53% from the same quarter a year ago. This outcome is the lowest balance since the first quarter of 2016, when the figure was just 18.1%.
The balance figure recorded for each question in the ERA/IRN RentalTracker – which is jointly organised by IRN and the ERA – is the percentage of positive responses minus the percentage of negative responses.
Splitting the results up by region, Spain proved to be the strongest market for current conditions, with 90% saying conditions had improved. The result had previously been 100% in the last two surveys, though the size of the market and marginal gains needs to be considered with Spain.
Following Spain came Italy, with 60% of respondents saying that market conditions were improving, while 48% of French respondents said the same.
Going hand-in-hand with improving market conditions is a general perception of year-on-year growth and, despite current market condition said to be weaker than in previous surveys, there was a record balance of respondents saying that conditions had improved since the third quarter of 2017, at 57.9%. This was marginally up on the 56.7% recorded in the last survey, after the first quarter of 2018. This was also a record high since the ERA/IRN RentalTracker began.
Again, in Spain, 100% of respondents said this was the case while, while 67% of Italian respondents agreed.
Looking ahead to the next 12 months, an overall balance of 61.9% of respondents said that they expected market conditions to be better in the third quarter of 2018. Generally speaking, optimism is a given, unless the economy is, or is forecast to, experience a downturn. The first quarter of this year saw a record-high balance recorded for this question, at 66.7%.
Not surprisingly, 100% of Spanish respondents believed the next 12 months would see an improvement.
In France, 79% of respondents said the next 12 months would reap improvements, while none said conditions would get worse. Interestingly, given Brexit, UK respondents were the only ones to suggest that conditions could be worse in 12 months' time, though 68% still said they would be better.
Investment and employee numbers will also remain healthy, according to respondents.
The full survey results will be available to read in the November-December magazine issue of IRN.