CDE trommel fines technology on show at Skipway open day
By Lewis Tyler09 November 2022
Waste management firm Skipway is to host an open day at its latest trommel fines wash plant, where it will demonstrate how wet processing technology from CDE is helping the company divert over 95% of its trommel fines from landfill.
Taking place on Wednesday 16 and Thursday 17 November, the event begins with a tour of the 27,870 sq m (300,000 sq ft) CDE manufacturing facility in Monkstown, Northern Ireland, before visitors are shown the trommel fines solution designed for the company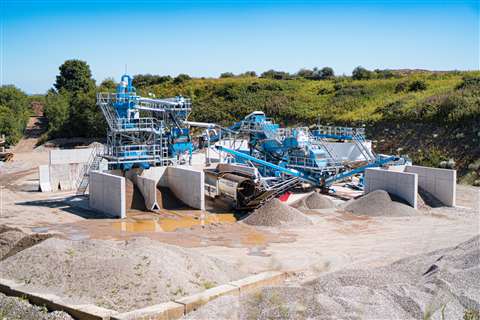 .
According to Skipway, the new plant can process up to 50 t of waste every hour, and the tour will include a demonstration of how operations at the site work.
Skipway says the plant, which has been commissioned at the waste management firm's processing site in Dunmurry, diverts trommel fines from landfill and converts the material into a resource by producing recycled products with the same specification and quality as quarry grade sand.
Director Trevor Heatrick said: "By putting trommel fines through a wet processing plant the clean sand and aggregates recovered can be resold and reused in the secondary aggregates market.
"This minimises disposal costs, as well as closing the loop on challenging waste streams to create a more circular economy and generating additional revenue for our business."
CDE business development manager Fergal Campbell added: "We look forward to guiding our industry colleagues through the entire CDE process as part of the open day event.
"From fabrication through to the commissioning of a plant, this event will highlight the engineering excellence for which CDE has become renowned over its 30-year history."