CECE Annual Economic Report 2019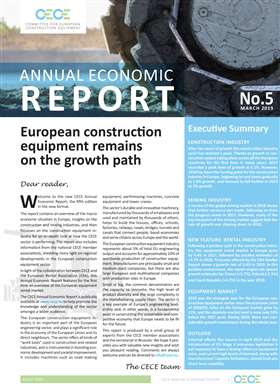 The slowdown in 2018 reflects fading support from the external market. This includes increased uncertainty over trade policies, notably between the USA and China, and a declining trend in global manufacturing output.
Specific factors within the EU market also contributed to the slowing momentum in the second half of the year. This included the disruption of car production in the third quarter, as well as social tensions and uncertainty over fiscal policy in some Member States. Despite these developments, Europe's economic fundamentals remain solid. Improving labour market conditions, low financing costs and some modest increases in fiscal policy this year should allow growth to continue, but at a more moderate pace.
Investment weakened in the euro area in the third quarter of 2018. This was due to a sharp drop in non-construction investment in Italy, a fall in construction spending in the Netherlands, and a slowdown in both France and Spain.
Investment in the euro area, excluding Ireland, only increased by 0.2% during the quarter. Consumer price inflation in the euro area fell towards the end of 2018 due to a sharp drop in energy prices and lower food price inflation. In 2018, inflation averaged 1.7%, up from 1.5% in 2017. Following this, inflation in the euro area is forecast to moderate to 1.4% in 2019.
Supporting documents
Click links below to download and view individual files.