Central Crane Technicians fit Fassi
By Christian Shelton16 February 2018
UK truck loader crane sales, service and repair outfit Central Crane Technicians, which is also an agent for Italian loader crane manufacturer Fassi, has received the first Fassi F1150RA crane in the UK, which it has fitted onto a four-axle trailer from Dutch manufacturer Broshuis.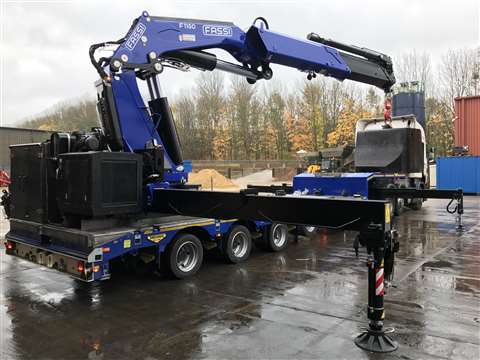 According to Central Crane Technicians, the new F1150RA weighs ten percent less whilst lifting seven percent more than the previous F1100. The F1150RA has a lifting capacity of 8470 kg at 11.15 metres.
Central Crane Technicians selected a 4H50TIC diesel engine from German manufacturer Motorenfabrik Hatz to power the crane. According to Hatz GB, the company selected the Hatz 4H50TIC because of its compliance with stringent emissions regulations in the UK and the USA. Compliance is achieved without the use of a diesel particulate filter, said Hatz. The 4H50TIC is a four-cylinder engine that achieves compliance without the use of a diesel particulate filter. It is silenced in a powdercoated, weatherproof canopy.