The life of a demolition professional has never been straightforward. But the very nature of the industry means it must be in the DNA of both the consulting engineer and contractor to problem solve.
Many people have an intrinsic ability to address the challenges that modern demolition projects pose. But as the pace and magnitude of these challenges continue to rise, the job consequently gets tougher and tougher.
Demand is outstripping supply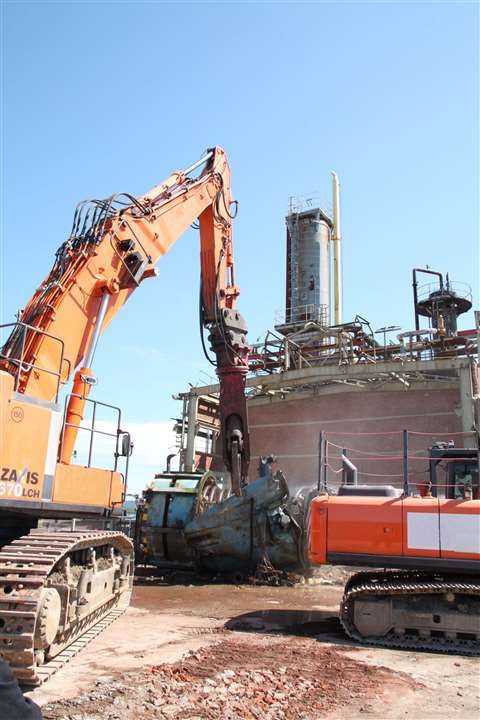 For one of the first times in the history of demolition, there is the risk of demand outstripping supply – an issue now being felt on a global scale. The number of projects coming to the fore is unmistakable, for reasons including mounting commercial pressures, ageing assets, geographical market shifts, stricter environmental and legislative compliance requirements, technical innovation and other less tangible influences.
The question of who is available to undertake the work is unquestionably one of the largest challenges currently faced by the industry. However, astute demolition firms will embrace this as an opportunity to satisfy this very distinct market need.
So where do the other nine hurdles lie?
Bringing assets to a 'known state'
On many redundant sites, the assets now facing demolition were first mothballed many years ago. This poses many difficulties – some structures will have only been partially cleaned, drawings may be non-existent, and the knowledge of site personnel will almost inevitably be long lost. This means that it is extremely difficult to establish the "known state" of such plants and understand the potential pitfalls that lie ahead.
When arriving on site, it is essential to assess the level of residual product, any loss of containment and the structural integrity of the assets that remain. The potential for safety and environmental issues to manifest is real. Technology such as drones can, in many cases, provide a helpful aide before people enter any vessels or work at height themselves.
Varying regulatory frameworks
Demolition professionals undertaking assignments on an international scale will inevitably face varying legislative standards. One could argue this makes it difficult to ensure compliance when faced with differing levels of regulatory stringency. But the necessary stance on this should be obvious.
There should never be a safety scale where the degree can be ranked as "very unsafe", "unsafe", "almost safe", "quite safe" and so on – safety is absolute and non-negotiable. So, while criteria and attitudes may fluctuate from country to country, the baseline reference point should be best practice. Generally, this is driven by the legislation and codes adopted by European Union (EU) nations.
Cultural differences
Linked significantly to this point is the potential for cultural differences, particularly when working outside one's home market.
When my company, RVA, was overseeing a project in Singapore, for example, the management team had to regularly demonstrate to the workforce both why harnesses should be worn and why they must be tethered to something immovable when working at height.
The advice here is to implement consistent working rules for all operatives and personnel irrespective of the local customs and practices. There can also never be any presumptions surrounding what people will and will not consider acceptable, so effective employee relations are crucial. Local knowledge and/or a translator often enhance the speed with which such communication and rapport can be established.
Managing mindsets
It must be noted that mindsets do not always differ purely based on culture. In the United Kingdom, for instance, many people still view demolition as a "necessary evil" – it does not help to produce a revenue-generating asset, as a commissioning exercise would, so organisations often fail to dedicate the level of time, skills and resources truly required.
Also, it is not always given the respect it deserves as a scientifically-driven discipline, which means some client organisations are still tempted to cut corners, even if they do not realise they are doing it.
There is no quick fix to this challenge, but – gradually – decommissioning is being acknowledged as a major high-hazard engineering exercise.
The profession needs to maintain its voice to continually reinforce this point, until the mindset step-change is complete.
Health and safety
Health and safety challenges are certainly not new, but they remain a constant priority when executing demolition projects of any size, particularly as assignments grow in complexity. Power station and even nuclear decommissioning projects are coming to the fore at a rate that has not been seen before in the industry, so a robust environmental health and safety mindset needs to take precedence, irrespective of wider pressures.
The demolition demographic
The demolition demographic is ageing. Renowned industry professionals are reaching the latter stages of their career and, unfortunately, the influx of new talent is sluggish. Many companies appear reluctant to invest in training and development, but this cannot continue. The number of people with relevant skill sets, specialist expertise and sector-specific experience, is becoming dangerously low.
The more that companies invest in young people, the more likely that others will be encouraged to consider demolition as their path of choice.
Cost
The number of site owners that now favour a cost-led rather than quality-led approach to demolition is dwindling. Supply chain selection criteria are now far more multi-faceted than simply the bottom line impact of the chosen project team and methodological route map. But consulting engineers and contractors will still encounter clients that – perhaps understandably – try to squeeze the financial parameters of the assignment. If these fiscal pressures risk compromising environmental health and safety standards, however, works must stop immediately.
Environmental pressures
The world's environmental conscience is becoming more astute, which means the spotlight will increasingly be shone not just on a project's safety levels, but also on how far the surrounding community is protected.
Most demolition projects will now achieve more than 97% recycling rates as standard, but eco-considerations cannot end there. Because of this ever-more stringent environmental agenda, disposal routes for hazardous materials are becoming extremely limited. Mercury was once used in the production of chlorine, for example, but this is now outlawed in the European Union. Demolition teams face a distinct challenge when decommissioning manufacturing facilities where residual product may be present. Apart from being phenomenally expensive, mercury can also only be disposed of at a given rate. Projects therefore risk extending far beyond their original timeframes as a result, so such considerations need to be factored into upcoming work schedules to maintain realistic client expectations.
Corporate social responsibility
Whether the rise in social media is placing companies under greater scrutiny or attitudes towards organisations' duty of care are becoming more discerning, the need to demonstrate corporate social responsibility (CSR) is undeniable. Apart from a strong CSR stance being ethically correct, it has a vast impact on brand reputation.
If clients and their appointed demolition teams require any further motivation to carefully and professionally execute a decommissioning assignment, this is it. The cost of liability – whether that is trespassing on a poorly maintained redundant site, a loss of containment, or worse – is immeasurable.
This final point pulls together most of the advice mentioned earlier. Decision making in modern demolition is not easy, which emphasises the need for a costed feasibility and options study, not to mention a painstakingly managed tender process. But it is possible to draw smart, safe, environmentally sound and financially robust conclusions from the investigative phases of a project, to ensure the course of action taken afterwards is the correct one.
About the author
Richard Vann is managing director of decommissioning consultancy RVA Group. With more than 35 years' industry experience he has helped to steer the direction of more than 750 high-hazard projects worldwide.
This article first appeared in the July-August 2018 issue of Demolition & Recycling International. To see the full issue, or to receive D&Ri on a regular basis, please visit www.khl.com/subscription