Challenging bridge lift for Riga-Mainz
By Laura Hatton11 February 2015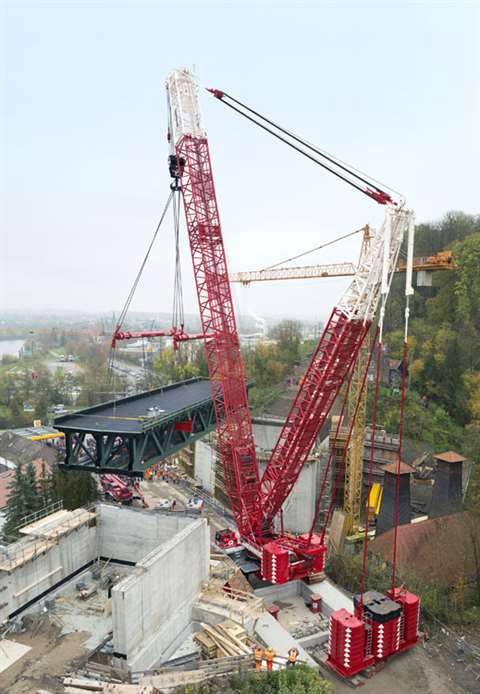 Lift and transport service provider Riga-Mainz used a 600 tonne capacity Liebherr LR 1600/2 crawler crane to install a railway bridge in Bad Wimpfen, Baden-Württemberg, Germany.
The lift was carried out for German rail company Deutsche Bahn (DB) as part of the expansion of the railway around Heilbronn. The new steel bridge weighed 355 tonnes and was 40 metres long.
Challenges on site included a small working area and a limited time schedule. To fully support the weight of the crane during the lift, two reinforced concrete ramps with a dozen 13 metre deep piles were driven into the site for the foundation, a spokesperson said.
The crawler was configured with 54 m of main boom, 36 m of derrick boom, 65 tonnes of central ballast, 150 tonnes of slewing ballast and 350 tonnes of suspended ballast. The derrick was configured with a working radius of 18 metres.
To get the bridge into position ready for lifting, Riga-Mainz used two parallel 10 axle self-propelled modular transporters (SPMT). Once in position, two supports were threaded through the truss sections of the bridge and secured, ready for the lift.
Kathrin Gottschang, DB Projektbau project management, said, "Riga was the only supplier to offer a solution using just one crane. The concept suggested by Uwe Langer [Riga-Mainz owner] was also the only one that included threading the cross beam through the bridge trusses."
With the cross beam and attachment equipment the LR 1600/2 hoisted the bridge into place. The total weight of the lift was 402 tonnes. Two other Liebherr cranes, an LTM 1200-5.1 and an LTF 1045-4.1, were used for set-up and support work.