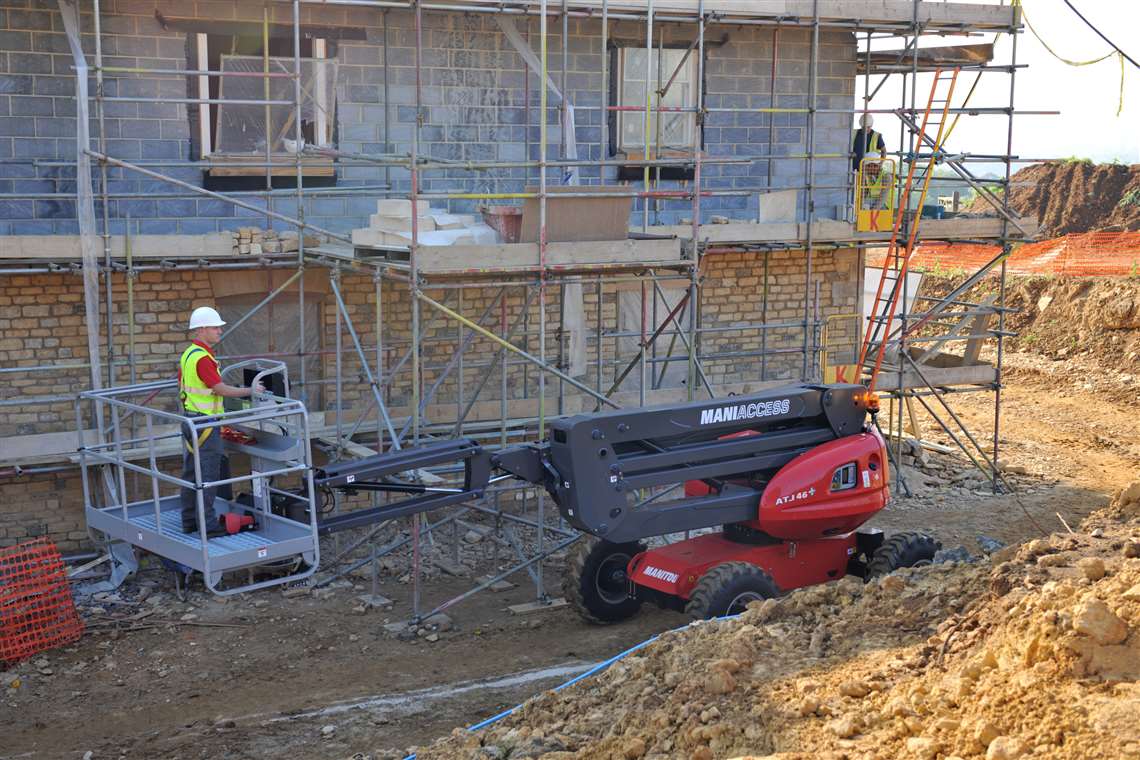 Changing shape
By Lindsey Anderson19 November 2019
Articulating booms have historically been used for a variety of industrial and commercial applications. Their up-and-over reach capabilities make them an ideal product to use when doing any new build or restoration work on exterior facades, as well as in industrial settings where spaces are confined and the reach of a telescopic boom or scissor lift is too restrictive.
According to Sean Larin, Genie product manager, Terex AWP, articulating booms make up approximately one in every three boom lifts in the North America, as their compact footprints and unique up-and-over capabilities make these machines some of the quickest and most efficient tools for condensed jobsites. In some cases, articulating booms are even taking over where scissor lifts have traditionally been used such as in entertainment and sporting events or for large-scale, outdoor murals.
Bill Dovey, product manager of boom lifts for JLG, says construction is occurring at a peak rate currently, and articulating booms are experiencing high utilization because of such.
"This is typically the busiest time of year for aerial manufacturers, rental companies and contractors alike," Dovey notes. "I hope next year is as robust as it has been. But it depends on a lot of things: the economy, surcharges, steel prices, tariffs. There's a lot of moving pieces here to this puzzle."
The flexibility and popularity of articulating booms has boosted demand over the course of the last few years, but there's a note of caution in the air.
"Demand for articulating booms remains high, however it likely will not be at the same level as in 2018," says Corey Connolly, product manager, Skyjack. "External industry tensions have had an adverse effect on a variety of matters that have driven commodity prices up. Looking forward, combining these cost increases with changes to the design standards in North America, demand is expected to slightly recede again in 2020."
Overall, the U.S. demand for articulating booms, and mobile elevating work platforms in general, should remain strong through 2019. But due to market uncertainty, there seems to be a slight pause moving into 2020 based on recent market and customer activities.
"The current market demand for MEWPs is still expected to grow, which is led by the U.S. rental market," says Mike Sover, North America product marketing manager – MEWPs, Manitou. "However, rental revenue for MEWPs is starting to slow to a more moderate pace which could delay future MEWP fleet expansion. The construction segment dominates the overall MEWP rental market with a significant part of the revenue generated from construction applications."
Matthew Elvin, CEO of Snorkel, says while the North American market remains buoyant, with rental activity driving continued and steady demand for articulating boom lifts, there is a wind of caution blowing.
"Although not specific to articulating booms, recent reports are suggesting we will see a reduction in the rate of growth of the rental sector where many articulating booms are sold," Elvin says. "There are also signs of increasing caution in the global economy, which may ultimately trigger a slowdown in construction activity, if confidence is not restored."
Connolly with Skyjack expects the articulating boom market will slow due to legislative and economic uncertainty – both inside and outside of North America.
"We are already starting to see commodity price increases trickle down to machine prices and continued uncertainty will further exasperate the cost burden on manufacturers and subsequently purchasers and renters of the equipment," he notes. "In North America, the eventual publication of new standards, and the implementation of new designs and their associated costs, will also likely affect demand and buying decisions."
The ANSI effect
Part of the new ANSI suite of standards requires manufacturers to incorporate design changes into their machines. These will include: active platform load sensing; new wind force requirements; new stability tests; required entrance gates with toe boards; new tilt sensing requirements; solid or foam-filled tires; and machine markings and manuals.
Manitou, which entered the North American articulating boom market just during the last year, says these possible pain points won't be of issue for them: All of its machines were already designed to be in compliance with the new standards.
In fact, in North America specifically, manufacturers began planning and incorporating these new design features, such as load sensing and foam-filled tires, into machines about two years ago – when the standards were drafted.
Companies have started to introduce new machine features to help mitigate the change in cost as well as debut articulating booms that boast increased capacities.
Genie's XC line is just one of them. Over the course of the last few years, Genie has updated its boom line to meet upcoming ANSI standards. Its Z-45 XC articulating boom was redesigned as the Xtra Capacity version of the popular rough-terrain Genie Z-45/25 J RT diesel powered articulating boom. It was the first Genie XC articulating boom model, boasting the benefits of a dual-envelope design to provide an unrestricted platform capacity of 660 pounds and a restricted capacity of 1,000 pounds.
"Many construction sites are built around the 45-foot workhorse of the articulating boom category," Larin with Genie notes. "The recent introduction of the Genie Z-45 XC boom lift added more lifting and more welding capability to this space, supporting to increasing use of heavy materials.
"With the 1,000-pound lifting capability, the Genie Z-45 XC model is being used for applications such as large window installations. And equipped with the Genie Lift Power welding options, this model is being used during installation of metal structures and supports."
In regard to the upcoming machine design changes in relation to the ANSI standards, OEMs have been working to address the range of adjustments coming to market.
"The aforementioned standards change has afforded Skyjack the opportunity to make changes that go beyond just addressing the design standards; incorporating new and developing technology that will help benefit not only themselves but also the rental companies and their customers," Connolly notes. "An example of this would be Skyjack's Elevate telematics solution and the products within its digital suite, Elevate On and Elevate Go."
While already available on all Skyjack models, Skyjack's future lineup of articulating booms in North America will be able to generate additional data points for Elevate. Skyjack has proactively looked to provide rental companies with information beyond just machine location and runtime – providing data that will help maintain the overall health of the machines, as well as more effectively tracking the way equipment is being used.
Manitou also reports increased interest for telematics on its machines. Manitou's telematics product offering is called Easy Manager and is a standard feature on the majority of its product lines. Easy Manager is a web portal and mobile app that gives actionable data at customer's fingertips to help with the day-to-day management of operations.
"It makes preventative maintenance, machine security, increasing uptime and customer service easy, all of which allows the customer to concentrate on its core business and let you manage the life cycle of each machine," says Sover.
Sover also points out how OEMs are increasingly focused on improving the efficiency and productivity of machines and reducing the total cost of ownership. To address this, Manitou offers a stop-and-go system on its ATJ 46 articulated model. This system allows the engine to be running only when the machine is actually working, lowering fuel consumption, providing less wear and tear and a better resale value.
Snorkel is also feeling the pressure to offer more to its customers.
"Most manufacturers, including Snorkel, are working hard in the design stages to deliver articulating boom lifts that offer greater platform capacities to help increase productivity on the jobsite," Elvin says. "The engineering challenge is that the market also wants articulating booms that are lighter in weight for transporting, with lower ground loadings, and with reduced engine/horsepower demands to meet jobsite emission targets."
Popularity contest
While articulating booms are noted as a well-established class of aerial lifts, and as such are used widely in many types of both construction and maintenance applications, there's a sweet spot when it comes to lift height.
The most popular North American class continues to be units between 40 and 60 feet, OEMs report. This class is versatile with compact dimensions that benefit not only typical outdoor construction applications, but also other additional industrial or slab applications.
Dovey, with JLG, says the 45-foot class is also the company's most popular articulating class. JLG has a range of both diesel and electric articulating booms, with its largest articulating model, the 1500AJP, clocking in with a platform height of 150 feet.
When it comes to articulating booms for Genie, the full range is being put to work – from 30 feet all the way up to 135 feet, the company says. "However, most of the work done in North America is completed in the middle range of this category since the machines fit the greatest variety of tasks," Larin notes. "The same boom can be used for below ground reach on bridges, up-and-over reach between tightly spaced buildings, as well as straight vertical reach when jobs are needed high above the ground."