Charleville Plant Hire purchases Snorkel units
By Lindsey Anderson18 June 2018
Charleville Hire & Platform Ltd T/A CPH have added numerous Snorkel electric scissor lifts, electric boom lifts and diesel boom lifts to their hire fleet. Most recently, CPH invested in the Snorkel Speed Level, and placed an order at Vertikal Days for two new Snorkel SR626 rough terrain compact telehandlers and a Snorkel A46JRT diesel articulated boom lift.
Owned by James Dundon and Martin Hanley, CPH operate from three branches, located in Charleville, Cork City and Limerick.
At Vertikal Days 2018, Snorkel UK displayed a CPH branded Snorkel Speed Level on the stand, and CPH owners, Dundon and Hanley had the opportunity to meet with Snorkel's owner, Don Ahern, during the show.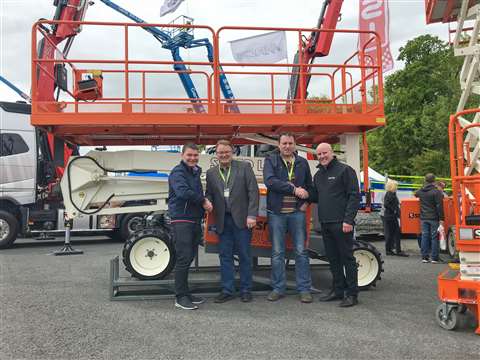 Dundon said, "We have known Dave Roddy for many years, and we are grateful that he introduced us to the Snorkel product line in 2017. We have been impressed with the products that we have added to the fleet so far, and many of our customers now ask for the Snorkel brand by name when hiring access equipment from us."
"It was also great to meet Don Ahern at Vertikal Days – he is clearly passionate about both Snorkel and the hire industry, and we certainly share his excitement for the future of the market. We are looking forward to putting our new Snorkel telehandlers out on hire."
Andrew Fishburn, managing director of Snorkel UK, added, "We are thrilled to have CPH as a Snorkel UK customer. They are a well-respected and established hire company, with a great reputation. We are grateful to James and Martin for the trust they placed in Dave as he introduced the product line to them, and we thank them for the continued business."