China state grid orders Versalifts
By Euan Youdale15 August 2018
Versalift has delivered insulated platforms to China through its strategic partnership with Qingte Group.
The delivery to the State Grid Corporation of China (SGCC), follows a nearly 10-year hiatus since its last order with Versalift.
SGCC is the state-owned electric utility monopoly of China responsible for providing power to more than 1.1 billion people throughout the country. The company is investing in major infrastructure development projects on the Chinese power grid, and for these projects, Versalift is supplying a number of high voltage insulated platforms for hotline work.
The first batch of 23 units are commissioned to the Beijing Hotline Working Center, a Beijing branch of SGCC, which already operates a fleet of more than 100 insulated platforms from a number of operation centers and four training facilities.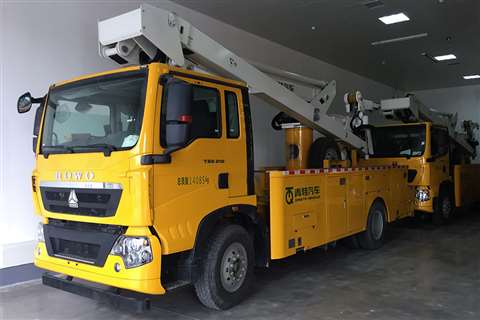 The initial delivery comprises 23 installations of the articulating telescopic Versalift VST-6000-MHI mounted on a 16 tonne Chinese Howo T5G 210 chassis by the special vehicles division of the Qingte Group in Qingdao. Complying with ANCI Cat. C (46 kW and below), the units feature a working height of 21m, an unrestricted outreach of 12.5m and a material handling capacity of 454kg. The two-man fiberglass bucket supports up to 340kg and is fitted with a 60 cm hydraulic bucket elevator making it easy to reach adjacent power lines without repositioning the entire unit.
Further orders
In addition to the units for SGCC, Qingte Group has placed a new order for 38 high voltage insulated platforms worth nearly $2 million. Founded in 1958, Qingte Group is a multi-regional, multi-industry group with production facilities in Qingdao, Beijing, Weifang, Chengdu, Taiyuan and Changsha. The special vehicles division of Qingte Group specialises in industrial vehicle conversions including concrete mixer trucks, aircraft tractors, garbage trucks, fire-fighting vehicles and aerial platform vehicles.