Churngold starts on sustainable office project
By Leila Steed16 September 2022
Earthworks and remediation specialist Churngold Construction is carrying out groundworks for the new Cargo Work office development in Bristol, UK.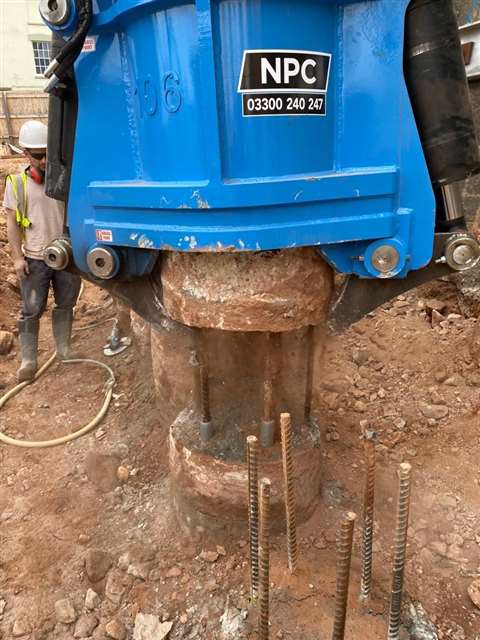 The contemporary office space is part of the new Wapping Wharf neighbourhood development and is being built within the existing stone walls of the former J S Fry warehouse.
The historic warehouse has been recently restored and exposed following the removal of its roadside walls, as part of current works that will leave it finished to shell and core, allowing future small business tenants to design their own working environment with the developer Umberslade.
Churngold was contracted by Halsall Construction to remove unwanted material from the site and to crop the site's existing augered concrete piles, which had diameters of 600 mm and 450 mm (2 ft and 1 ft 6 in) and were in a contiguous wall format.
To carry out the works the company procured a specialist cropper unit from National Pile Croppers (NPC), after the company's director visited the site.    
Lee Aston, NPC director, said: "Churngold invited us to site to see the difficulties faced with cropping of the piles. I must admit the complexities of site, and the way the piles have been laid out, presented a challenge."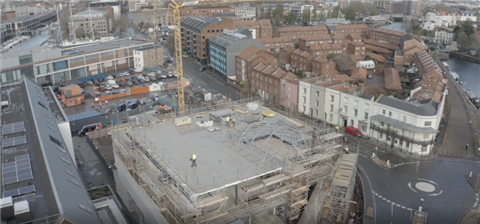 With a "nominal" 150 mm (6 in) between the piles, NPC provided a bespoke version of its Contig 600 pile cropper to cut the structures.
The Contig 600 was was originally designed to reduce piles in contiguous or secant wall formations where only two sides of the pile can be exposed, and spaces between adjacent piles is tight.
NPC further redesigned the unit to accommodate the tighter spacing of the piles on the Cargo Work site, shifting its centre of gravity and giving unit a reduced width that also maintained its structural strength.
"With the new Contig 600 two hydraulic rams mounted opposing at 180° provide the ability to position the cropper over the wall to reduce the piles. The wall thickness of the cropper allows it to slot between contiguous piles with spacing as close as 50 mm (2 in)," said Lee.