CITO renews with nine units
By Euan Youdale16 September 2015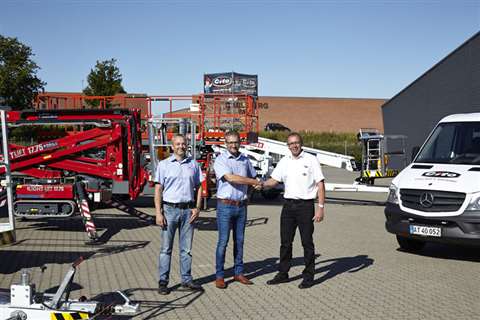 Danish rental company CITO has taken delivery of nine platforms through Time Danmark as part of an extensive fleet renewal and expansion programme.
The order includes a Versalift VTX-240 truck mount, three Dinolift 120 T and one 210 XTB II trailer mounts, two Skyjack 3226 and one 8841 RT scissors, plus a Hinowa LightLift 17.75 tracked platform.
Concerning the Versalift VTX-240, CITO CEO Peter Fischer Kjær said it will replace an existing 21 m truck mount. "Recently, we have experienced a spike in the demand for a multi-functional truck mounted unit with several customers making specific inquiries about the VTX-240," said Mr Kjær.
The Versalift VTX-240 features two three-stage telescopic booms capable of reaching 11 m up and 12.5 m over obstacles. The straight vertical lower boom allows the 3.5 tonne MB Sprinter, on which it is mounted, to park next to objects. The model has a 24.2 m working height, 12.5 m outreach and a platform capacity of 200 kg. The unit casn be used with a class B driver's license.
CITO is a general equipment rental company with six locations covering the central parts of Jutland, Denmark.