City blames crane operator in Tribeca crane collapse
By Ian Vallely04 January 2017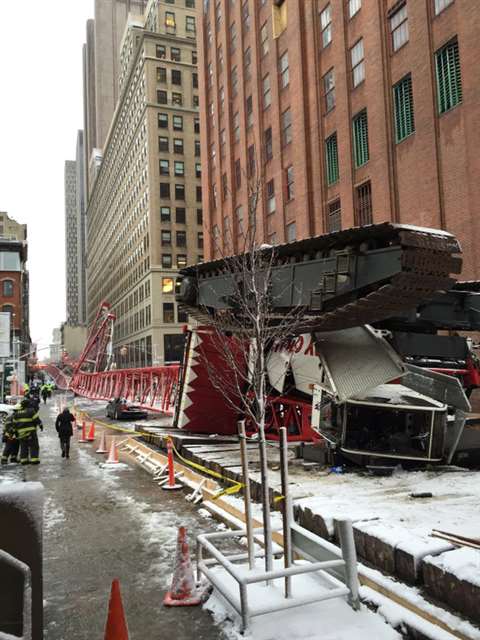 Operator error was responsible for the collapse of a crawler crane in Tribeca, Manhattan, USA, according to the New York City Department of Buildings (DoB).
The DoB alleged that the operator, who has not been identified, failed properly to secure the 565 foot (172 metre) crawler crane the night before it collapsed. The operator is also said to have lowered the main boom at the wrong angle, causing the crane to topple over in strong winds.
The operator's licence has been suspended and the DoB has filed to revoke his licence permanently.
The crane collapsed along Worth Street in lower Manhattan just before 08.30 on 5 February 2016, killing 38-year-old David Wichs. Three other people were injured.
Buildings commissioner Rick Chandler said, "The crane operator involved in this incident acted recklessly, with tragic results. The actions we're taking should send the message to everyone in the construction industry that safety must come first."
The crane, which was owned by Bay Crane and operated by Galasso Trucking and Rigging, was being used to replace generators and air conditioners on a roof.
The DoB is implementing 23 recommendations that a technical working group formed by Mayor de Blasio released in June in response to the collapse. These include requiring mobile cranes to be fitted with anemometers to record real-time wind readings, and restricting mobile crane operations whenever winds exceed 30 miles an hour (48.6 km/h).