City crane for Viktor Baumann
By Christian Shelton17 June 2019
Bornheim, Germany-based heavy lift and transportation firm Viktor Baumann has added a Demag AC 45 City crane to its fleet. It joins two other AC 45 City cranes the company already owns.
"With a total length of 8.69 metres and a height of 3.16 m, the AC 45 City is the most compact crane in its class and therefore ideally suited to working indoors," said Sabine Baumann-Duvenbeck, managing director of Viktor Baumann. "Especially in combination with the IC-1 Plus control system, which enables infinitely adjustable and asymmetrical outrigger set up, our view is that it is unrivalled in cramped construction site conditions."
The company will mainly use the AC 45 City to support its two existing City cranes for machine assembly in halls and for company relocations.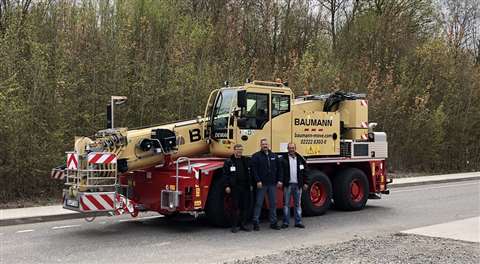 The new Demag AC 45 City in Viktor Baumann livery.
Left to right: Detlef Manns,crane operator, Viktor Baumann; Helge Prüfer, sales manager, Terex Cranes; and Georg Rinke, crane operator, Viktor Baumann