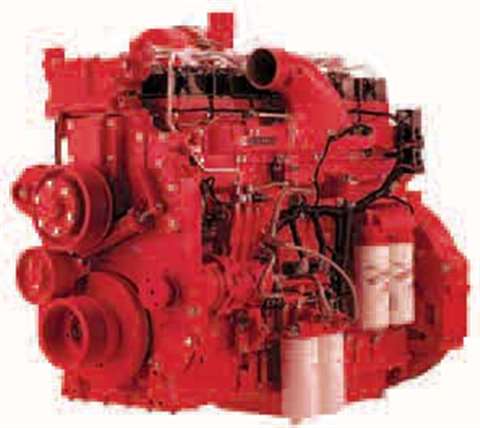 Emissions legislation is tightening around the world and the situation is a complicated one. In the US the Environmental Protection Agency has issued a Notice of Proposed Rulemaking for Tier 4 emissions control that is proposed to come into force from 2008 to 2014, and Tier 3 will roll out over the next few years. In Europe, Stage IIIA has been agreed and comes into force in 2006. Stage IIIB legislation is expected to come into force in 2010 to 2011. And then there is Stage 4.
So what is the ultimate aim of this legislative framework? Each successive Tier and Stage impose lower limits on the volumes of carbon dioxide and monoxide, nitrogen oxides, sulphurous oxides and particulates (soot) emitted by a running engine.
Initially inspired by California Air Resources Board regulations, the intention is to minimise the damaging environmental impact of the emissions from spark- and compression-ignition.
Originally targeted at road vehicles, attention has increasingly been turning to engines used for other purposes. In the words of one industry insider: "It's as if the ultimate aim is to make an engine with an exhaust that is cleaner than the air it takes in," an achievement already claimed by one German car manufacturer.
A new era
Engine manufacturers are trying to find the best way to meet the stringent emissions regulations while at the same time continuing efforts to improve performance and efficiency. While names vary, the basic principles of almost every manufacturer's current solution are the same. Optimised combustion efficiency and combustion chamber design, and electronically controlled high pressure fuel injection using common rail technology lie at the heart of many recent new diesels. Internal and external exhaust gas re-circulation (EGR) is another component that will increasingly be seen on diesels as engine manufacturers strive to meet the increasingly tight limits on the emission of nitrogen oxides (NOx). So what are they and how do they work?
Clean pressure
Common rail injection systems inject the fuel into the combustion chamber under high pressure independent of engine speed or load. Systems normally consist of a high pressure (circa 200 to 300 bar) accumulator (the rail), a fuel supply pump, an electronic control unit and a series of injectors connected to the rail. Each injector is opened and closed by the ECU, which also provides computer control to optimise engine performance across the operating envelope, from full speed right down to idle. Injection sequences, including periods before and after the main injection, can be used both to reduce emissions, especially NOx, and noise - both principal targets in the forthcoming legislation.
EGR reduces the peak combustion temperature by routing exhaust gas back to the intake manifold (it is cooled on route), where it mixes with the incoming air. This has the effect of removing oxygen from the fuel/air mix in the combustion chamber, leading to less NOx being produced by the combustion process.
So how are manufacturers applying the technology? Volvo's new solution is V-ACT. Standing for Volvo Advanced Combustion Technology, it is being introduced to meet the requirements of Tier 3 and Stage IIIA off highway emissions legislation. V-ACT combines reliable technology with a proven base engine. V-ACT engines have new cylinder liners and air-to-air intercooling, and some larger units have four valves per cylinder and overhead camshafts. Volvo says the keys to the design are the high pressure fuel injectors and the engine management system (EMS) that controls them.
Volvo is among a small number of manufacturers, that also includes Liebherr and Caterpillar, that make both engines and construction equipment. It believes that this means engine performance is tailored to the requirements of each piece of Volvo equipment, rather than having to adapt the equipment around the performance characteristics of other suppliers' engines.
Engines are matched to the drive train and also to the hydraulics to give the response characteristics operators prefer for each equipment type. This produces engines that deliver optimised power and torque when and where needed, as well as smooth throttle response, low fuel consumption, low emissions and (of increasing importance) low noise. Volvo does not sell its engines to other OEMs, so you will only find V-ACT engines in Volvo construction equipment.
Cummins is another using common rail, for its Quantum range, and charge air cooling is another feature it has applied to some engines. The aim of the company's extensive and long-term R&D effort has been to optimise fuel consumption. The result is that many of its existing Tier 2/Stage II compliant engines will need minimum change to meet more demanding future requirements, Cummins says.
In common with other manufacturers, much effort has been expended by the company to develop an efficient electronic engine management system, a feature it believes is crucial in meeting legislative requirements.
Combined solution
John Deere's Tier 3/Stage IIIA PowerTech Plus range makes use both of common rail high pressure fuel injection and cooled EGR.
Deutz, meanwhile, developed its own version of the common rail injection system for its latest engines. The twin pump design will leave the basic engines unchanged. Called Deutz Common Rail (DCR), this design will be introduced across the full range of Deutz diesels.
DaimlerChrysler, owner of both Detroit Diesel and Mercedes-Benz, produces off-highway engines for a wide range of applications that meet the Tier 3/Stage IIIA requirements under these brand names.
Turbocharging with charge air cooling is used to reduce intake air temperature to well below ambient to help reduce NOx emissions. Once again a high pressure fuel injection system is used, a variation on the common rail theme, which uses a ring fuel circuit with solenoid operated injectors. This, the company claims, provides even lower emissions than standard common rail packages. An electronic engine management system is used to control engine performance.
Daewoo also is making use of common rail and an optimised engine design in its efforts to comply with Tier 3/Stage IIIIA, and IC understands that a three model family is under development. Meanwhile, Iveco is also developing Tier 3/Stage IIIA engines using common rail fuel injection and advanced electronic engine management to optimise performance.
Caterpillar has developed its own system, ACERT, built around a simple concept - control the combustion process efficiently to minimise emissions. Optimised combustion chamber and cylinder head design is to improve combustion efficiency, and a Mechanically Actuated Electronically Controlled Unit Injection system provides multiple injection and rate-shaping capability. It is a patented system that does not use common rail, but Caterpillar is reticent to explain how it actually works. An electronic control module, the ADEM 4, controls all engine operations. Nine ACERT engines are now available following the launch of the new 27 litre C27 and 32 litre C32 designed for off-road applications.
Perkins Engines, which is owned by Caterpillar, also uses ACERT to ensure its latest generation engines comply with regulations. Its most recent launch was models in the 1100 series.
Hatz has also gone a different route for its new two, three, and four cylinder W35 engine family, which also available in two turbocharged versions, the three and four cylinder W35T. It covers a power range from 5.2 to 36.5 kW up to a maximum speed of 3600 min-1. The major difference is the way Hatz achieves high pressure fuel injection. Each cylinder has a fuel pump/valve combination in a single housing, mechanically activated by the camshaft, that injects fuel at a very high pressure (1000 bar), instead of using a common rail.
Beyond the third level
It is still at least ten years before Tier IV and Stage 4. Manufacturers, however, are already beginning to look at how to comply. While it is early days, almost every manufacturer believes some form of exhaust gas after-treatment will be needed, in much the same way that cars have catalytic converters as part of their exhaust system.
This is likely to have greater impact on smaller and compact equipment due to packaging requirements but will be less of a problem on larger machines where there is more space. Nevertheless, it is still a problem that will cause a few headaches nearer the time.