Cliff face custom build from Palfinger
By Euan Youdale30 January 2015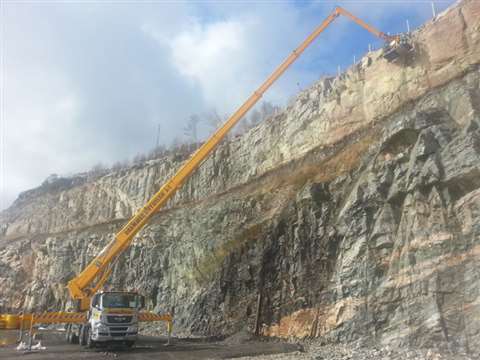 Norwegian rental company Drammen Liftutleie has taken delivery of a Palfinger WT 610 truck mount to work on roadside cliffs and slopes.
Palfinger Norge supplied the 61 m working height platform to partner Danilift in Denmark which customised the machine for the required applications.
In addition to a powerful high pressure compressor mounted on the platform, the special equipment also includes protective covers to prevent the accumulation of dirt in exposed places as well as reinforcement of the swivel bearing arm.

One of the highlights is the modified basket. In addition to a robust roof to protect against falling rocks, the basket is equipped with a grid floor to prevent the build up of debris in the working area. In conventional applications, the basket can be dismantled and replaced with a standard basket.

The WT 610 has already proven itself in a number of operations, said the company, often sep up on narrow roads working on hard-to-reach slopes and cliffs. "Secured by the special basket, the hugely powerful high-pressure compressor enables specialist staff to effortlessly drill deep holes into the massive steep slopes. These holes serve to secure the dangerous areas by means of steel nets anchored in the rock. This minimises the danger from falling rocks," explained a company spokesman.