Close quarters for PB Lifttechnik
By Euan Youdale25 September 2015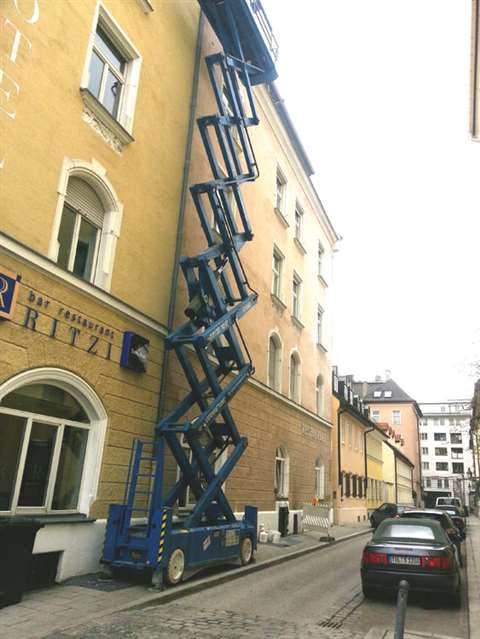 PB Lifttechnik used a S225-12ES scissor for installation and paint work on an old building in the centre of Munich, Germany.
The work area was a narrow single-lane side street and the scissor was placed on an equally narrow pavement. The work had to take place in daylight as it could not interfere with the daily routine of the residents nor interfere with the difficult parking situation in the street.
The PB S225-12ES was suitable for the work as be maneuvered easily to the application site due to its compact design and 90° steering, said the manufacturer. With an overall width of 1.22 m the machine fitted easily on the narrow pavement.
Within a few seconds the support system of the PB scissor levelled itself on the uneven ground automatically. The patented gimbal suspension shifts the pressure point to the outside, which provides extra of stability. This makes it almost impossible, even for inexperienced users, says the company, to collide with a straight façade while working on it.
The scissor has a working height of 22.50 m and the roof gutter of the old building, on which it was working, was 22 m high. The platform has a 450 kg load capacity and maximum dimensions of 5.48 m x 1.19 m for up to two workers, materials and tools