CO.ME.T Officine debuts two new models
By Lindsey Anderson15 September 2011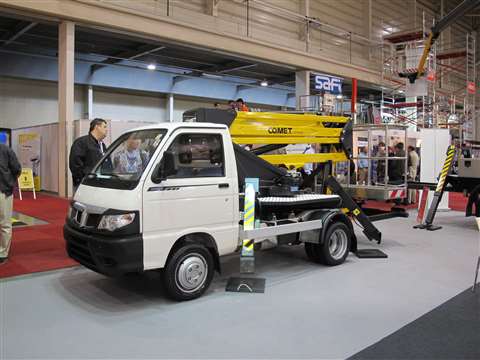 CO.ME.T Officine used APEX to launch two new products; the Eurosky and the pickup truck-mounted X4.
The Eurosky features a telescopic boom and articulated terminal boom jib with a working height of 14 m and a lateral outreach of 6 m carrying 200 kg.
"There is no need of any limiting device for lateral outreach," Fulvia Negrini, CO.ME.T Officine's assistant manager, told Access International.
The unit also features 360 degrees of continuous turret rotation, 220 v of power in the basket and double pantograph to obtain an override height of 6 m. The Eurosky's double fully low-pressure hydraulic proportional controls in the basket allow "great accuracy in movements," Negrini said. "The low pressure [makes] it very long lasting."
Negrini said the Eurosky fills a gap in the market where there is a need for smaller units that can be utilized like a crawler/tracked-atrium lift.
The company also took the wraps off its new pickup truck-mounted X4. The X4 features a working height of 12 m and a lateral outreach of 4.5 m with 150 kg. The unit has an articulated telescopic boom with a turret that rotates 180 degrees. A double pantograph allows it to obtain an override angle of 5 m and like the Eurosky, the X4 does not need a limiting device for lateral outreach.