College demolished by Hyundai high reach
By Leila Steed05 October 2020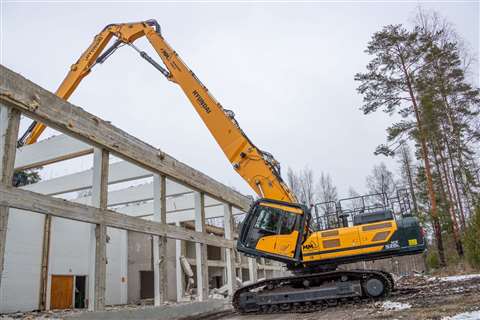 Demolition and construction contractor Maanrakennus Mykrä has used its new Hyundai HX520L excavator to demolish a college building in Finland.
The latest addition to the company's growing Hyundai fleet, the 52 t machine is the largest piece of equipment operated by the company and is fitted with a customised 28 m (91 ft) boom.
The company used it to bring down the main building of the Kullaa College of Forestry – located in Ulvila on Finland's west coast – as part of a redevelopment project that will see a new college building erected in the near future.
Juha Mykrä, CEO of sales at Maanrakennus Mykrä, said: "25 years after purchasing our first demolition machine, we have bought our first excavator with a high-reach demolition boom."
Juha added: "Previously, we used an ordinary long-boom machine for high-work demolition, and we extended the machine's reach by 'piling up slopes'. This procedure is now a thing of the past thanks to the new Hyundai HX520L and its high-reaching demolition equipment. However, the design with its modular boom joint, makes it possible to swap to the traditional Hyundai boom onsite quickly – making it a very versatile machine."
In addition to the high reach boom, Maanrakennus also had several other modifications made to the HX520L, including the installation of an on-board dust suppression system.
An 8 t counterweight was added to the rear of the machine, along with an extendable undercarriage for increased stability. The company also added Hyundai's 360-degree Advanced Around View Monitoring safety system and the 'tilting' cabin modified with automatic air conditioning and a heated air seat, to provide added comfort for the operator.
Hyundai said the addition of the extra equipment, plus a Daemo DMR800 sorting grapple, raised the machine's basic operating weight up to 65 t. The added extras and bespoke boom were supplied and installed by Kocurek Excavators, a specialist company based in the United Kingdom.