Collett delivered two 180 tonne super grid transformers to an onshore substation at Neart na Gaoithe offshore wind farm, completing stage two of a project. Stage one involved delivering two 160 tonne shunt reactors.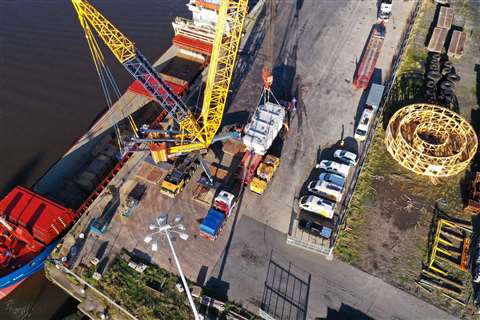 Collett were appointed to provide a door-to-door service for both super grid transformers.
Collett transported the loads from the client's factory to port ahead of the journey to the UK. From the Port of Sunderland in the UK, the two transformers were discharged from the vessel using a 550 tonne strut crane and landed onto a 14 row flat top trailer.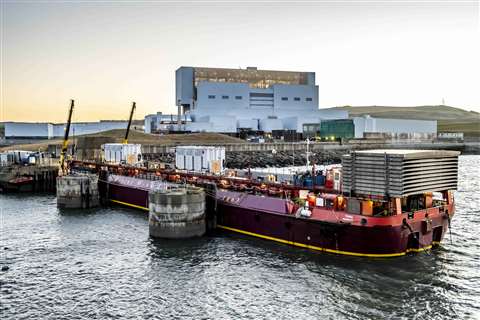 The trailers were then taken on a 20 hour voyage to a jetty at EDF UK's Torness Power Station in East Lothain.
Last leg
Finally, each transformer was transported separately via road to the onshore substation site under the pull of a single 8x4 tractor unit.
Addtional tractor units were added to the rear to provide additional traction towards the end of the journey, travelling in a push/pull formation. 
Collett needed to acquire permission from East Lothian Council for the final leg of the journey and detail a traffic management plan.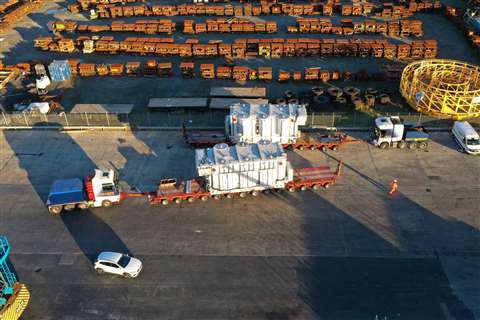 Having delivered the super grid transformers to the substation site, both were offloaded and installed onto their respective bunds by Collett Heavy Lift, using specialist hydraulic jacking and skidding equipment.
Neart Na Gaoithe is an offshore wind farm under construction in the outer Firth of Forth, 30 kilometres north of Torness in Scotland.
It has a potential capacity of 450 megawatts and will feature 64 turbines. It is being developed by Mainstream Renewable Power at a cost of £1.4bn.
Offshore work began in 2020, with completion planned for 2023.