Comer launches new axle-drives
By Leila Steed27 March 2020
Comer Industries has launched its new range of axle-drives for aerial platforms.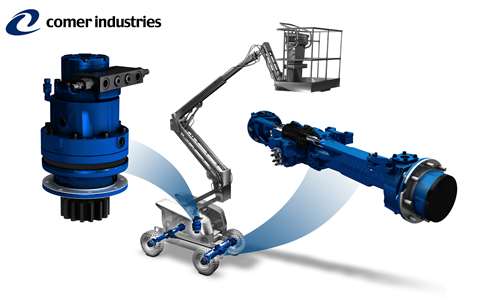 The Italy-based company, which operates from 11 locations worldwide, produces gearboxes, driveshafts, axles, wheel drives and planetary drives for the construction and agriculture markets.
The P-10 axle series, which comprises both rigid and steering differential axles, was developed from a modular concept and, as part of the company's powertrain product offering, can be connected to full electric or diesel-electric powertrain systems.
Compact in design for easy installation, the P-10 axle series is suitable for use with a range of transmissions.
The series includes the P-10 Hydroaxle, which incorporates a hydro motor, for use in a traditional powertrain layout with a thermal power engine.
Comer, which introduced the line at ConExpo in Las Vegas, US, earlier this month, said the P-10 axle range was designed to match the safety and performance requirements of the access market, as well as address total cost of ownership.