Commercial building in US designed for post pandemic needs
Later this summer, the city of Chicago, US, is slated to see the completion of what some claim might be the world's first commercial building specifically designed for a post Covid-19 world.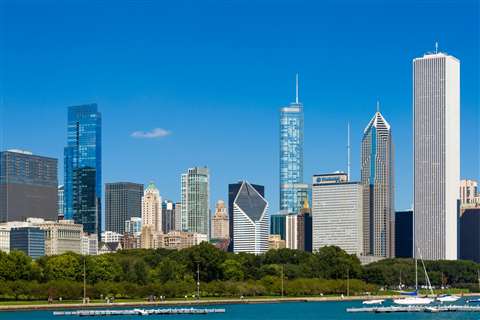 Located in Chicago's Fulton Market District, Fulton East at 215 N. Peoria St. is a 12-storey, 8,360-square-metre office and retail building which will be among the first multi-storey office buildings to employ airPHX ('air fix') non-thermal, plasma technology throughout to help reduce cross-contaminant risks and provide employees with cleaner air and work surfaces.
airPHX technology is currently used in hospitals and dental clinics, and reports say independent on-site testing has shown reductions of 90% to 99% of viruses, bacteria and mold, both on surfaces and in the air.
"At the time Covid-19 hit, our team immediately pivoted to research how to best address the concerns that we understood Covid-19 would raise for tenants and their employees," Bob Wislow, chairman and CEO of Parkside Realty, the developer of Fulton East was quoted in Forbes.
Wislow got help from his construction firm, Clayco, and architect Lamar Johnson of Lamar Johnson Collaborative, among others, he told the Chicago Sun-Times.
Clayco Executive Chairman Bob Clark credited Wislow with a "leading edge" mindset. "He really jumped into action quickly, starting with that very first weekend in March," before the disaster declaration and stay-at-home orders in Illinois, Clark was quoted.
"Every employee and their family is acutely aware of - and deeply concerned about - safety and well-being in the workplace environment," explains Wislow. "As an under-construction, boutique office building, we fortunately had the opportunity to modify Fulton East's design in response to Covid-19 in real time, allowing us to thoughtfully address employers' increased concerns for their employees' office experience and create an environment where hygiene, health, safety, and wellness are holistically considered."
The team implemented key structural changes, including the world's first new-construction installation of Canada-based MAD Elevator Inc.'s Toe-To-Go (T2G) elevator system, which utilises foot-activated call buttons for a hands-free elevator experience, reducing the spread of germs.
To provide maximum light, fresh air and views with an eye toward enhancing tenants' health and well being, the building facade will be constructed of continuous, floor-to-ceiling, Low-E glass and 3.m floor-to-floor spans.
Commercially, the building will be divided into 985-square-metre floor plates optimal for single-tenant use to provide private, exclusive, non-shared use of restrooms and corridors. Each floor will feature a private outdoor balcony for employees to take advantage of fresh air and sunshine.
Wislow told Forbes he predicts more tenants will consider the benefits of smaller buildings over once-desirable high rises going forward, and notes that prior must-have features, like fitness centers and lounge spaces, will be replaced by a demand for biophilic design, ample natural light, touchless technology, and customisable floor plans.
"We're going to see a shift in how we live," he was quoted, adding he believes it is the responsibility of developers to design and construct new buildings with "the latest, safest, and most sustainable technology available for the health, welfare, livability and productivity of its occupants."