Compact installation
By Euan Youdale17 June 2016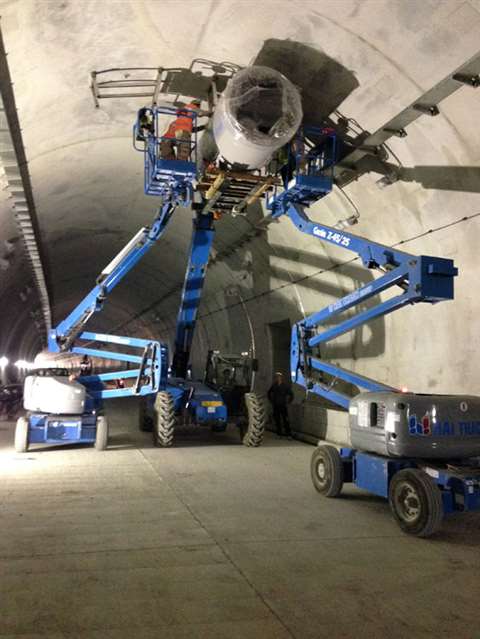 The 8km long Dai Lanh Mountain pass between the two south-central provinces of Phu Yen and Khanh Hoa in Vietnam, offers a scenic ride. Unfortunately, due to its dangerous bends and steep slopes, there are often accidents along the way.
With rising industry and tourism the in the provinces, they have become important economic hubs and the Vietnamese Ministry of Transport saw a need to build a safer, more direct route between them.
In November, 2012, the project to build a tunnel through the Ca Mountain began. Once completed, by the end of 2017, the Deo Ca Tunnel will reduce travel time by 75% and save at least US$10million in transportation costs annually.
The main construction work was completed in June 2015, and now installation of interior mechanical and electrical components, such as fire alarms and cameras and electrical, I underway. One of the main jobs was the installation of huge air ducts in the compact 8.5m wide tunnels. Each air duct measures around 1.5m in diameter, 3.3m length and weighs 980kg.
A Genie GTH-844 telehandler and two Genie Z-45/25 booms were used to install the ducts in a matter of five days each, with four workers in the booms and one in the telehandler. The challenge was that the GTH-844 and Z-45/25 machines had to be well coordinated.
The project was overseen by Tuyet NGA Co. (TNC), a Genie distributor with offices in Ho Chi Minh City, Hanoi and Danang.
"A width of 8.5m is very tight space for installing such large air ducts," says Vo Thuy Linh, vice president of Hai Thach Group, the installation contractor. "We made a lot of careful consideration by studying the right machines to use for this project. Three main factors were looked into: the versatility of the machines in tight spaces, productivity and safety. We are also very fortunate to be supported by a professional team from TNC who were always listening to our needs and advising the right machines for the job."
The 3,629kg lifting capacity GTH-844 was used to lift the air ducts, while the electric Z-45/25 was used to lift workers to the appropriate heights. Its platform rotation 180° and its turntable rotation 355° allows the workers to move the platform exactly where they need it to be. It has a working height of 15.87m and a basket capacity of 227kg. The Z-45/25 also has a tight turning radius and zero tail swing for maneuvering in confined work areas.