Compact loaders: New technology front and centre
By Andy Brown17 June 2019
Compact loaders and other construction equipment is becoming increasingly popular around the world. While these types of machines have long been used in high numbers in developed markets, their sales are increasing in developing markets around the world. Different variations of compact loaders are more popular in some markets than others. For example, North America is the largest market in the world for skid steer loaders.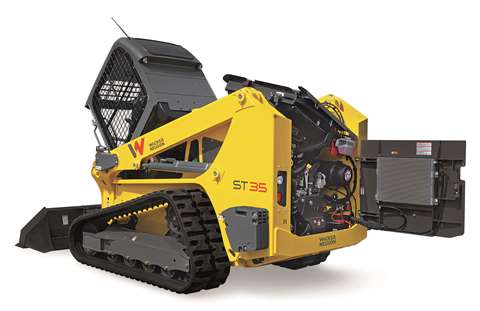 Wacker Neuson's ST35 has a turbo-charged Perkins 854 Tier 4 Final engine
One of the key benefits of compact loaders is the flexibility that the machines offer when it comes to working in confined spaces and where there is a growing need for versatile equipment. The machines also have a relatively low cost of ownership, which has impacted positively on their ownership.
Electric over hydraulic controls
One of the biggest technological changes to compact loaders has been electric over hydraulic controls (EH). Nathan Ryan, product manager, skid steer and compact track loaders, Wacker Neuson, comments that, "EH controls have emerged as the customer's choice of control method. EH controls provide a way for users to quickly switch from hand and foot controls to H-Pattern controls or ISO-Pattern controls. EH controls also allow the user to adjust some of the parameters of the controls like acceleration, maximum speed, and cycle time."
This assessment is backed up by Gregg Zupancic, product marketing manager, skid steers and compact track loaders, John Deere Construction and Forestry. "The newest technologies that are being developed around EH systems are enabling features like switchable controls, transmission response settings, boom/bucket speed settings, selectable accelerator/decelerator modes, and creep-mode settings," he comments.
"Other features include the ability to automatically level attachments both in the up- and downward motions of the boom cycle; programable return-to-dig; return-to-carry; and attachment positioning capabilities for repetitive tasks."
Italian-based Case recently unveiled new compact wheeled loader models with electrohydraulic controls. With more than 20 sensors and 20 electrohydraulic actuators installed, the company says that this new technology will improve operator controllability, provide the option to select different operating modes and allow for combined movements.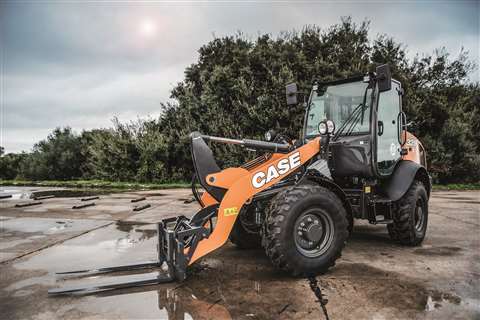 Egidio Galano, compact product line director at Case, said, "We know that automated functions reduce operator fatigue and allow operators to be more productive, even for those with less experience. We've taken proven electrohydraulic technology that has been a success in our G-series wheeled loaders and adapted it for use in these more compact models.
"Moving to electrohydraulic controls improves the operator experience by reducing the number of manual tasks that they must perform, but also gives a smoother, effortless feel to the joystick so that operators can work all day without fatigue."
On the compact wheeled loader range there are said to be a further seven other patented enhancements which will be introduced by Case throughout 2019.
Remote control compact loaders

Another new development in this sector is the announcement that Bobcat is launching a new remote control system for its compact loaders.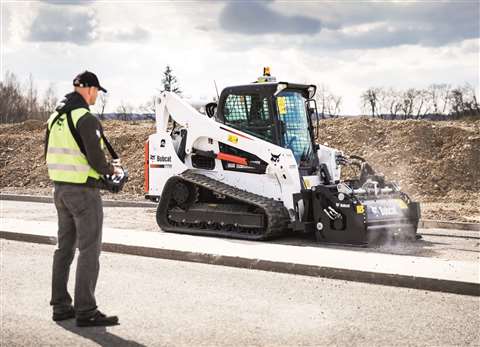 This system is compatible with Bobcat skid steer, compact track and all wheeled steer loader models equipped with the company's Selectable Joystick Controls. Bobcat say that it is the first manufacturer to introduce a Remote Control System as original 'Plug&Play' equipment, rather than offering it as an add-on development from a third party. The new system will be commercially available later this year.
Remote control solutions are particularly useful in situations where there is a danger of harm to the operator.
"We first presented our remote control prototype at Bobcat Demo Days with excellent feedback from our customers, then subjected it to further improvements, testing and licensing, before introducing it as a 'Plug&Play' solution for existing machines for commercial launch," said Jiri Karmazin, loaders product manager, Doosan Bobcat EMEA.
"The remote control system can be used in many applications with the focus on limitless visibility, the ability to communicate with the surroundings without the need to be present in the cab, comfort enhancement for applications with noise, vibration and harshness or even in dangerous areas."
One model which has recently come to market is the S925TX mini skid steer from Vermeer. The new model features a dual auxiliary system which allows the operator to switch between high flow for ground-engaging attachments and low flow for maximum control. It is also equipped with a universal mounting plate that fits a broad range of Vermeer-approved attachments.
"With the S925TX model, we've designed a machine that can deliver a higher lifting performance than most other machines in the compact utility loader segment while still maintaining a compact size," said Jon Kuyers, senior global products manager at Vermeer.
The S925TX is offered in three, four-cylinder engine options, including a 26.2 kW Kubota V1505 diesel engine offered only for international markets.
Emissions regulations
At the Bauma Munich show Liebherr announced that the four compact wheeled loaders that the company offers will now be available in compliance with Stage V emsissions standards engines. This will apply to Liebherr's two compact loaders, L 506 and L 508, as well as the two stereoloaders L 507 and L 509.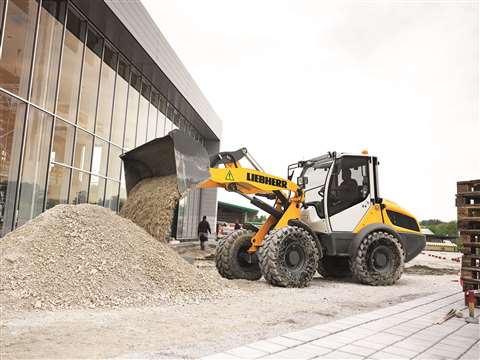 The company's stereoloaders are so called due to their Stereo steering system, which is said to combine the advantages of various steering systems. The Stereo steering is a balanced combination of articulated steering and a steered wheel axle. This Stereo steering is said to enable the Stereoloaders to achieve a turning circle that is up to 20% smaller (when measured over the outer edge of the equipment) than other wheeled loaders of this size.
Liebherr says that one of the focuses on the L 506 and L 508 compact loaders has been on the comfort of the operator's cab, with an improved amount of window space in the cab and optimal mirror arrangement ensuring unimpaired all-round visibility during work.
Volvo Construction Equipment (Volvo CE) announced at the start of the year that, by mid-2020, it will begin to launch a range of electric compact excavators and wheeled loaders and stop new diesel engine-based development of these models. The new electric compact wheeled loader, the L25 Electric, will have the latest lithium ion battery technology and dedicated electric motors for each function.
Zero emission zones
Talking about the different markets which the L25 Electric will be sold in, Xavier Beaud, director, product platform, compact wheel loaders, Volvo CE, comments, "The global market for compact wheeled loaders is very competitive and will continue to grow significantly, with electric machines a big part of its future. Naturally we hear a lot about zero emission zones in many towns and cities across the world, the majority of which are in Europe. So it stands to reason that Europe will be a strong market.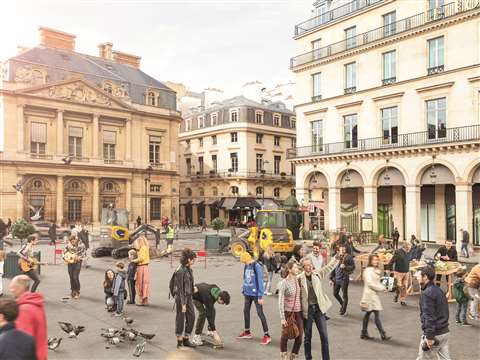 "That said, we do see areas globally whose customers have a high interest in machines that can offer zero emissions. While we can't comment on individual market shares and orders, we can say that there has been a lot of interest from early adopters of new technologies, who are keen to be among the first to use this machine."
Beaud adds that when electric powered vehicles are idle energy is not consumed, as the motor only runs on demand. With a compact loader, which may be stationary or idle for a significant amount of time, a large amount of energy can be saved. "While we are not yet at the ten times efficiency marker that we achieved with the concept excavator, it's a big step forward compared to its diesel counterpart," he added.
Caterpillar will also be launching an electric compact wheeled loader, with a concept model of the machine shown at Bauma Munich. According to Caterpillar, it will have a maximum speed of 20km per hour and a battery power of between 41kW and 60kW, with the battery being lithium ion. Caterpillar estimate that the machine will take three hours to go from no charge to full charge and, in terms of performance, will be similar to the company's 906M wheeled loader.
Caterpillar compact loaders
Sticking with Caterpillar, the company's skid steer loaders are becoming increasingly popular in Australia, the Middle East, South America and Mediterranean countries, with the Asia market also experiencing strong growth in recent years.
Eli Abi-Karam, product application specialist for skid steer loaders, Caterpillar, says that when it comes to new technology the biggest changes have been an increase in safety and efficiency. "Cat skid steers are equipped with sensors and features to disable the machine hydraulics and operation until the operator is ready and safe to start work. Fully integrated vision systems such as rear-view cameras, adjustments for machine speed and aggressiveness of the implement response and drive response allow the operators to match the machine to the operator's skill level and application," he commented.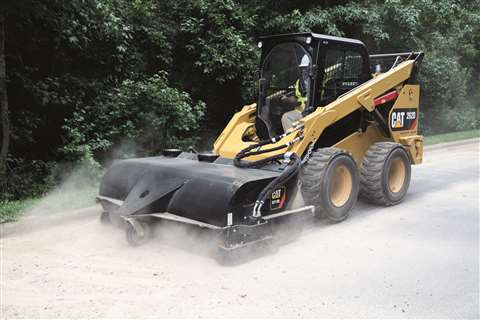 "With regards to efficiency, Electro-hydraulic (EH) controls are now the norm and act as a tremendous enabler for automation and integration of features that allow customers to save time and/or make more money. Many of these features assist with repetitive tasks like grading, digging, and loading, by allowing the user to setup the machine to do the work with less user interaction and expertise."
JCB recently unveiled its latest compact loader models, seven large-platform skid steer loaders and compact tracked machines. The machines feature a Hi-Viz boom, which is mounted 50mm lower to improve visibility from the cab.
Based on the firm's large skid steer platform, the previous 225 becomes the 250 and the 260 is renamed the 270. The 300 and the 330 remain unchanged.
On the compact tracked loader side, the 225T is now the 250T, the 260T becomes the 270T and the 300T is unchanged. All of the Hi-Viz models feature a new JCB Powerboom loading arm, which is mounted 50mm lower than in the previous generation, which is said to improve the view across the boom to the operator's right-hand side. The boom also features new double tapered pins in the boom mounting tower and in the quick hitch, to boost strength and durability.