Complex construction for Argentinian tower
By Andy Brown17 August 2020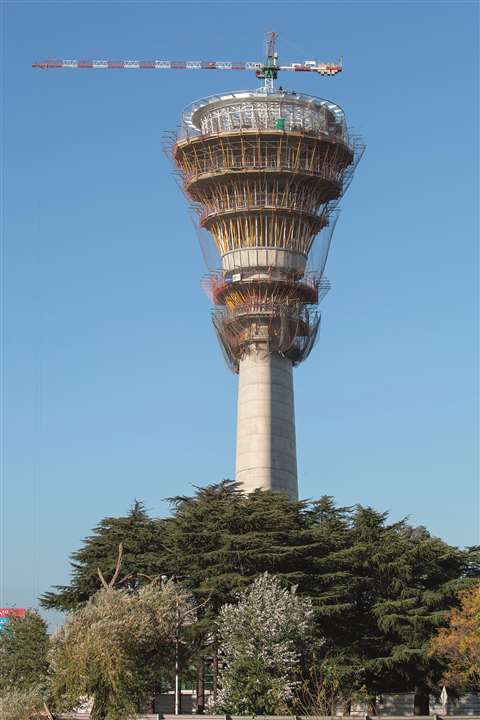 With a total surface area of around 7,000m², a height of 108m and a 360 degree field of vision, the new air traffic control tower at Buenos Aires-Ezeiza Airport, Argentina, provides the basis for visual monitoring and control of air traffic.
The Aeropuerto de Ezeiza is situated in Buenos Aires. Peri assisted with the complex construction work by providing tailor-made special-purpose formwork and closely coordinated formwork and scaffolding solutions.
The construction phase of the project was said to be extremely complex. In addition to forming a flawless surface in compliance with architectural concrete standards, an unusual geometric shape needed to be created. This would see two partition walls with a vertical pipe-in-pipe structure in the area of the shaft support the weight of the crown of the tower, which would house the air traffic control centre.
The design would also see the central internal pipe house the stairwell, the lifts and the installation ducts. The elliptically shaped visible external pipe would be connected to the internal pipe by means of transverse partition walls. In total, the tower will have 27 levels.
Once the ceiling of the highest level was in place, the structure would stand at a height of 80m. Once the steel roof and the antenna were in place, the overall height of the building would be 108m.
The internal core of the tower extends vertically upwards. Therefore, the construction site team opted for a combination of the CB Climbing System and the VARIO GT 24 Girder Wall Formwork, which impressed on account of their continuously adjustable panel connections and facilitated flexible adjustments.
To achieve the desired shape for the external pipe, an extensive amount of preliminary planning had to be carried out as the geometry of the outer core changes from one level to the next from level five upwards. In practice, this meant that a three-dimensional planning model had to be custom-made and Peri special formwork had to be manufactured.
Before work got underway the custom-made special components and all procedures were subjected to rigorous in-house testing by Peri engineers ahead of time. As such, the construction work was carried out twice, maximising the safety of the construction site personnel.