Components: Enhancements in technology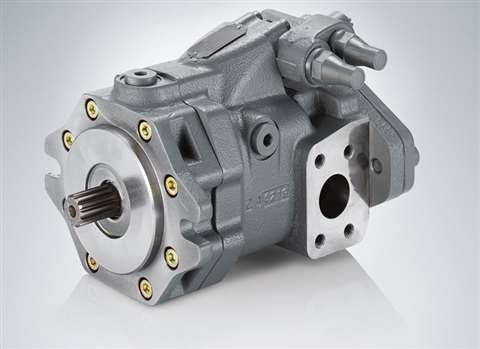 The theme for component manufacturers seems to be that the more advanced the technology, the greater the cost-savings that can be achieved as a result of greater fuel-efficiency and decreased labour time.
Dana Holding Corporation is one of many companies which has improved its products, enhancing its Spicer PowerBoost hydraulic-hybrid powertrain technology. It claims an increase in performance, productivity, and fuel economy of telehandlers and other off-highway vehicles.
These enhancements are said to enable vehicles to supply up to 20% more hydraulic power to the work circuits and perform work functions up to three times faster than vehicles that are not equipped with this advanced hydraulic-hybrid technology. Such improvements, Dana said, can further enhance overall productivity by up to 10% and generate additional fuel savings of up to 5% over and above the efficiency gains previously demonstrated by Spicer PowerBoost technology.
Aziz Aghili, president of Dana Off-Highway Driveline Technologies, said, "For off-highway machine owners and operators, increased productivity is key to the success of their businesses, and vehicles that can perform faster in a reliable and safe way will significantly improve their profitability.
"This latest enhancement to Spicer PowerBoost technology enables a much higher level of vehicle performance without increasing the size of the engine or the capacity of hydraulic pumps."
Intetestingly, Dana put this new technology to the test, working with Manitou in its MLT960 Eco-Booster 6 tonne telehandler machine. Extensive performance analyses indicated a reduced fuel consumption averaging 15% across a range of duty cycles when compared with the standard MLT960 configuration, said Dana.
Meanwhile, Danish company Danfoss has launched its new DP730 and DP570 mobile machine displays, featuring a larger-size touchscreen-only display. The DP570 is best used for smaller-scale applications where buttons are needed, it said.
The DP730, which is a new addition to the DP7xx Series, offers three different LCD display options for both in-cab and open use to meet a variety of needs in applications such as drilling, road building, construction, and specialty vehicles. It is equipped with a 178mm projective capacitive touchscreen-only display that works through mud and water, and with gloves. In addition, IP69K level protection and a wide operating temperature range of -30° to 60° aim to keep the display working even in extreme outdoor conditions.
The DP570 is described as a similarly robust product, but is specifically suited to in-cab and mid-size control panel machine applications, including material handling, agriculture and speciality vehicles. The DP570 has a 145mm-inch high resolution TFT colour display, an IP67 rating, and a temperature range of -20° to 60°.
Darren Magner, product manager, displays, for Danfoss Power Solutions, said, "Danfoss is committed to providing distributors and OEMs with robust and rugged display options to meet their unique business needs.
"Our PLUS+1 mobile machine displays are specifically designed to perform reliably in extreme conditions, therefore preventing downtime."
Kawasaki Precision Machinery has launched a range of new products covering a wide spectrum of the components sector, including pumps, motors and control valves.
Kawasaki said its new products built on the company's 20-plus years of experience in hydraulic systems for excavators, and signified its move to become a total systems supplier for all types of construction machinery, such as telehandlers, backhoe loaders and wheeled loaders.
The K3VLS axial piston pump is one of its new products, and it has been developed for machines and equipment that use load-sensing or electronic control systems.
John Boote, business development manager, said, "At the heart of the new range is the K3VLS which is available in sizes 65, 85 and 105cc.
"The pump is significantly lighter than previous models in our range and our rigorous in-house testing process shows that it maintains best in class efficiency across the operating range. This greatly impacts the fuel consumption of the machine, resulting in significant cost savings for the end user."
Another new product in the range, the M7V high-speed axial piston motor, is said by Kawasaki to be one of the quietest on the market, thanks to its newly-developed rotating group.
The K8V Series closed loop axial piston pump, available in 71, 90 and 125cc, and the KLSV load-sensing control valve, are also available, as are a series of flow-sharing, load-sensing main control valves.
All products have benefited from the expertise of the Kawasaki technology centre where Computational Fluid Dynamics (CFD) is used to maximise component efficiency.
Hawe Hydraulik is another company which has released a new axial piston pump. Its new type V40M-028 is said to be well suited for hydraulic fan controls in mobile working machines. The pump is designed for maximum operating pressure of 350 bar and peak loads of up to 380 bar. The type P1R1 pressure reducer will continually adjust the pump so that the fan's cooling output can be adjusted to complement the temperature of the machine engine. This way, the axial piston pump helps to comply with emission stipulations as defined in the Tier 4 final and Euro 6 standards, said Hawe.
In combination with valves from Hawe's product portfolio, this enables implementation of more demanding requirements on the fan controls. Depending on the installation space within the machine and the need for cooling, multiple fans can be deployed independently of one another and switched in sequence or parallel, it said. The pump will displace a volume of up to 28cm³/U.
The continuous pivoting angle constantly adapts the fan's power uptake to the required temperature. Type V40M-028 is mounted directly to the diesel engine and Hawe said it took up little space as it had a width of just 172mm and a length of 182mm. As the pump's pressure reducer has a negative characteristic curve, it will also protect the engine against overheating in case of electronics failure.
Bosch Rexroth, meanwhile, has released its new series of Hydrotrac GFT 8000 transmission units, providing around a 10% increase in drive train performance for mobile working machines.
In this series, based on a modular design, Rexroth is combining two- and three-stage planetary gearing with axial piston motors to match the needs of mobile working machines that are often on the road. An optional internal brake reduces the amount of installation space needed and satisfies the safety specifications for worldwide roadworthiness certification, said Rexroth.
Where mobile working machines travel a lot – for example, heavy-duty transporters and paving machines – roadway performance is important because of its direct impact on productivity. In the new series 8000 Hydrotrac GFT transmission units, mechanical planetary drives transfer the torque from the hydrostatic drive to the wheels or tracks.
In this modular concept, Rexroth uses the newest versions of either variable axial piston motors or fixed-displacement axial piston motors. They operate either in an open or a closed circuit. The option of an integrated multi-disk brake, located inside the unit, further reduces the space required. The brake is said to require little maintenance and is designed for protection against soiling.
In conjunction with the high level braking (HLB) system from Rexroth, the dynamic brakes satisfy the exacting safety requirements for speeds of up to 50 km/h, said its producer. In both Germany and the US, the standard machines featuring drive units equipped with Rexroth dynamic brakes have already been certified roadworthy by the responsible authorities.
Cummins Turbo Technologies has launched its next generation Holset VGT, designed to improve turbo efficiencies and deliver greater fuel economy.
This latest VGT technology offers multiple benefits, said Cummins, such as enhanced integration with the engine system thanks to a new actuator, improved durability and optimised performance through the patented moving shroud variable geometry mechanism.
The next generation Series 300 variable geometry turbocharger is capable of improving turbo efficiencies by up to 12% at low engine speed as well as delivering reduced CO2 emissions. In addition, this latest solution is 10% lighter than its existing counterpart, creating greater fuel economy.
Looking at software, RDS has released its iSOSYNC PC recycling software, which is designed to enable control of the loadout operation and inventory, productivity and traceability management.
The software can be used with either the Loadmaster a100 or Loadex 100, and allows the rapid transfer of job information from a central computer to the loader or excavator, before the resultant load information is sent back to the PC on completion. The system can be one- or two-way and is designed to operate fully automatically and without changing the loading routine for the mobile operator, said RDS.
Job instructions are sent direct to the loader operator, and after each vehicle is loaded and the "clear" button is pressed to reset the instrument, the loading record is transmitted back to the central computer and can be logged into the load management software.
RDS said that iSOSYNC could be remotely accessed using standard query language (SQL), acting as a bridge module between the on-board weighing system and a customer's existing load management software package. Connectivity options include USB, TCP/IP over Ethernet LAN cable, wi-fi ethernet module, 3G router or 869 Mhz radio modem. Job reports can also be listed according to time, date, job number, job name, ticket number, and machines and stores references.
The Loadmaster a100 is a trade approvable system to MID Class Y (b) and OIML and suitable for use in commercial transactions. Linking to iSOSYNC provides an integrated and complete load-out management system.
Hydrotechnik UK has launched its new expanded pressure sensor portfolio to meet the needs of a wide range of industries and applications, from low cost original equipment manufacturers (OEMs) to high performance research and development.
The new product line offers a choice of cost effective proven solutions for markets ranging from industrial machinery, process and environmental systems to automotive, rail and aerospace, said Hydrotechnik.
Featuring thin-film and diffused silicon elements, the ADZ piezo-resistive sensing technology is described as inherently accurate, small and robust with stainless steel construction.
This is said to enable it to be readily adapted into many different sensor configurations for customer-specific requirements, from a standard 22mm cylindrical transmitter to customised miniature transducers for critical measurements in confined spaces such as automotive engines.
Featuring ranges from 10 bar to 4,000 bar with "excellent shock, vibration and overload ratings", Hydrotechnik said its rugged stainless steel pressure transducers and transmitters were suitable for all kinds of gas/fluid media, even in harsh operating environments with temperatures from -40°C up to 200°C.
Curtiss-Wright Corporation has released the JC1200 − a "next-generation, cost-effective paddle joystick" from the its brand family of Penny & Giles.
It said that by using a long-life bearing system and non-contacting Hall-effect sensing technology, the JC1200 had achieved a long operating life of 25 million cycles while providing functionality that was smooth and easy to operate.
Key features of the JC1200 include an under-panel depth of 9mm, requiring minimal installation space, a spring-loaded return-to-centre or return-to-end paddle movement, integrated panel seal and IP67 protection suitable for outside use, and a choice of nine coloured paddle tabs. These can be factory fitted or supplied separately and added as part of the final customer installation process, according to the company.
The product launches with a 5Vdc supply voltage and the option for factory-programmable electronics configured to one of two analogue voltage output ranges − 0.5 to 4.5V or 1.0 to 4.0V. The joystick also provides safety functionality via dual outputs, which can be set to positive or negative ramps, or a combination of both. This offers system designers the option to compare the output signals for error checking.
The JC1200 paddle joystick builds on the success of the JC120 and is ideal for use in control panels and armrests found in industrial trucks, agricultural equipment and construction machinery, where cost-effective, long-life operator controls are essential.
Scanreco has launched Rocket Flex − a hand-held transmitter designed to provide users with operational efficiencies.
These include two step buttons, a large labelling area which provides visible icons for easy and safe operation, ergonomic and rugged design, E-stop functionality and a long operating range, said the company. The Rocket Flex, with 14 pushbuttons in single or dual speed steps, comes with two-way communication, enabling machine feedback to the operator via a graphic display and light emitting diodes.
The product has up to 120 hours of continuous operation on a single charge. And, the Rocket is subject to Scanreco's testing protocols, ensuring a safe and reliable product over a long time period, even in harsh working conditions, it claimed.
Claes Ulvefeldt, vice president of marketing and sales at Scanreco, said, "We have received strong interest in the Rocket Flex, as the value proposition of this product clearly resonates with our customers' operational and performance requirements."
The transmitter communicates with the corresponding receiver using a Scanreco protocol and a unique identity code. This guarantees that no other Scanreco transmitter or other product ever can activate the machine unintentionally.
The stop function conforms to performance level "e or d" (depending on the chosen receiver model) as specified in EN ISO 13849-1 − a legally binding standard for safety-critical components of control systems.
French-based Apem has announced its new 13000 series of sealed, momentary pushbutton switches designed for high performance applications in material handling markets.
Said to be ideal for applications that require robust construction and reliability, the 13000 series features a low, behind-the-panel profile and an anodised actuator, and a heavy-duty double shell casing, according to Apem.
The 13000 series push/pull switch maintains the down position when activated and an upward pull force to deactivate, requiring approximately 2.25kg of force in both directions, it said. Featuring gold-plated, solid silver contacts, the 13000 push/pull switch comes fully sealed to IP67, with an O-ring and sealing washer, and epoxy-sealed terminals, protecting against water and dust.
Panel seals withstand 1 bar pressure and remain sealed even when the switch is operated, said Apem. Reinforced sealing is also available, and the switch's low profile construction makes it ideal for applications where behind-the-panel space is limited. Switch contacts are rated for low level switching and for resistive loads of up to 4A at 24Vdc.