Components: The building blocks
By Joe Sargent04 November 2020
Stauff's new QRC-1D series is designed for up to 400 bar of pressure
When purchasing new equipment, you need to know what the capabilities of the machine are, what the benefits are in terms of performance gains, and whether or not it will do the job that needs to be done.
These elements for consideration can boil down to the very structure of a machine, to its DNA. You might think that you are looking underneath that glossy exterior but that too is a component with as much thought behind it from OEMs to make the right choice in protecting your investment from corrosion and its resale value.
One company tackling the problem of corroding parts is Germany-based Stauff, which has developed a new coupling series, which, the company says, offers particularly high corrosion resistance for use in stationary hydraulic systems.
Rust prevention
Stauff explained that the new series – QRC-ID – is suitable for users looking for a compact, convenient plug-in coupling for rough ambient conditions and a rated pressure up to 400 bar. This coupling series, says Stauff, is suitable for adverse operating parameters due to highly effective corrosion protection.
The zinc-nickel-based corrosion protection coating offers resistance against red rust/base metal corrosion.
After intensive testing, it is therefore the preferred coating at Stauff and has already proven successful in other series. Stauff claimed that the coating exceeds the highest requirements of corrosion protection class K5, which are defined in the standards of VDMA, the mechanical engineering industry association.
To release the coupling, the operator only has to actuate the push sleeve. Coupling is achieved by simply pushing in the coupling while actuating the push sleeve. A high-quality cone valve ensures good flow rates and reliable shut-off of the media line.
The series is available from stock in four sizes, for operating pressures up to 400 bar (depending on coupling size).
Tyres of the future
The introduction of self-driving and electric vehicles is speeding up in construction.
BKT, which manufactures Off-Highway tyres for agricultural, industrial, earthmoving, mining and ATV vehicles, is now experimenting with a range of solutions around the challenge.
In the case of electric vehicles, the type of energy and load distribution has led to the creation of specific tyres. Owing to the high torque, as well as the strengthening of the bead between the rim and the tyre, the design of the flaps of agricultural tyres, for example, must be adapted and could require a reduction in the depth of the tread and an increase in the robustness of the flaps.
In order for electric vehicles to be able to carry heavier loads, different compounds are being researched, since they must be able to work at lower temperatures.
It's quite possible that the tyres of the future could be constructed using nanotechnology. BKT is working to develop better performing compounds using nanomaterials or nanocompounds. These are said to offer advanced thermal and mechanical stability. The BKT Research & Development Center is also conducting nanotechnology studies and experiments on natural fibres such as nanoclay and nanocellulose.
Another element which the company is trialling is graphene, which provides higher resistance to wear and puncturing and higher resistance to traction, as well as better resistance to rolling and exceptional duration.
Graphene is a strong alternative, according to BKT, being 200 times more resistant and six times more flexible than steel. Incredibly thin, it alo has an extraordinarily high level of conductivity for both heat and electricity, making it an ideal material for heavy-duty applications.
Proactive part replacement
Astrak's TerraTrack Plus features toughened steel links for use on demanding terrains
Machines are also being programmed to alert operators in advance when downtime is going to occur. BKT is adapting its tyres for this generation of work vehicles, with sensors mounted on the tyre. These sensors can inform the vehicle of the level of tread consumption.
Astrak's TerraTrack Plus features toughened steel links, connected by continuously wound anti-rust high tensile steel cords, which are encased in an advanced abrasion-resistant rubber carcass to provide increased durability and performance.
The newly developed interlocking steel link configuration has been designed to avoid troublesome detracking issues, even when used on the most demanding of terrains.
The anti-vibration qualities of the system ensure the smooth running of track rollers and offer increased operator comfort and potentially greater alertness. Reduced vibration also means sound levels are suppressed. Compared with standard tracks being recorded at 107.4 dB, TerraTrack Plus technology is measured at 104.5 dB.
Each of Astrak's six UK & European locations stock tracks from 230mm wide to 450mm wide and the TerraTrack Plus range is available to fit a wide array of tracked machinery.
Next-generation alternator launched
Nidec Leroy-Somer has introduced TAL 0473, its latest next-generation alternator based on the .3 technological platform. Like the entire TAL product range, the TAL 0473 is suitable for all electric power generation applications, other than marine.
An internal view of the TAL 0473 alternator.
The TAL 0473 is the latest addition to the range based on the .3 platform, replacing the TAL 047 and benefits from improved performance. The new alternator delivers a nominal power between 400 and 660kVA at 50Hz (from 495 to 825kVA at 60Hz).
The alternator features a SHUNT excitation system and an R150 regulator as standard. An AREP+ auxiliary winding excitation system with R180 regulator version is also available to further improve transient performances and provide high overload capacities.
It is interchangeable with the TAL 047 (shaft height and feet configuration) and can be coupled with all diesel engines on the market for this power range.
Continuous improvement
Now more than ever, OEMs and end users within the construction sector are looking to improve equipment and production processes to reduce overall costs.
These goals can be accomplished through actions such as removing wear on key components or equipment, reducing overall weight, or reducing power or maintenance requirements.
Nylacast, a manufacturer of performance-enhancing polymer components offers an alternative solution to metal parts from versatile materials.
The company's product range is formulated to aid the continuous improvement process, ensuring customers gain not just a new product, but an engineered solution to suit the requirements of each individual application.
Examples of the company's latest engineered solutions include:
Nylacast's Nylube Wear Pads. These pads offer high-strength, high-impact resistance, very low wear rate, low coefficient of friction and a wide temperature range.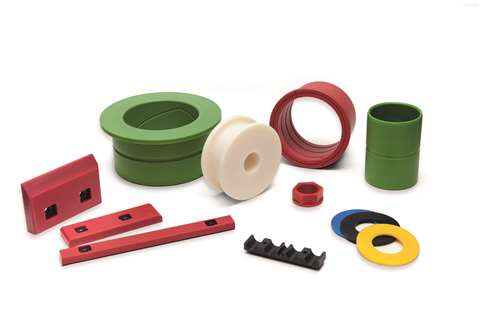 Nylacast says that in application, no maintenance is required, including greases and lubricants, resulting in a reduction in machine downtime. Added material strength also means smaller parts can be used, making the whole assembly more compact and thus reducing the overall weight.
High-strength sheaves and pulleys formulated from Nylacast Moly or Nylastat, which reportedly deliver improved load spread, extending rope life substantially. An additional benefit to using polymer is that it weighs approximately 85% less than steel, making installations at height significantly safer and transport more efficient.
For roller applications Nylacast Natural PA6 C or Nylacast Oilon are corrosion resistant and offer high impact strength and a low coefficient of friction, resulting in less operational maintenance.
Finally, as an alternative to bronze bushings, Nylacast's Oilon bearings, according to the company, provide 25 times the lifespan of phosphor bronze. Bushings produced using Nylacast Oilon also require no maintenance or lubrication.
Update from Bonfiglioi
Component specialist firm Bonfiglioli recently developed two new system ranges for inline gearboxes; the AxiaVert and EVOX series.
The first products of the EVOX geared motor platform are the new Helical In-Line Gearmotor CP, combined with the new Asynchronous IE3/NEMA premium high-efficiency electric motors. Both new concepts create an efficient, small and simple gearmotor ecosystem.
The in-line gear units will be the first to be released and will be available in six different sizes: 55, 100, 200, 335, 500 and 650Nm, with motor power at 0.12 and 15kW IE3.
The EVOX CP gear unit, with a reduced backlash configuration, is ideal also for applications demanding higher precision. EVOX CP also helps eliminate any friction, utilising a new lubrication concept that allows the gearmotor to be used in any mounting position.
The company's new AxiaVert technology is part of its premium frequency inverter series. Designed to be Internet of Things-ready and aimed at offering an optimal response to specific industrial application requirements – thanks to its modular structure and PLC software programmability – AxiaVert is now available in four sizes, with a power range between 0.25 and 15kW.
Eaton expands its advanced mobile valve offering
Eaton Hydraulics has launched its CMT mobile valve section, a streamlined new section option for the company's CMA advanced mobile valve portfolio.
The CMT mobile valve section is an extension of Eaton's CMA advanced mobile valve family. CMA is a CAN-enabled, electro- hydraulic mobile valve that enables original equipment manufacturers (OEMs) to deliver increased performance and operator productivity. Featuring onboard electronics and advanced software algorithms, Eaton says that the CMA valve provides flexible configuration, real-time communication, and precise control.
The new valve section has the capability to control two bi-directional services from one section, something that Eaton claims is an industry first. Utilising the CMT valve section enables greater design flexibility by reducing CMA valve bank size, weight and overall system cost.
The CMA advanced mobile valve features a sectional configuration. CMA valve banks can be configured with CMA/CMZ sections and CMT sections. CMA sections feature independent metering, which uses two spools to control the supply and return flow for a single bi-directional actuator. CMT sections utilise the twin-spool architecture to control two services instead of one. While CMA is available in 90 L/min and 200 L/min work port flows, CMT is currently offered only in 90 L/min work port flows.
A single CMT section can control two separate machine functions independently. Naturally this is a cost-effective way to control services that do not require the flexibility and capability of CMA's independent metering, while reducing valve bank size and simplifying inventory.
Furthermore, the CMT section can be integrated into a CMA valve stack that utilises CMA/CMZ 90 sections without any system modifications.
When commanded to a specified flow, the CMT's closed-loop position control in the onboard electronics provides accurate and repeatable meter-in flow control. Additionally, the CMT is factory calibrated, allowing OEMs to eliminate their own end-of-line valve calibration.
Eaton Hydraulics say that CMT is the first step in the company's CAN-based digital valves and, like CMA, provides several benefits, including onboard sensing, pressure limiting functionality, integrated control algorithms, architecture simplification and improved serviceability.