Components: the nuts, bolts and the tyres
By Katherine Weir23 August 2019
Quality components can positively affect the efficiency and effectiveness of any machine. By investing in research and development and constantly improving their component design, both specialist manufacturers and original equipment manufacturers (OEM) are increasing the safety, reliability and cost-effectiveness of construction machinery.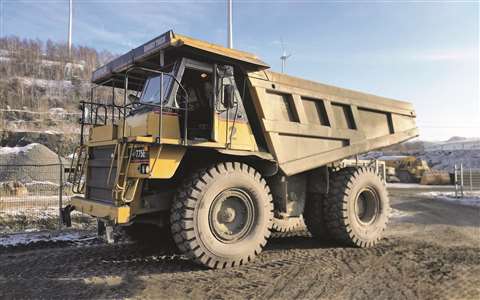 Whether a specialist company or OEM, the need to incorporate new technology and better, more sustainable materials is key to staying ahead of the curve.
Construction machinery is made up of a huge number of individual parts. Among the most visible are the tyres on any wheeled machine.
Balkrishna Industries (BKT), based in India, is increasing its position in the 'giant' tyre segment as shown with the company's offering at the Bauma Munich exhibition in April. The manufacturer launched a new 129cm (51 inch) version of its Earthmax SR 46 tyre, the biggest tyre to date for BKT: the 33.00 R 51. The tyre is for rigid dumpers operating in adverse conditions.
Construction technological revolution
Lucia Salmaso, managing director, BKT Europe, said, "The world of machinery – and particularly those for specialist applications – is experiencing a technological revolution. Big topics such as increased productivity, sustainability, automation and safety, are the focus in all sectors we operate in."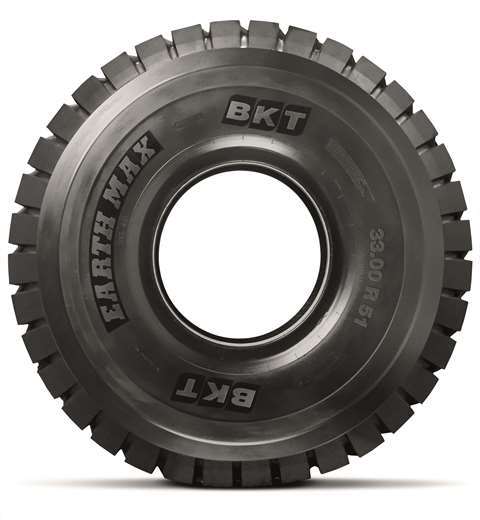 Salmaso said that BKT is also conducting initiatives concerning materials. "Following a joint research agreement, which was stipulated with Kultevat last year, and after several studies and tests, we have developed new compounding methods in order to gradually replace natural rubber with taraxacum kok-saghyz (TKS) rubber also known as 'Russian dandelion'. It produces a substance similar to natural rubber."
New compounds are also being developed at BKT to be 'extraordinarily' cut-and-chip resistant as well as ultra-heat-resistant compounds that can carry heavy loads with a top tonne-kilometres per hour (TKPH) value.
Last year, the manufacturer released its Spotech monitoring system that provides information on exact equipment positioning via satellite tracing.
An accelerometer records all lateral, longitudinal, and vertical movements as well as related forces, in addition to speed, cycle duration and other parameters. A GoPro camera records videos from the operator's perspective and is synchronised with the data recorded on the device.
Salmaso added, "We are using monitoring systems so that the outdated consideration of a tyre as a stand-alone component will fade away. On the contrary, the tyre is a key component of the equipment system.
"These monitoring systems detect the main parameters that are essential for optimising, correcting and improving operations performed by the equipment. Not only has the tyre demand changed from a product point of view, which has become more complex to keep pace with machinery, but we are also required to provide more service."
Tyres keep on rolling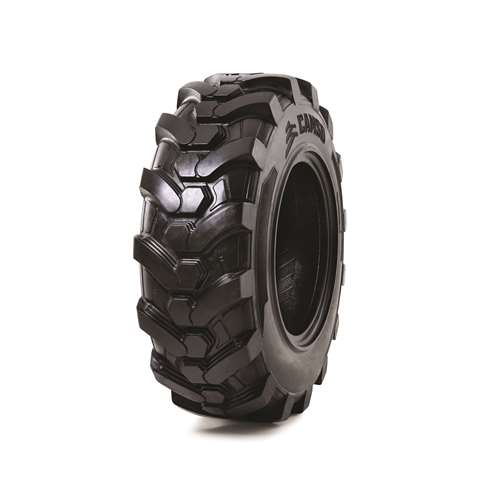 Tyres, tracks and track systems manufacturer Camso is seeing several component trends in construction equipment. First is the move towards rubber tracks and away from rubber tyres.
"Right now, 60% of compact machines sold in North America are compact track loaders instead of skid steers. In Europe, Middle East and Africa (EMEA) we're also seeing a shift from tyres to tracks, but the demand for skid steer loaders is less important," said Lander Nijs, product manager tyres, EMEA, construction, Camso.
With a rise in the number of compact machines being sold in North America – including compact wheeled loaders, compact telehandlers, mini dumpers and self-loading mixers – this means a demand for new tyre sizes.
Compact construction equipment
Another trend is a shift from pneumatic to solid tyres, especially for compact machines like skid steer loaders, telehandlers and compact wheeled loaders, which are being used in more intense and extreme applications.
Nijs said, "As solid tyre technology continues to evolve and improve, it is very likely that we will continue to see an erosion of pneumatic and foam filled pneumatics, and a rise in solid tyre wheel positions on compact construction equipment."
For those using pneumatic tyres, Camso is seeing applications that are increasingly demanding for wheeled loaders and articulated dump trucks, causing a shift from the 80 series to 65 series (low profile tyres).
The manufacturer, based in Canada, has also seen a shift from ownership to rental and, with regards to tracks, Camso is observing a change from rubber and steel tracks to rubber pads. This is occurring mostly in the EMEA region.
"Rubber pads offer a great advantage for both compact and heavier machinery," added Nijs. "Most compact machines are now equipped with rubber tracks which offers improved performance and less wear in more extreme conditions. Larger machines typically run on steel tracks, which can be damaging for some surfaces like turf and concrete. Adding rubber pads allow these heavier machines to work in places they would not have been able to before, at least not without damaging the surface."
Camso recently launched its MPT 732 multi-purpose bias tyre for the EMEA market, said to be 'engineered for exceptional traction, stability and durability' under a variety of conditions. The manufacturer has also introduced a low profile radial off-the-road (OTR) tyre – the EMT 553R – which is said to give better stability, steering and traction while optimising load capacity in earthmoving applications. In the coming months, the company will be adding multiple new tyres to its wheeled excavator line.
Electric equipment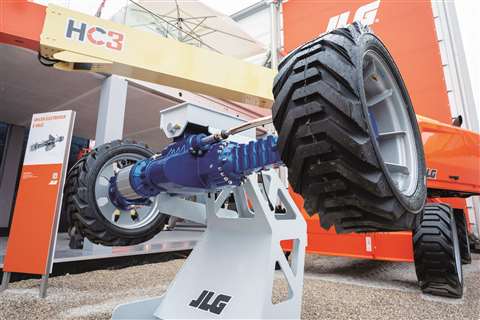 Vehicle transmission and component company Dana Incorporated used the recent Bauma Munich event to showcase its collaboration with JLG to develop an electric axle as part of JLG's electrification initiative.
Jeroen Decleer, vice president of global off-highway sales, product planning and strategy for Dana said, "The Spicer Electrified e-Axle concept combines a number of Dana products, including Spicer axle components and drive and motion intelligence, SME motor and control technologies, and gearing in a modular package that can be fine-tuned for vehicle size and performance."
As well as the e-Axle, Dana has also developed a Spicer Electrified e-Gearbox for compact equipment. Said by the manufacturer to have a 'plug-and-play' design, the e-Gearbox combines Dana-supplied TM4 and SME electric motors with Spicer hydrostatic transmissions for small and medium-sized wheeled loaders up to 10 tonnes and telehandlers with lift capacities up to 6.8 tonnes. It will be available for customer testing later this year.
Other collaborations include Dana supplying Brevini winches to US-based crane manufacturer Link-Belt Cranes for its 100 RT and 200 RT rough-terrain cranes, as well as its TCC-2500 telescopic crawler crane and its 175 AT all-terrain crane. Dana has also recently completed the acquisition of Italian electric motor manufacturer SME Group.
Elsewhere, component specialist Nylacast said that, as the variety of construction equipment widens, the number of components increases.
Answering the question of how new technology has influenced its products, the company commented that efficiency and safety are always high priorities for its customers.
Daniel Wilson, sales engineer in construction, agriculture, quarrying and mining at Nylacast, said, "The emergence of electric drives naturally increases the demand for energy saving componentry. Metallic conversions are more popular than ever.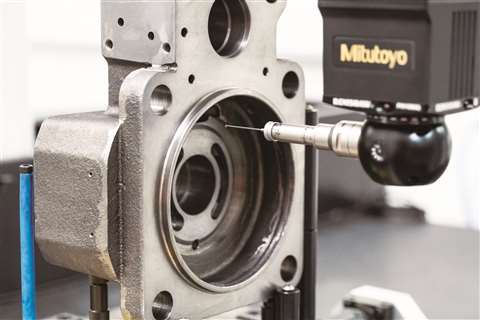 "The introduction of fibre rope in lifting applications has led to Nylacast developing rope handling and protection systems. We make more sensor related parts, housings, guards and actuators – our Nyla-Stat material has been used in these applications."
Nylacast said that the demand for higher standards in components in the construction sector has grown noticeably in the last few years.
Wilson added, "To help OEMs achieve the best standards, Nylacast has also made components for the production process as well as the vehicles themselves. Protection for fine finishes during assembly, jigs/fixtures and tooling protection are a few examples."
The company says that the demand on material performance is being pushed even further as the need for lightweight and consolidated parts has increased.
Operator ease and comfort

UK-based quick connect solutions company CEJN released its new ADX auto-dock couplings earlier this year, designed to be integrated with automatic hydraulic connections. Benefits are said by the company to include high surge flow resilience, robustness and reliability for the most demanding applications within demolition or construction.
Jonas Olausson, product manager of hydraulics, CEJN, said, "Using our long quick connect coupling experience from other areas, like industrial manufacturing where auto couplings already are frequently used, we have developed a unique coupling series for mobile hydraulic applications."
When integrated into an auto-dock multi-plate the ADX makes it easier for the operator to safely change attachments without stepping out of the vehicle. High misalignment tolerance makes it easier to make a proper connection.
Olausson said, "Manufacturer demands have shifted from connecting single hydraulic hose lines, towards multi coupling solutions and preferable automatic solutions where the operators can swiftly change an attachment without leaving the cockpit."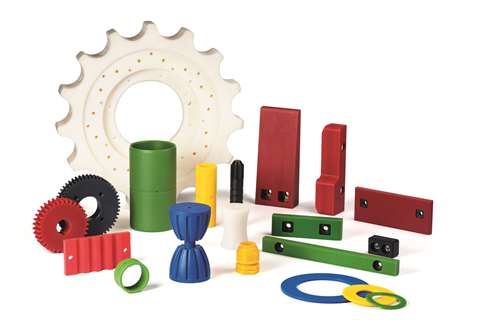 Control systems manufacturer Kawasaki Precision Machinery (KPM) says that increased efficiency, reliability, lower cost and increasing demand for integration of hydraulic and electric components top the list of manufacturer demands in components.
John Boote, senior marketing manager for sales and marketing, KPM, said, "We are seeing a move away from hydraulic operator controls to electronic solutions; improved robustness of electronic devices has enabled this trend in construction machinery."
Looking to the future, KPM plan to have components that are optimised for the continued introduction of electric and hybrid powered machines as well as the other new technology which is becoming increasingly common in the industry.
Boote added, "We have also recently introduced hydraulic control systems for excavators that can be optimised for 2D and 3D control and automated work sites."