Concept for Dubai's 93km urban highway revealed
By Catrin Jones07 February 2023
URB, a Dubai-based sustainable cities developer, has revealed details about its new 93km long urban highway – The Loop in Dubai. The highway will connect three million residents via modes of transport to key locations and services.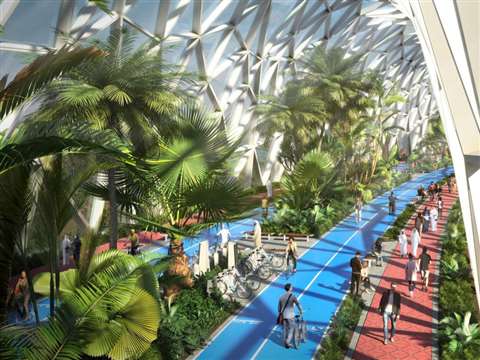 Planned as a sustainable urban highway, the project is said to become 'the smartest cycling and running infrastructure anywhere in the world'. 
URB adds that the project will provide an enjoyable climate-controlled, all-year-around environment, with the addition of making walking and cycling the primary mode of transport for Dubai's residents.
Unveiling the new concept, CEO of URB Baharash Bagherian, said, "The Loop provided a great opportunity to foster an entrepreneurial spirit in urban mobility and Dubai is the best place for it. This is the future of urban mobility infrastructures, which are more than sustainable transport systems.
"These types of infrastructures are spaces and utilities for people, where various leisure and community services can also be provided. These types of infrastructures are an enjoyable mode of sustainable transport, no matter the weather conditions," he added.