Concrete advances on Qatar World Cup venue
By Mike Hayes26 October 2015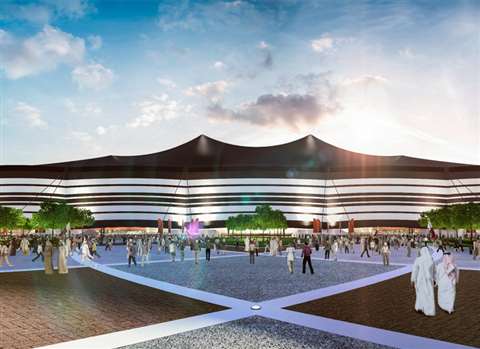 Construction will be underway before the end of the year on the 60,000-capacity Al Bayt football stadium in Qatar, according to the development's project director.
Located in Al Khor City, 50 km north of Doha, Al Bayt has been earmarked as one of the Fifa World Cup 2022 quarter-final venues.
Dr Nasser Hamad Al Hajeri, overseeing the development of the stadium, reports that the main contractor has now arrived on site.
He confirmed: "We expect the first concrete activity to take place before the end of this year."
The latest renders of the complete stadium have now been released, confirming that the design will recall a traditional Bedouin tent, with the shell of the structure made from a coloured polytetrafluoroethylene (PTFE).
The 60,000-capacity of the stadium will fall to 40,000 following the World Cup, as the top tier of seating is removed. A shopping mall and wedding venue will also take up residence within the stadium's shell.
Meanwhile, Abdulaziz Ali Al-Mawlawi, senior design management engineer with the Supreme Committee - the body responsible for delivering the Qatar World Cup stadiums and infrastructure - has responded robustly to recent criticism in the media of working conditions for migrant workers.
He insisted there have been no deaths during the construction work undertaken under the auspices of the committee.
"We have really high standards of safety covering all the workers," said Mr Al-Mawlawi, adding, "Currently we are working on six stadiums, with almost 3,600 workers on site and we have just completed 10.5 million man-hours without any loss of time.
"Our high standards are within all of the contractors' contracts and we are pushing our contractors to provide these high standards for the workers."