Concrete, concrete, everywhere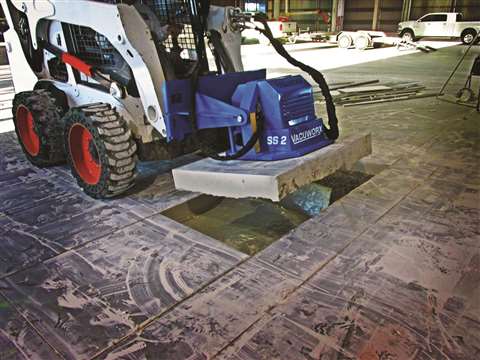 The Vacuworx SS2 lifting attachment, operating in harness with a Bobcat skid-steer loader
Dubbed by the European Cement Association, Cembureau, as the most widely used material in the world – after air and water – concrete cannot be escaped in the construction industry. It is everywhere.
So when it comes to choosing the right equipment to mix, pump or drill concrete, flexibility and productivity reign supreme because small time savings and little ergonomic tweaks can be magnified by economies of scale.
One innovation that has been making significant savings on time is the SS 2 Skid Steer Vacuum Lifting System created by the US company Vacuworx.
One of these machines was recently purchased by the Kansas-based concrete contractor Bedrock Concrete in order to comply with noise and vibration restrictions during a drilled pier installation project at the Overland Park Xchange building in Kansas, US.
Designed to operate in conjunction with a skid-steer's hydraulic system, the SS 2 was used by Bedrock on a Bobcat S650 skid steer loader. Made of aluminium, it weighs in at just over 44 kg without the universal mounting plate, making it a lightweight and versatile attachment that can also be used with a variety of mini-excavators or small cranes that employ the clevis hook connection.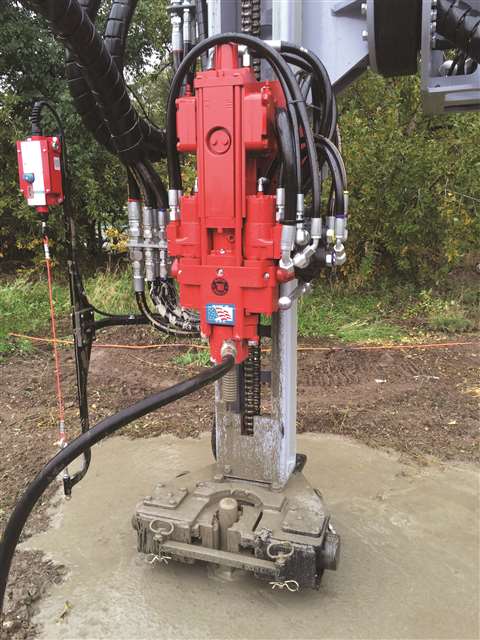 With the ability to pick up any flat, non-porous material, including marble, granite, metal, steel and iron, the SS 2 has a lifting capacity of 1.25 tonnes.
Requiring a minimum of 45.5 litres per minute to provide a pressure of up to 3,000 pounds per square inch, the hydraulically-driven vacuum pump is fitted with quick-connection hydraulic hoses so that it can operate using the auxiliary hydraulics of the host machine.
A Vacuworx Tough Seal pad seal is used on the vacuum pad to cover the material to be lifted, providing a powerful positive seal when the system is pulling a vacuum between the integrated 60x60cm vacuum pad and the object.
The pump maintains a constant vacuum in the pressure reservoir and the vacuum seal holds until the operator activates the release, even in the event of a power failure.
"The SS 2 was more efficient than a jackhammer or other methods we've used in the past," said Beau Hahn, co-owner of Bedrock.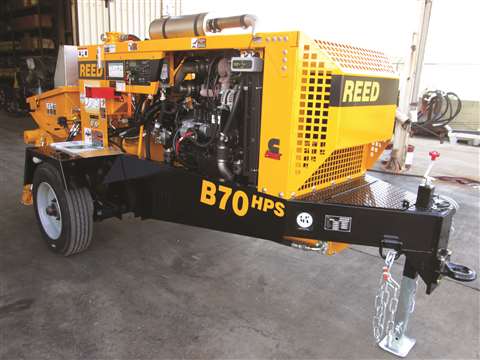 US-based Reed has introduced the B70HPS, a high-performance, 180 cc hydraulic pump
He added, "We avoided the construction noise, as well as the potential for wear and tear on our Bobcat and employees. Instead of having two or three guys working, it was basically just one."
The concrete contractor apparently pulled 46 squares of saw-cut concrete – each weighing about half a tonne – in less than an hour.
In addition, Bedrock said this quick and simple solution helped to create a safer and cleaner work environment, with a reduced potential for disruption or damage to the subgrade.
Another quick and simple solution is provided by TEI Rock Drills.
The US-based construction equipment supplier has introduced the HEM Excavator Attachment, which has the ability to swivel 360˚. With such a range of motion, difficult positions can be reached, in both high and low environments.
Virtually all buildings have foundations made mostly of concrete, and those foundations are constructed on piles filled with concrete.
Hollow bar micro-piles
While these piles might be driven into the ground, it is said to be increasingly the case that they are drilled and then filled with concrete and steel.
Although the foundations for large buildings require large piles, TEI's HEM excavator drill is designed to create micropiles for light commercial and residential construction.
Another application is drilling anchors to support retaining walls for things such as roads and excavation sites.
The HEM excavator drill specialises in installing hollow-bar micropiles and anchors, whereby a hollow bar is used as a drilling rod, with a bit threaded onto the end, and then grout is pumped through the bar as the drill turns and hammers the bar into the rock or soil.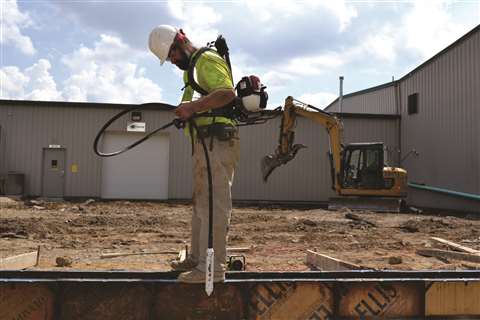 Since grout is being pumped at high pressure during installation, the integrity of the surrounding soil is said to be improved.
When it comes to pumping concrete, US-based Reed has introduced a high-performance, 180 cc hydraulic pump.
The B70HPS model uses a 130 hp Cummins Diesel engine – which is available on both Tier 3 and Tier 4/Euro Final – and is said to reduce wear on the motor and hydraulic system.
By running the engine at just 1750 rpm, Reed said it strikes an ideal point on the torque curve for that motor. This provides better performance and a longer machine life than if a smaller capacity and less expensive hydraulic pumps were used, which would need to be spun much faster to achieve the maximum rated output and pressure.
Intended primarily for flatwork and high-rise pumping, Reed's 45 m per hour pumps are designed for contractors who want to pump big rock concrete and spray shotcrete. The 150 mm-diameter material cylinder is better suited for shotcrete applications than the larger seven inch material cylinder offered on Reed's 70 and 90 m per hour rated pumps.
Due to the compact size of the B70HPS pump, it takes up a relatively small footprint on the jobsite and it can be manoeuvred on mid- to high-rise projects, as well as being towed easily.
On the subject of portability, Minnich Manufacturing revealed its new backpack concrete vibrators at ConExpo 2017 in Las Vegas, US, which are due to be available this summer.
The new and improved gas-powered range includes a 50 cc model, as well as an updated 35 cc unit.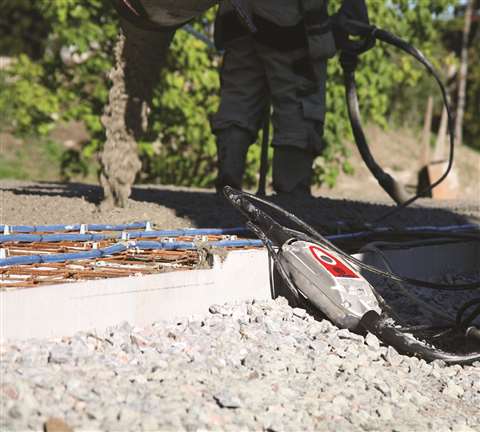 They are designed to maximise operator comfort, and give additional mobility and productivity during concrete consolidation.
New features include an ergonomically designed, fully adjustable harness that reduces strain and fatigue, and a throttle assembly with combined quick disconnect so that the core and casing can be changed out in seconds.
Also, the throttle assembly is part of the core casing so that operators are able use both hands to lower and lift the vibrator into and out of concrete, and the throttle lock lets the operator move their hands up and down the core and casing while lifting and lowering.
The vibrators are equipped with a Honda mini four-stroke engine for reliable performance, and the 35 cc version has an all-position diaphragm carburettor, which allows the equipment to be operated in any position without stalling.
The flexibility of these backpack vibrators is enhanced by the fact that all the cores, casings and vibrator heads are interchangeable among all Minnich electric- and gas- powered motors.
Chicago Pneumatic has added to its range of concrete vibrators.
The company's Vektor 12K electronic vibrators are said to be quiet, safe and efficient tools.
Providing a centrifugal force of 4,600 N, these vibrators are suitable for use across a wide variety of high- to low- slump concrete applications.
For ease of operation, all Vektor models feature a high-frequency motor-in-head vibrator and a built-in frequency converter (60-to-220 Hz or 50-to-220 Hz), which means that they can be plugged directly into a standard 115 V or 230 V wall socket.
With a radius of action that is 12 times the unit's diameter and a vibration frequency of 12,000 VPM, the Vektor series of vibrators require fewer insertions, making for higher productivity and faster job completion.
A silent electric induction motor that is built into the vibrator's head drives a one-piece copper helical rotor and bolted eccentrics. The vital components are housed within a hardened steel tube.
The design of the head provides less resistance when the machine is starting up and when it is operating at full capacity. Therefore, power consumption is reduced and it can be run on a smaller generator.
The lifespan of the vibrator head is extended by the fact that high-quality, low-maintenance, oil-lubricated roller bearings are used, as opposed to conventional greased-for-life bearings.