Concrete equipment: Flexible forms
By Thomas Allen11 June 2020
Rental is an increasingly important part of the falsework and formwork sector, according to Michael Stoevelbaek, Managing Director of Germany-based manufacturer Paschal.
Originally from Denmark, where 100% of the company's business is rental, Stoevelbaek started working for Paschal's Danish business in 2006, where he eventually became Manager. He then moved to Germany and became Managing Director of Paschal at the start of 2019.
"Germany used to be just sales," Stoevelbaek tells IRN. "Around 20 years ago, about 20% of the business was rental; today, about 50% is rental."
He adds that there are regional differences within Germany. In the southeast, only 20% of Paschal's business is rental, but in the northwest, where Paschal's head office is, closer to 80% is rental.
"The trend towards rental is growing, and it will be helped by the financial crisis caused by the coronavirus pandemic. People will see the financial sense of rental," says Stoevelbaek.
Impact of Covid-19
Covid-19 has had little impact on Paschal's operations in Germany so far, with the company operating at almost the same level as usual. However, Stoevelbaek imagines this could change; "I expect the effect will be felt later. The slow reaction of the construction industry is typical in crises like these."
Pandemic aside, Stoevelbaek says the continuing growth of rental will also be driven by the fact that projects are increasingly differentiated and therefore require different types of formwork.
Paschal has five depots in Germany, plus its head office, and it works with a network of 30 partners to give coverage across the country. About one third of those partners offer rental.
"And it's not just about products," says Stoevelbaek, stressing the importance of providing a broader service to rental customers. "We have a broad range of software to help customers design and construct their projects. And we also have engineers to help and advise."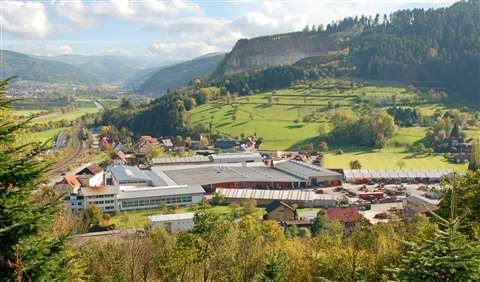 Including Germany and Denmark, Paschal has operations in 18 countries around the globe.
Full service solutions
Another Germany-based manufacturer for whom rental is important is NOE. And again, the company stresses the importance of providing a full service solution to its rental customers.
NOE recently supplied its formwork for the building of the Apostelhof BA2, a residential and commercial complex in Göppingen, Germany
It included a hotel, several retail outlets and apartments, and an underground car park.
The main contractor Züblin said a key reason for choosing NOE was the NOEtop formwork, which has a variable height.
Range of sizes
The wide range of panel sizes includes the XXL system, which measures 5.3x2.65m. This allows a 14m2 surface to be created using a single panel. It was primarily used for the construction of the retail outlets and underground car park in this project.
Züblin also used NOEtop FS column formwork, which is designed for pouring concrete into columns without the use of tie rods. As the system is foldable, the formwork can be closed around the reinforcement, the advantage being that the reinforcing steel can be assembled without any space constraints. This system was used primarily for the construction of the underground car park.
Also important was the NOEaluL lightweight formwork. With its aluminium frame, it can be offset by hand, which was particularly advantageous in areas that could not be accessed by a crane.
Specialist support
Formwork specialists from Meva proved essential to a recent project in Dubai, where a new four-storey building was constructed at The English College.
The Germany-based company's lightweight AluFlex formwork was used to create a sump pit and parts of the raft foundation.
A foundation was poured first. Meva engineer Ric Mendoza said, "The plan was to then create a side shutter on the same day in order to directly continue the raft foundation at a higher level.
"As the concrete foundation had not yet fully set at this point of time, the single-sided stop end required had to be created without loop anchors or support frames. We connected a number of flange nuts to long steel struts and welded them to the lower end of the rebars. They thus acted as a foundation anchor and supported the formwork."

A key benefit of the AluFlex hand-set formwork is that it does not need to be assembled on the spot, as would be the case with beam formwork. It can therefore be rented for shorter periods, and it requires fewer workers.
The services provided by formwork suppliers are extending into the digital realm as the construction process becomes increasingly digitalised. For this reason, Doka has set up a Digital Services business unit.
Digital services
Stefan Pruckmayr, Head of the Digital Services business unit, said, "Our digital services are designed to help our customers work more flexibly and efficiently, thus enhancing their competitiveness. Of course, each solution can be used individually. But things get really interesting when they interact by networking and linking the data."
Doka introduced its myDoka App in 2012 to help customers manage the formwork they were renting, but it has now been upgraded with two new versions: myDoka+ and myDoka top.
myDoka+ can be used to manage materials and equipment that are both rented and owned by the customer. In addition to this, myDoka top offers KPI (key performance indicator) evaluation options for the optimisation of formwork.
The Apps can be used in connection with other digital services offered by Doka. Among them is Smart Pouring. This was developed to handle and document the entire order and delivery process for in-situ concrete.
Made available this year, it is a supplier-independent App that foremen can use to order concrete. Once the supplier has received and checked the order, they send a confirmation. The delivery driver is given all the necessary information, and when they arrive at the delivery point the customer can use a digital comparison system to check that the concrete is being poured into the correct formwork.
Metro line
In Turkey, formwork supplier Intek has been supplying equipment for the construction of a 37.5km metro line between Gayrettepe, a region of Istanbul, and Istanbul New Airport, which is scheduled for completion this year.
The project is divided into two parts: the construction of Gokturk Station and of M4 Scissor Metro Section.
Gokturk Station is a four-storey building, while M4 Scissor Metro Section has three-storeys. They both have varying floor heights and slab thicknesses, making for a more complex formwork challenge. Intek engineers had to find the best solution using a minimum of formwork.
2,100m2 of HD150 load-bearing shoring formwork has been rented and evenly divided between the two halves of the project.
Two sets of 6.25m-long single-sided formwork and 12 sets of 23.4m-long single-sided climbing system are also being rented.
The climbing system transfers the concrete pressure to a cone screw fixed to the stop anchor, but it also provides a safe working area and a surface on which to place the formwork.
Among the rented equipment is also 480m2 of Intesafe scaffolding measuring 6m in height. Used for fixing the reinforcements for single-sided walls, it comprises H-type frames and was said to be simple and quick to erect.
Product updates
Now available from Wacker Neuson is an internal concrete vibrator with a replaceable battery backpack.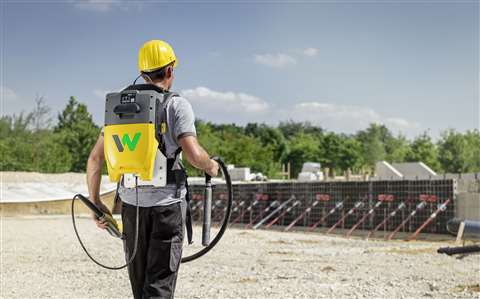 The IEe vibrator can be powered for a full workday with the lithium-ion battery, which is inserted into a converter backpack, the ACBe.
This new system gives the worker freedom to move around a jobsite without needing to plug the vibrator into different power sources. Also, the lack of power cables makes for safer operation, especially when working on scaffolding and formwork.
The internal vibrator itself was said to be sturdy and durable, and its modular design means it can be used with different vibrator head sizes and protection hoses. This is particularly helpful for rental companies who can provide the full spectrum of solutions with a lower investment.
UK-based engineering company Dragon Equipment has introduced a hybrid version of its CR300 concrete crusher, which is set to become commercially available in June 2020.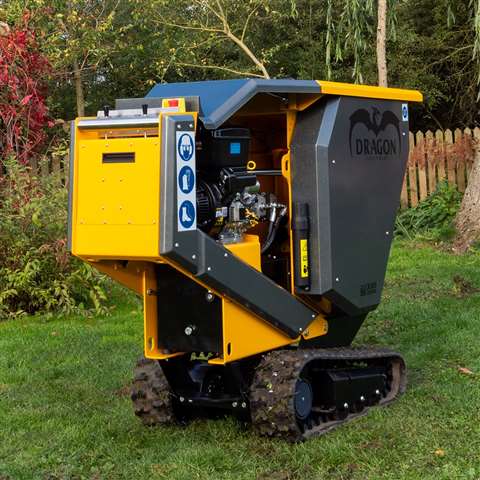 It uses the same Vanguard 400 single-cylinder 10.4kW petrol engine as the purely petrol-powered version. The engine acts as a primary power source and is combined with a 15kW electric motor and lithium-ion battery.
The Hybrid CR300 can crush up to 6 tonnes of concrete per hour.
As of February 2020, Austrian producer of grinding tools Tyrolit made available its revised premium line of diamond dry cutting blades.
A more efficient diamond distribution and longer segments help to achieve a 30% improvement in performance, according to the company. Also, the newly-designed U-cuts of the saw blades improve the cooling effect, and the reduced segment surface increases cutting rates.
Over the course of the year, Tyrolit will also be revising its standard and basic product lines. The full range will be available by spring 2021.
Netherlands-based Betonblock produces concrete block moulds in various shapes and sizes.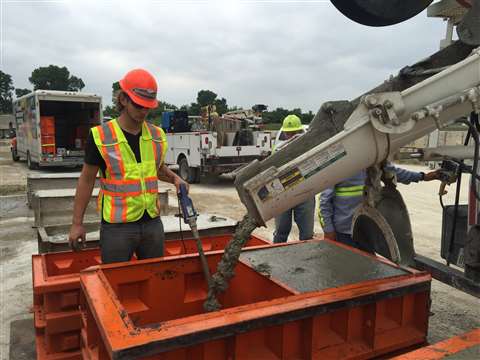 The moulds are made of high-quality steel and can add value to leftover concrete on a construction site.
Once the blocks are made, they can be stacked to create walls or barriers without the use of mortar, or they can be used for paving or coastal tetrapods.
Betonblock recently expanded its concrete slab mould range so it now comprises five sizes, ranging from 200x100x16mm up to 200x300x20mm.