Concrete equipment: Material gains
By Mike Hayes02 July 2019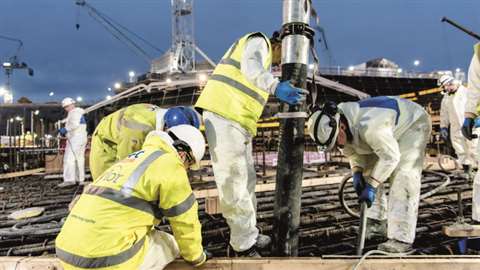 Construction projects the world over have their foundations, quite literally, in concrete.
The benefits of using this versatile, durable and cost-effective material cannot be overstated: it has a 100-year service life (although the Pantheon in Rome is evidence of a potentially much longer lifespan), and it is resistant to weathering, erosion and natural disasters. Moreover, in homes, its thermal properties can lead to significant energy savings.
Another benefit is that construction companies have been working with it for quite some time; they understand its properties, know how to handle it and trust it.
As proof of the trust placed in concrete, we need look no further than beneath a nuclear reactor. In December last year, at the UK's under constructionHinkley Point C nuclear power station, EDF Energy started pouring the concrete for the raft on which the reactor building will stand.
When completed, the raft will be a 4,500 tonne platform of nuclear grade concrete, reinforced with steel, and EDF Energy poured the first 2,000 m3 over 30 hours, to a thickness of 3.2 m.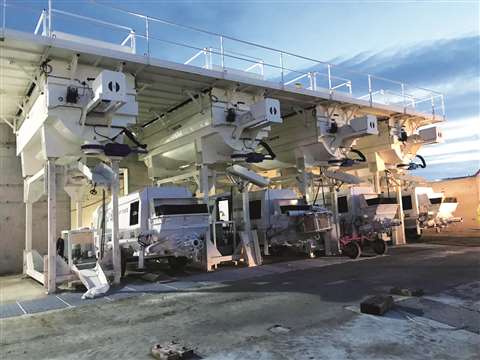 This year, four more pours will take place to complete the mammoth raft, which is the second safety-related concrete item to be constructed at the site; in March 2017, EDF Energy placed structural concrete for the technical galleries which run beneath the plant.
Specialist pumps
For the pours set to take place later this year, EDF Energy will utilise equipment from German manufacturer Schwing Stetter. Of the 16 electrically-driven SP 7500 E stationary concrete pumps ordered from Schwing, eight have already been delivered and are currently standing ready, beneath agitating hoppers.
Another of Schwing Stetter's specialisms is truck-mounted concrete pumps, and the company recently launched its DirectDrive models, which allow for up to 360° of movement in the boom joints, offering the potential for new applications.
Describing the five-section boom, Schwing says the additional mobility of two boom elements, along with a maximum 330° angle in the third element and an endless rotation of the last, eliminates almost all restrictions that can arise from the use of hydraulic cylinders.
Easy access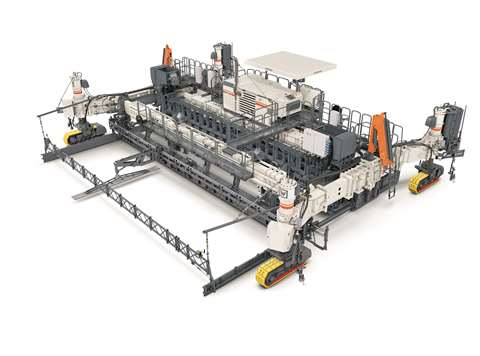 Wirtgen's SP 124i/SP 124 and SP 124 Li/SP 124 L slipform pavers promise high-precision paving results, even in difficult site conditions
According to Schwing, the new pumps can operate more easily in hallways and unfold to thread their way delicately into buildings.
The flagship model of Schwing is the S 65 SXF truck-mounted concrete pump, with a reach of 60 m and a delivery rate of up to 162 m3 per hour.
One of the new elements of the machine is the new SXF outrigger, which combines the traditional arched SX outrigger with a folding element, negating the need for multiple telescopic supports. Schwing says the new outrigger offers better stability and reduces the noise of the pump while in use.
The company adds that the S 65 SXF has the smallest support surface in its class, at 11.58 m x 13.70 m.
Additionally, the machine's long-stroke pump kit, P2525, can deliver an average pumping capacity of around 100 m³ per hour with less than 14 strokes per minute are required. This says Schwing ensures quiet operation and reduces wear and tear.
Liebherr has also recently introduced a new truck-mounted concrete pump to the market, with a 42 m reach and a new Powerbloc drive unit.
The 42 M5 XXT again has a five-piece multi-folding mast and a compact design, with a low unfolding height.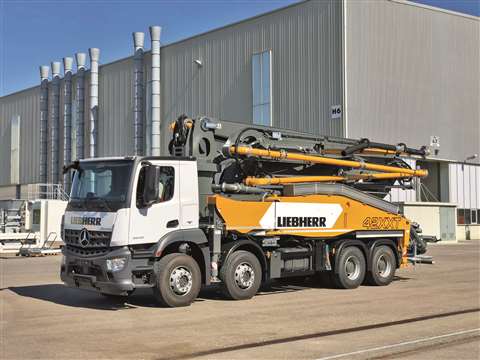 The new 42 M5 XXT truck-mounted pump combines high flexibility and support for the boom
The new design has meant the weight of the 42 M5 XXT falls below the licence-related 32 tonne limit for four-axle vehicles, applicable in most European countries. While reducing the weight, however, Liebherr says its designers have maintained the machine's stability and reduced noise.
The new Powerbloc drive unit for the pump system has integrated all hydraulic switching and measuring elements, eliminating a number of hoses, as well as other components.
The company says the new system has enhanced performance and quiet running, as well a being significantly more robust than previous units. It also boasts a newly-designed semi-closed oil circuit which supplies all drives with hydraulic energy, resulting in reduced oil volume.
Liebherr says the set up of the machine is much improved, with easy access to all areas, enhanced safety features and a straightforward arrangement of relevant parts for operation and maintenance.
The company recommends using the pump in conjunction with the Liebherr monitoring system XXA, and says this, along with its direct load transfer, makes for significantly improved safety and stability.
Liebherr is expecting strong European demand for the 42 M5 XXT, which will be manufactured at its new 4,000 m2 facility in Bad Schussenried, in southern Germany.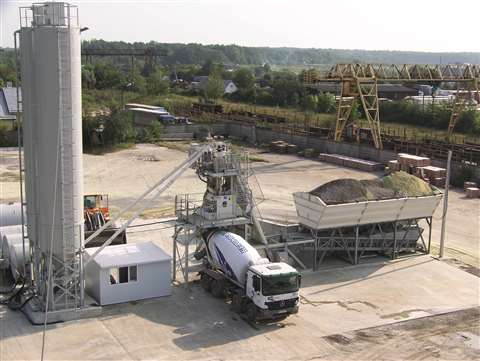 Stepping back a couple of stages in the concrete delivery process, Ammann manufactures transportable concrete-mixing plants, the latest of which can achieve an hourly output of up to 128 m3.
The benefit of mobile units such as these is that they can service multiple construction sites. Reducing transportation costs, with dismantling, transportation and reassembly usually taking just days.
Ammann's series CBT 105 to CBT 150 TB Elba boast sophisticated folding mechanisms, allowing the basic units to be packed into two 12.2 m open-top containers, plus a 12.2 m flat-rack container.
The compact TB Elba mixing plant is equipped with twin-shaft mixers and the unit has a compacted concrete output from 2 m3 to 3.5 m3.
Increased output
Among its newly-developed plants, Ammann has released the linear bin series CEL 25 Elba, which has an active storage capacity of between 75 m3 and 100 m3.
The company says the linear bin of the CEL 35 Elba can also be attached to the CBT TB Elba mixing plant, which has a storage capacity of up to 210 m3.
An inclined conveyor belt promises short cycle times and an increased concrete output, while optional extras include an additive scales, which electrically and pneumatically installed, along with up to six cement screws.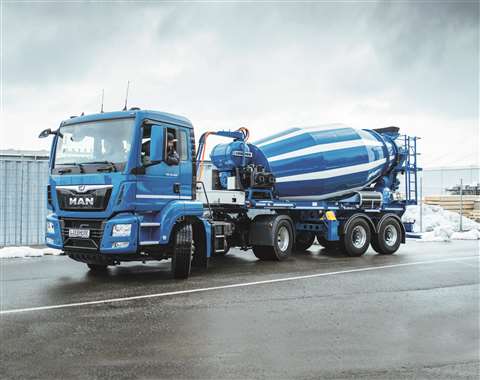 The ETM range of electric concrete mixers from Liebherr promise low noise
Ammann says the CBT TB Elba plant is exceptionally mobile, requiring only a simple concrete floor slab and no foundation work prior to erection. Foundationless solutions are also available for cement silos with capacities of up to 100 tonnes.
Liebherr recently introduced two truck mixers to its ETM range; the fixed structure ETM 905 and the ETM 1004 T, a semitrailer with a fully electrical tractor.
The company says its electrically-driven truck mixer range offers the reduced emissions now increasingly required in urban areas.
When tested under extreme conditions, Liebherr says the electrical drum drive proved effective, even with very thick concrete consistencies, including F1 and F2 types.
Optimised thermal management for the mixers' batteries allows the machines to perform in cold conditions, and battery reserves allow for a full working day in standard operation.
A compact generator recharges the mixer's battery during the journey, or can be charged at up to 22 kW, using a standard plug.
Higher cost - more durable
When it comes to roadbuilding, concrete has a higher initial cost than asphalt, although it is more durable, has a longer lifespan and requires less maintenance.
Nevertheless, authorities often find themselves having to make difficult decisions about which material to use.
Having the right equipment for the job can make the decision easier, and new high-precision concrete pavers have the potential to sway the argument.
Wirtgen is equipping its 12 m class slipform pavers with proven technologies, including steerable and slewing crawler units on its SP 124 and SP 124i models, and crawler units with a rigid connection and slew drive steering on its SP 124 L and SP 124 Li machines.
Wirtgen says its new inset slipform pavers offer a cost-effective solution for large-scale projects, such as highways and aircraft runways.
The machines can pave from 4.50 m to 12 m wide at up to 450 mm of thickness and are equipped with a 321 kW Cummins engine that meets Euro Stage V emissions standards.
Beyond the steerable and slewing crawler units, the new Wirtgen pavers offer a self-loading dowel bar inserter, with fully automated dowel magazine, tie-bar and side tie-bar inserter, or trough systems – and can be configured to suit numerous applications.
The company has also developed a demand-optimised Eco Mode engine management system to help reduce fuel consumption and noise emissions. The features appear on, for example, its SP 60, SP 90 and SP 120 series machines.
In terms of concrete's recent development, most would agree that concrete cutting equipment has come a little further than the material itself.
Sweden's Aquajet Systems, for example, has developed robots to cut concrete using high-pressure jets of water. The company has five versions of robot cutters, the smallest of which, the Aqua Cutter 410, is designed to operate in confined areas, pass through narrow passages and even work from scaffolding.
Cost-efficient technology
Larger machines include the Aqua Cutter 710V, which has a horizontal, vertical and overhead reach of up to 7 m.
The autonomous machines can be programmed to undertake advanced operations, using Aquajet's Evolution 2.0 control system, which allows for complex geometrical manoeuvres.
Another technologically advanced cutting tool is now on the market from Austrian manufacturer Tyrolit, which recently introduced the WSE1621 wall saw. The company says the equipment has been completely redesigned to ensure an optimal weight-to-performance ratio, and is able to cut to depths of up to 705 mm, with a blade diamteter of up to 1,600 mm.
The new saw boasts lightweight components, intelligent communication interfaces and is the first machine from the company equipped with MoveSmart Technology, an Internet of Things solution that provides real-time user data. This technology is the basis for optimised planning, plus cost-efficient, faster operations for customers and users.c