Concrete evidence
By Becca Wilkins17 April 2008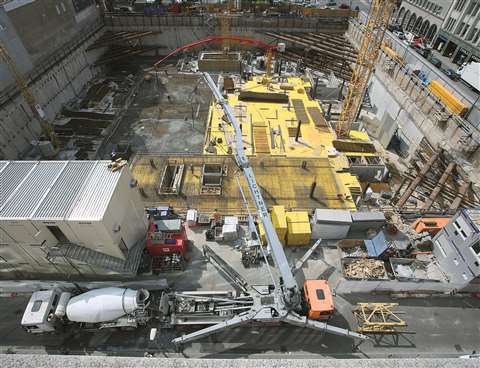 The boom in the European construction industry has seen concrete pumping and placing equipment in high demand. Contractors are demanding machinery that can complete jobs quickly in increasingly confined spaces. Becca Wilkins reports.
The use of concrete in construction projects is growing and there are plenty of examples across Europe where concrete pumping and placing equipment is being used in increasingly small and often city-centre locations.
In Germany, Putzmeister is placing more than 30000 m3 of concrete during construction of a new € 200 million building complex - Upper Eastside Berlin. A spokesman for Putzmeister said the company supplied long-reach boom pumps, stationary pumps and a stationary placing boom "in an extremely confined space." Main contractor Köster is constructing the five buildings in central Berlin on behalf of Munich ERGO Asset Management GmbH (MEAG). The complex will accommodate shops, offices and apartments covering 40000 m2.
Space constraints
Making sure enough space is available for all the necessary equipment on such small construction sites can be a difficult task.
The spokesman for Putzmeister said, "While the architecture of the multi-storey building complex with its green courtyard will blend harmoniously with the listed structure of the neighbouring row of houses, the logistics of the construction site presents considerable challenges, particularly at present during the shell construction phase." The area is bounded by three busy roads and is also directly adjacent to an old building.
"This means that there are virtually no free areas available in which to store construction machines or operate construction machinery," he added.
The 1,3 m thick, 70 m x 70 m floor slab has to be concreted in nine sections. "On this day alone it was necessary to install 1000 m3 of concrete, using a M 52-5 long-reach boom pump made by the concrete pumping division of Lichtner Beton and a combination of stationary pump BSA 2109 H-D and stationary boom MX 32-4 T," the spokesman said.
In order to avoid obstructing building site operations and traffic as much as possible, the machine operator set up the five-axle vehicle in the one-side support position. According to the spokesman, this means that the machine only requires a support width of roughly 7 m at the front and 6,45 m at the rear with the boom fully extended to the side.
Machine operator, Mario Schillinger, said, "When working in the city, it's almost certain that for every other job I will only be able to support my long-reach boom pump on one side. Construction sites inevitably require concrete pumps with large boom reaches but the available space is so incredibly tight."
Meanwhile, Schwing is providing the concrete pumping and placing equipment for the construction of the Federation Tower, which forms part of the new Moscow City district in Russia. The City district development involves constructing 15 tower blocks and will provide 2,5 million m2 floor space for offices, apartments, hotel accommodation and recreation areas.
When complete the Federation Tower will be the tallest building in Europe reaching 442 m. The project consists of two towers of different height (354 and 242 m), which are joined together over a platform and the so-called 'needle'. The entire floor area of the Federation Tower will be more than 340000 m² and is expected to be complete this year.
Schwing S 39 SX and S 42 SX truck-mounted pumps have been pumping and placing the concrete for the foundations and four SP 8800 stationary concrete pumps are used for concrete placement in the decks and columns. These machines with DN 180 or DN 200 pumping cylinders are equipped with a Rock valve for a maximum concrete pressure of up to 250 bar.
A spokesman for Schwing said, "This offers exemplary pumping characteristics, wearing properties and operational safety. The open-circuit hydrostatic drives with soft-push control are characterised by exceptionally soft pushing of the concrete column into the delivery line and gentle switchover with no pressure peaks. This makes for exceptionally smooth running and gratifyingly high service life."
The capacity of the machines has been demonstrated with the pumping of high-strength C70/85 concrete, he added.
"The total volume of concrete delivered was more than 200000 m3. Of this, 14000 m³ C45/55 for the floor slab of the highest tower was placed by four concrete pumps, which pumped the concrete continuously for almost three days - a new world record for the Guinness Book of Records," he said.
New products
New concrete pumping and placing equipment will be introduced this month at the Samoter 2008 exhibition held in Verona, Italy. Cifa will be showcasing new machines and equipment with features targeting innovation, safety and performance.
The new Magnum MK32L truck mixer pump is of particular interest - with a 32 m boom it can be mounted with either a PB 607 or PB 806 pump.
The K35L XZ truck-mounted concrete pump is also new featuring a five-section 35 m boom, with a 127 mm delivery pipe. A spokesman for Cifa said the type and performance of this machine make it unique in its class, with its optimal pump/chassis configuration.
"In fact the machine is extremely compact and versatile, suitable for all conditions of use in difficult, hard-to-access areas, thanks to the exclusive rotor which ensures continual rotation of the last section," he added.
Other features of the K35L XZ include a Z-ZR configuration with patented rotor on the last section and simple X-configuration front outriggers and rear extension. There is also the possibility to assemble the pump on a three-axle chassis with a standard wheel base and two possible configurations for pump units, open circuit and closed circuit with the HPG 1408 IF9.
Also new is the K41L XRZ truck mounted unit developed from Cifa's successful K41. The unit has a restyled placing boom, which has seen the weight and the tilting moment reduced, while increasing stiffness and rigidity of the arm. The spokesman said these modifications have created an even more stable and well balanced machine with an overall lower weight as well as less weight on the rear axle of the lower chassis. The five-section, 41 m boom, has a 125 mm delivery pipe and RZ folding system.
Other features include the telescopic outriggers and rear jacks, assembled on a four-axle chassis with a standard wheel base greater than 4500 mm, plus two configurations for the pump units, with open and closed circuit.
The Cifa K58L XRZ truck-mounted concrete pump features a new six section, 58 m boom with RZ folding system. A spokesman said the sixth section has a 90° articulated joint for greater flexibility and is able to reach positions which are inaccessible to four or five section booms of the same length.
The mixed RZ unfolding system allows for operating versatility, combined with very quick positioning, he added. The mixed X-configuration sequential front outriggers with triple telescopic extension and rear jack also offer versatility, quick set-up and safe stability. It is also possible to assemble the pump on a five or six axle chassis, with outsized vehicle type approval.
Cifa's patented 'K-Tronic' electronic control system is fitted as standard and there are possible configurations for pump units: open circuit with the PA1506 S8 model and closed circuit with the HPG 1808 S9 model. The spokesman said the six-section boom is extremely compact, robust yet lightweight and has been developed to achieve the utmost structural reliability combined with maximum manoeuvring precision and simple maintenance.
Technology
Introduced on new machines at Samoter, Cifa's K-Tronic electronic system controls machine stability during use with sensors that continuously calculate the boom's safe working envelope. It slows down and stops movement if the machine's stability is threatened.
A spokesman for Cifa said the system considerably increases safety and provides the operator with useful information about machine operating parameters (concrete flow rate, pressures, temperature and pumping cycles,) as well as maintenance times which depend on actual machine use, thus allowing for optimal maintenance. At present this system is currently incorporated on the K52L and K58L, 52 m and 58 m truck pumps, but will be fitted on other models in the future. In addition, the number of control functions will be increased, the spokesman added.
Meanwhile, Chinese manufacturer Sany managed a technological breakthrough last year by introducing the 66 m truck-mounted concrete pump. Chief executive of Sany Heavy Industry, Yi Xiaogang, said the pump truck which features a longer arm support can provide increased pumping height and scope, therefore enhancing construction quality and efficiency.
Liang Wengen, chairman of Sany said it is important to continuously innovate in order to meet the ever changing and more competitive market as well as to lead the industry. He said the 66 m truck pump possesses 15 core technologies, including the long arm support and the pumping displacement (which is up to 200 m3/hour). The calibre of the delivery cylinder allows for better material absorption performance and less switchover times, which has improved efficiency and prolonged the life span of wear parts, he added.
Another technology is the forward swing four-stage extensible support leg, which enables unilateral support and quick extension. Using this design, the machine can adapt to construction in a narrow space, Mr Wengen said.
Outlook
The construction industry boom in Europe during the last year has led to a high demand of concrete pumping and placing equipment. Manufacturers of this type of machine are likely to benefit further in the next 12 months from the increasing demand for infrastructure in Eastern Europe and the positive construction activity that is projected to take place across Europe in general. Concrete pumping and placing equipment manufacturers know they must meet the specifications of European contractors who want flexible machines that can work quickly and efficiently on tight construction sites.