Concrete: Hard facts
By Sandy Guthrie18 July 2018
Pumping concrete in precast plants rather than conveying it to the formwork via buckets or bucket conveyors is still unusual, according to Putzmeister, which added that there were, in general, two different types of concrete pump technology.
All concrete pumps are powered oil-hydraulically by either a diesel engine – which it said was usually the case on construction sites – or an electric motor for use in tunnels or precast plants.
It said that with a rotor pump, a flexible hose was squeezed by a rotor in a round housing. The squeezing and the rotational movement pumps the concrete through the pipeline to the formwork.
In double piston pumps, the other technology, the concrete is alternately sucked in by two delivery cylinders, and pressed into the pipeline through a pivoting s-valve.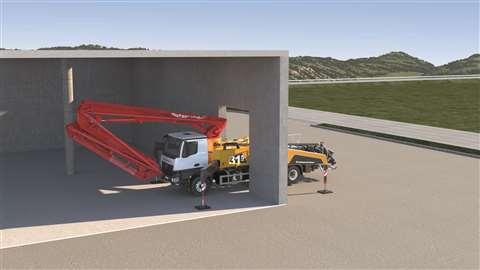 Both systems have specific benefits, said Putzmeister. Rotor pumps are quiet and can be cleaned quickly and easily. For maintenance, the rotor hose can be replaced by the employees themselves as the only wear part. Rotor pumps are often found in truck mixer concrete pumps and precast plants.
Dual piston pumps, on the other hand, were said to be powerful, could pump larger quantities of concrete over longer distances thanks to higher hydraulic pressures, and could manage even difficult concrete mixtures.
Putzmeister said that concrete pumps were already being used in many precast plants. In general, it said, concrete pumps could be used to manufacture all types of precast elements as long as the concrete mixture is pumpable.
Limiting factor
The only limiting factor is the quantity of concrete to be processed per day. As a rule of thumb, the use of a concrete pump is not economic for concrete quantities below 20m³, according to Putzmeister.
Combined with a suitable filling system, concrete pumps can replace rigid bucket conveyors in circulation systems and fill formworks for wall elements, it added. Combined with a formwork filler valve, Putzmeister said they could also quickly, efficiently and economically fill large or complicated elements from below or elements in any size via a rotary distributor or a stationary boom system.
It said that using a buffer storage below the batching plant, which continuously supplied the concrete pump with concrete while the batching plant mixed a new batch, resulted in an optimal combination of systems.
"In addition to continuously supplying concrete, the buffer storage also homogenises and mixes the different batches from the concrete mixer, thereby ensuring excellent and uniform concrete quality," it said.
The entire Putzmeister machine range in the 30m class is said to have been optimised and upgraded to the latest technological standard. This includes both truck-mounted concrete pumps and stationary placing booms.
The new generation of the BSF 31-5, BSF 36-4 and BSF 38-5, as well as the MXR 35-4 stationary placing boom were presented in September 2017 for the first time to customers from Europe, Africa and the Middle East.
Putzmeister said that for some time, more than 20 pilot machines had been undergoing tests worldwide to guarantee a frictionless start to production.
It said all optimisation work on the machines had been the result of extensive research and the feedback from customers, as well as the experience garnered by sales and service staff.
In addition, all new generations are equipped with the current Ergonic 2.0 control software.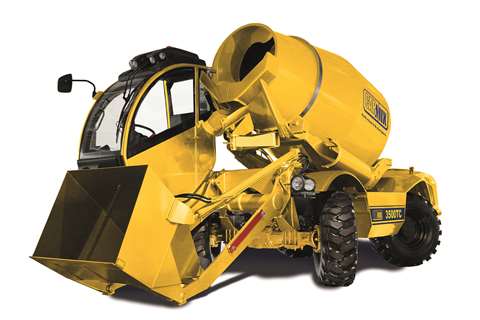 Italian manufacturer Metalgalante said that the digital revolution had entered the world of concrete production. It has launched "a revolutionary technology" for the concrete industry that improved the quality of concrete produced using its Carmix machines.
Called Concrete-Mate, it is a mix design manager applying the RMC (ready mixed concrete) Plant standard level management software, which, using four sensors in the mixing unit, is said to guarantee a top-quality concrete mix complying with international concrete production standards and total control over production costs.
Manuela Galante, marketing director, said that this system allowed the company to bring concrete-plant technology into the Carmix 3500 TC, its top-of-the-range model.
She said, "This smart mobile batching plant can guarantee maximum control, consistent performance, high quality standards, work certification and worksite cost monitoring.
"All these key factors allow our customers to supply a uniform mix design, in line with the most demanding requests from Clients and international concrete production standards."
The four load cells inside the mixing unit work as weight sensors where the mixing takes place.
Metalgalante said that when compared with systems using pressure sensors on the shovel, this system ensured direct control of elements where the mix is made – including the actual weight of water for ratio optimisation – higher accuracy, and 3 to 5% weight deviation, as can be found in the most sophisticated concrete plants.
Electronic sensor
There is also Promix, described as a high-tech electronic sensor that ensures the mix design is always perfect because it measures all concrete parameters, providing a report on its characteristics in real time.
The company said that combined with the Concrete-Mate weighing system, Promix was the technological evolution that had made Carmix "an authentic small mobile batching plant".
Promix is a measurement tool composed of a stainless steel sensor that is housed inside the drum and powered by a solar panel. Information from the sensor is shown on a display in the cab in real time.
Pile Dynamics has a Thermal Integrity Profiler (TIP) which uses the temperature generated by curing cement (hydration energy) to assess the quality of cast in place concrete foundations – drilled shafts or ACIP-CFA piles.
George Piscsalko, president of Pile Dynamics, said, "Whereas other methods of integrity testing have limits in assessing the full cross-section or length – cross hole sonic logging (CSL), inside the reinforcing cage, or gamma-gamma logging (GGL), within 75 mm of access tube – TIP measurements evaluate the concrete quality from all portions of the cross-section along the entire length."
He said that in general, during curing, a shortage of competent concrete – necks, inclusions or low cement content – is registered by relative cool regions. The presence of extra concrete is registered by relative warm regions – over-pour bulging into soft soil strata.
A new type of highly flowable concrete is aiming to bridge the gap between conventional and self-compacting concrete.
UK-based GCP Applied Technologies said that this new concrete category, control flow concrete, emerged recently. It is said to offer many of the desirable characteristics of each type of concrete, without their respective negative aspect.
The company said that like self-compacting concrete, control flow concrete flowed and placed easily, without negatively impacting stability or segregation resistance. It can also be placed with minimal vibration, which helps to cut costs, it said.
The new category was said not to require extensive quality control to produce, eliminating some of the labour costs that came with self-compacting concrete. Control flow concrete is manufactured using conventional mix designs, with lower powder contents and larger coarse aggregates, further reducing material costs, GCP added.
Good slump-flow retention is necessary for transportation and placement of concrete, it said. Superplasticizers can be used to disperse the cement particles and reduce the yield stress of the concrete. However, high doses of traditional superplasticizers can cause segregation, said GCP Applied Technologies.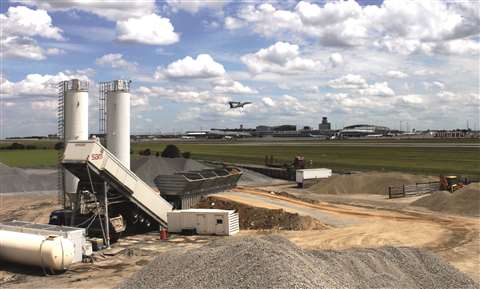 It introduced Concera admixtures which produced segregation-resistant, high slump- flow concrete using conventional mix designs. GCP said that using these admixtures allowed for good slump-flow, without having to use high doses of superplasticizers. This means that control flow concrete can be produced relatively inexpensively as compared to self-compacting concrete, it added.
Compressive strength
GCP claimed that control flow concrete had compressive strength that was equivalent to conventional concrete. The flow properties come from the chemistry of the admixture and not from water, so compressive strength is not negatively affected by the use of Concera admixtures, it said.
Ultimately, said GCP, control flow concrete solved the problem for reducing the tremendous physical effort, associated labour costs and time involved with using traditional concrete, without leaving concrete vulnerable to potential segregation.
For many projects requiring highly flowable concrete, control flow concrete was said to offer the best of both worlds – concrete that was easy to work with, without high concrete production costs and quality control costs.
This year, the Euromix concrete mixing plant made by SBM Mineral Processing is celebrating its 20th birthday.
Gerhard Gschwandtner, head of SBM's concrete technology, said, "Thanks to the challenging demands of our clients, the feedback of the plant operators, and the know-how of our qualified employees, SBM managed to develop Euromix to be the global market leader in its class.
"Its modular design, powerful performance and long life have been convincing all renowned concrete producers in Europe".
He added, "The first Euromix is still operating at full speed near Moscow. Reliable production of concrete at temperatures of -25° to 40°C, powerful 24/7 operation, the plug-and-play principle – ie the installation of the plant within 480 minutes – make Euromix a real trendsetter in the global market of super mobile concrete mixing plants."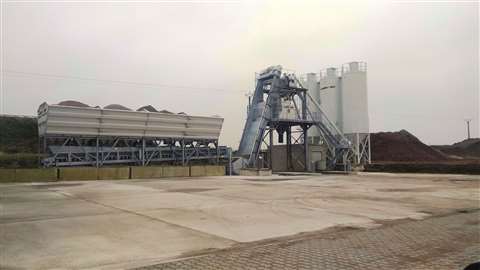 An Ammann concrete mixing plant was chosen by GTP, an independent family company based in Cauchy-à-la-Tour near Béthune,France.
Housed in a former brickworks, the firm specialises in recycling various materials with a particular focus on road residues. With the aim of diversifying its activities, GTP turned its attention to ready-mixed concrete and the production of treated gravel to satisfy local demand, and also to meet its own production requirements.
The company wanted a high-quality stationary plant with capacity for expansion. It had to offer a variety of technical options as well as short delivery periods.
Following an invitation to tender, GTP narrowed its choice down to Ammann's concrete mixing plants. The CBS 105 Elba plant was selected because of its modular concept which allows adaptation of its components.
Designed to ensure production of standard concrete at 105m3/h, mixed in 30 seconds, this plant is currently equipped with four 80m3 aggregate storage silos. To expand the installation, the siting study envisages an additional aggregate silo in the near future to provide 100m3 in total, as well as a fourth 60 tonne binder silo.
These aggregates are transferred to the horizontal-shaft mixer with a volume of 2m3 via a skip. The mixing scaffolding is entirely galvanised to provide high-grade protection against corrosion. Ammann said that little maintenance work was required for the plant and in particular the mixer. Its trough shielding is fitted without screws, so servicing work is kept to the minimum.
The Ammann as1 automatic control system is said to provide production support and follow-through.
Arnaud Pruvo, president of GTP, said, "The as1 is an effective cornerstone of our efforts to ensure quality. This technology collects and processes data and key indicators that enable us to offer our customers reliable production while optimising consumption of raw materials and energy.
"For individual customers and multinationals alike, our plant is ready to provide a vast number of formulas for all types of use, ranging from standard concrete to technical concrete varieties and the new decorative concretes."
High performance
High performance concrete from LafargeHolcim has been used to line a 3.4km tunnel for the world's most powerful X-ray laser, European XFEL, near Hamburg, Germany.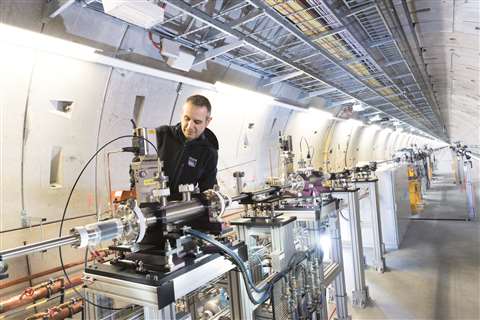 The European XFEL generates extremely intense X-ray flashes. The flashes produced in underground tunnels allow scientists to map atomic details of viruses, film chemical reactions, and study the processes in the interior of planets.
LafargeHolcim, through its local company Holcim Deutschland, delivered specialist concrete for the facility's extensive underground tunnel system, including easy-to-pump heavy concrete for radioprotection and underwater concrete.
LafargeHolcim's concrete engineers also developed special concrete mixes specifically for European XFEL. These fulfilled the building contractor's requirements for reduced content of aluminium, natrum, silica and magnesium, which can traditionally be found in concrete and may have interfered with the highly sensitive measurements.
Some concrete mixes, for instance, required the use of special limestone chippings to deliver particularly low silica levels. Together with the contractor, the Group carried out extensive chemical and physical tests for every concrete mix to ensure the highest performance levels for the project could be reached.
The Turkish construction company YBT is renewing the runway at Istanbul-Sabiha Gökçen International Airport (SAW) in night stages from March to August 2018 and, for the first time, it is using an innovative Swiss solution – Concretum.
The Zurich company Concretum said its rapid concrete could be produced, transported and processed like a normal concrete, but then it hardened to a fully loadable surface within one hour, whereas regular concrete took days.
Successfully launched in 2010 for major infrastructure projects on the Swiss market, the rapid concrete has been used at Zurich Airport, in Switzerland, and in SBB (Swiss Federal Railways) repair projects.
Since 2016, Concretum has focused on international markets, and has now won its first order worth millions at an international airport.
A total of 535 concrete slabs measuring 5.0 x 3.75m and 40 to 55cm thick will be replaced on the runway at Istanbul-Sabiha Gökçen Airport around 10,000m2.
YBT has five nights per week from 1am to 6am at its disposal. In these tight slots, up to 100m2 of runway must each be excavated and new concrete poured. The fast concrete Concretum Q-Flash 2/20 is workable for about 90 minutes and is said to reach the strength required for a fully-loaded passenger aircraft to land on it one hour later.
It is also said that compared to conventional concrete, this special concrete is also characterised by very high impermeability and resistance.
At the Husqvarna Construction Division, president Henric Andersson said a new long-term growth strategy had been implemented.
He said, "We set a high goal, and agreed on the activities necessary to take us there, such as stepping up in emerging markets, expanding our offering into services, and making key acquisitions."
He said that to increase its focus, it had organised itself after its new, expanded market segmentation.
"Perhaps the most interesting segment right now is Concrete Surface & Floors, a segment that has grown considerably during the last two years," he said.
Among the acquisitions is Atlas Copco's business in light compaction and concrete placement equipment, which is being incorporated under the Husqvarna brand.
Husqvarna's new tamping rammers, soil and asphalt plate compactors, reversible plate compactors, duplex rollers, concrete vibrators, screeds and trowels will be available around the world. The products are already marketed globally under the Atlas Copco brand but will soon be Husqvarna branded.
The new concrete placement equipment range from Husqvarna includes internal vibrators, screeds and trowels. Soff-Cut early entry saws were already part of Husqvarna's total offer.