Concrete technology
By Thomas Allen09 April 2018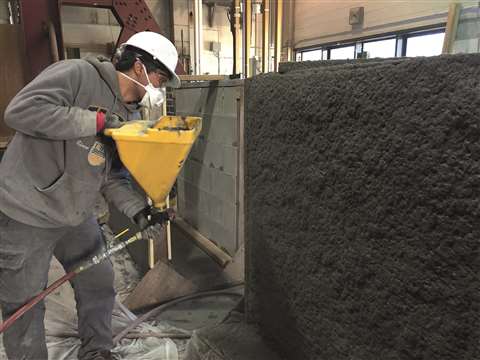 It might have been considered science fiction a decade ago, but today concrete is being brought to life by new innovations that enable it to flex under pressure, convert the sun's energy into electricity, and even heal itself.
Researchers at Binghamton University in the state of New York, US, have been working on a way to impregnate concrete with fungus spores to create a self-healing material.
Trichoderma reesei is a type of fungus that has the capacity to secrete calcium carbonate. By incorporating spores into concrete as it is being mixed, along with the necessary nutrients, it is believed that they could lie dormant until cracks appear, at which point the spores would be activated by the arrival of water and oxygen, prompting them to germinate and seal the cracks with calcium carbonate.
In this way, the problem of larger cracks would be stopped before they got the chance to start, by the closing up of micro-cracks.
Congrui Jin, an assistant professor of mechanical engineering at Binghamton University, said, "Without proper treatment, cracks tend to progress further and eventually require costly repair.
If micro-cracks expand and reach the steel reinforcement, not only the concrete will be attacked, but also the reinforcement will be corroded."
It was suggested that this could provide an inexpensive way to deal with widespread underinvestment in infrastructure. However, the research is still in its early stages, with the biggest challenge being to find a way for the spores to survive the mixing process and then lie dormant.
With that said, cracks in concrete may be a thing of the past. Researchers at another university in the US, the University of British Columbia (UBC), have recently developed a type of concrete that can stretch.
The so-called 'eco-friendly ductile cementitious composite' (EDCC) has had its molecular structure altered to give it the malleability and ductility of a metal. This means that it can withstand higher tensile forces. In fact, it was said to be capable of withstanding earthquakes as high as 9.1 on the Richter scale.
What's more, the material does not have to form the main structural frame of a building; it can simply be sprayed on as a thin coating, enabling buildings to be retrofitted for earthquake resistance.
It is the addition of plastic fibres, fly ash and other industrial additives that give the concrete its flexibility, with the fly ash earning the material its eco-friendly label.
Nemy Banthia, a professor of civil engineering at UBC, said, "By replacing nearly 70% of cement with fly ash – an industrial by-product – we can reduce the amount of cement used. This is quite an urgent requirement as one tonne of cement production releases almost a tonne of carbon dioxide into the atmosphere, and the cement industry produces close to 7% of global greenhouse gas emissions."
Also helping to make concrete more eco-friendly is the photovoltaic concrete façade developed by cement maker LafargeHolcim and solar equipment firm Heliatek, working in collaboration.
The cladding solution combines LafargeHolcim's Ductal panels with Heliatek's HeliaFilm, a flexible and lightweight solar film. It was said to boost a building's ability to generate energy independently and offer a reliable, decentralised and low-carbon energy supply. It has been estimated that a ten-storey building with 60% of its façade covered in this cladding system could generate approximately 30% of its annual energy requirement.
Gérard Kuperfarb, head of growth and innovation at LafargeHolcim, said, "With this Ductal/HeliaFilm solution, building owners and developers, as well as architects and engineers, will be able to mitigate the energy costs of a building while enjoying the many benefits of a very light, low-maintenance and long-lasting cladding solution."
A pilot project is planned for later this year.
It's good to talk
As if flexing, healing and generating energy were not enough, concrete is also learning to talk.
The French start-up company 360SmartConnect recently won the components and accessories award in the Buildings & Concrete category at this year's Intermat Innovation Awards for its connected concrete concept, which enables concrete to communicate.
Historically, construction work has been documented to keep track of the process, to coordinate activities, or simply for a contractor to be paid. However, with a large number of actors involved over an extended period of time, the sheer quantity of data can get out of hand and confusion can be caused by the use of different systems and processes to deal with all of that data.
Smartphones can be used to access data using 360SmartConnect's technology
360SmartConnect offers a solution in which NFC (near-field communication) devices are embedded into the concrete structure, directly connecting various stakeholders through the physical building itself.
Since WebApps provide controlled and direct access to data without the need to install specific software in advance, people involved in the construction process are able to use a standard smartphone to scan the NFCs. This gives them immediate access to a centralised data source that can be updated in real time, using cloud services, and can even be linked to BIM (building information modelling).
In this way, 360SmartConnect's system was said to optimise the building process by making it more transparent, flexible and efficient.
With an estimated 200-year lifespan, the connected concrete solution was also said to have applications that extend beyond the construction phase, for example providing a framework for e-concierge services in residential buildings.
When it comes to pouring concrete, setting times are important, and it is for this reason that ELE International has introduced a new rugged pocket penetrometer for field testing concrete.
The compact device helps to measure setting time and the initial set of a concrete mix, which is the semi-hardened, partially hydrated condition after which workability is not possible.
The test can be used to assess the effects of admixtures, water content or cementitious materials on the setting time of concrete, and may also be applied to prepared mortars and grouts.
Engineering manager Richard Windsor said, "The most important feature of the new penetrometer is that it is made from ground and polished stainless steel with a special wear-resistant coating to prevent rust."
Heavier and more robust than its predecessor, the new penetrometer also features a calibrated spring, a new low-wear indicator ring to avoid scratching, and it is supplied with a protective carrying case.
Vibration control
It is important to remove air bubbles from concrete when pouring it, but there is the risk that concrete vibrators can negatively affect the finish of the surface if excessively high vibrator speeds are used. The higher the speed, the more water separation occurs and the bleed water collects on the form faces, subsequently resulting in the need for surface blemishes to be patched up. The labour and materials for this inevitably cost time and money.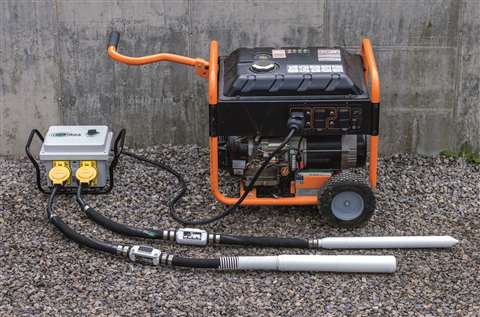 To overcome this issue, Minnich launched the M-Box vibration control solution at World of Concrete 2018. The power converter allows high- cycle vibrator operators to control the vibrations per minute (vpm) of up to two vibrators by converting the 230V, single-phase output of a 3,500W generator to a 230V, three-phase output.
Minnich M-Box operators are then able to select from speeds of 6,000, 8,000 or 10,800vpm depending on the concrete load. When concrete is not being poured, it is being sprayed as shotcrete, and this requires specialised pumps.
Finland-based Reed recently developed a new fully-synchronised chemical wet shotcrete dosing system that uses one of the company's shotcrete pumps and its LPP-D0.5 FlowRox chemical dosing pump.
The new chemical pump dosing system is driven hydraulically, removing the need for external AC power or on-board DC-AC converters. It was also said to be able to deliver high torque at a low displacement, facilitating the slow stroking that is sometimes needed when shotcreting.
Duane Remus, the director of technical development at Reed, said, "There is a closed-loop monitoring system to ensure chemical accuracy, and that there is actual chemical in the line.
"When chemical is not present for a predetermined time, the entire pump system shuts off and an alarm sounds to ensure safety."
Other developments
The 3300 multi-application paver will be displayed on GOMACO stand at Intermat 2018. The company said it had re-imagined the GT-3300 with the latest technology, including the G+ control system and Gomaco Remote Diagnostics.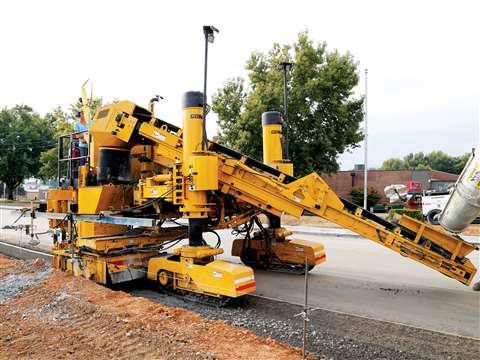 It features true right-side or left-side paving capabilities with extreme steering, Smart Leg and Track Positioning, and a Smart Telescoping Mould mounting system.
In the US, Ausa has been focusing its efforts on the concrete sector, where the company has seen strong growth and is expecting positive developments in the future.
There has been a growing interest in using dumpers rather than pumps, which Ausa attributes to the fact that dumpers are more productive, safer and faster. Also, pumps require the costly rental of generators, trucks, and the pumps themselves.
Ausa's best-selling machines in the US are the six-tonne capacity D600APG, with its articulated chassis, the 2.5 tonne capacity D250AHG, and the 3.5 tonne capacity D350AHG, with hydrostatic transmission.
Curb Fox's 5000-T multi-purpose slipformer can now be equipped to pave sections up to 3m wide. This is in addition to its existing ability to handle the full range of curb and gutter, sidewalk, and median barrier work.
The machine is powered by a larger 37kW engine – with the option of a 55kW engine – and up to 6.82 tonnes of weight can be added. Heavy-duty tracks are also available as optional extras.
The new WS-SL20 self-levelling wheel saw attachment from Bobcat is approved for use on the company's S630, S650, S770 and S850 skid-steer loaders, T590, T650, T770 and T870 compact track loaders, and A770 all-wheel steer loader.
Designed to cut through asphalt, rock and concrete surfaces, the saw has a variable segments wheel, which allows the user to quickly change the width of the wheel in the field, instead of replacing the complete wheel in a workshop.
Its self-levelling feature makes it possible for the attachment to follow and adapt to the contours of the ground.