Concrete wall is no obstacle for Tyrolit
When construction of the new Lancy-Bachet railway station in the Swiss city of Geneva required the removal of concrete wall that had been used to hold back soil during the works, Tyrolit joined forces with specialist company Coupe Beton & Rénova to complete the job.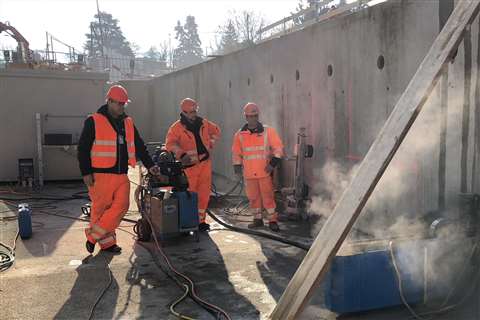 The structure was next to the station site and had to be cut down carefully to avoid any damage caused by tremors and vibrations.
To remove the 3 m (10 ft) high and 30 m (98 ft) long wall, a horizontal cut was made along the bottom with the WCU17 wire saw, separating the wall from the ground.
Also using the WCU17, the 1.2 m (4 ft) thick wall was then vertically cut up into elements with a maximum weight of 11.5 teach, which were then lifted away with a crane.
Most of the cutting work was done with the WCU17, which Coupe Beton & Rénova was using for the first time, in conjunction with DWM***-C saw wire.
Based in Austria, Tyrolit is one of the world's leading manufacturers of grinding and dressing tools and concrete cutting equipment, with 4,600 employees worldwide and a 2018 turnover of €676 million (US$757 million).