ConExpo 2020 guide from International Cranes and Specialized Transport
By Alex Dahm24 February 2020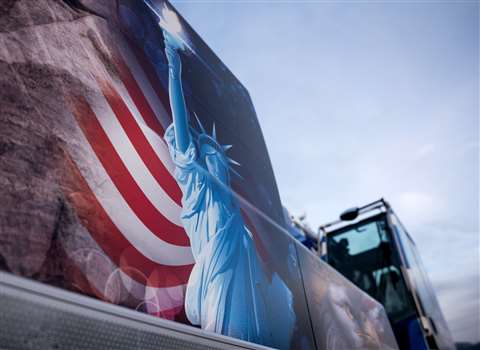 Turn your eyes to Las Vegas, USA, where from 10 to 14 March the ConExpo construction equipment exhibition will be open for business. More than 2,000 construction industry-related exhibitors will congregate to display their latest and greatest wares. The city and its vast exhibition and convention centre will be awash with potential buyers of equipment, components and services, and everything in between.
An interesting event will be the Off-Highway Research Global Briefing on Wednesday 11 March. Speakers include Chris Sleight, Off Highway Research managing director, who will present the latest regional and global trends for the industry. He will be joined by Scott Hazelton, managing director at IHS Markit. Hazelton will discuss the underlying drivers for the equipment industry worldwide, and Alex Woodrow, managing director at Knibb Gormezano Partners, will discuss technical and regulatory changes for the industry.
Also worth a visit is the SC&RA booth. The world's largest association for the industry invites prospective and current members to rest, recharge and reconnect in the festival pavilion. Meet subject matter experts on crane, rigging, and specialized transportation and learn the latest developments on legislative and regulatory issues that affect your company. SC&RA will introduce two new programmes to help your company save money: The Property and Casualty Insurance Program and SC&RA's Retirement Solution (401k) Affinity Program.
SC&RA will show its new website and online learning opportunities, for example, the Bridge Hit & Accident Prevention course, as well as the soon-to-be released, Truck Crane and All-Terrain Crane Boom Dolly Best Practices course. Remember to have your team attend any or all of the 16 education sessions sponsored by SC&RA and their partners. A full list is available at scranet.org/ConExpo
The National Commission for the Certification of Crane Operators will have its Lift Safety Zone, an indoor information booth, written and practical certification exams, education sessions, and practical examiner training. NCCCO celebrates its 25th anniversary in 2020. Also find out about the new NCCCO mobile phone app and the progress made with testing in languages other than English.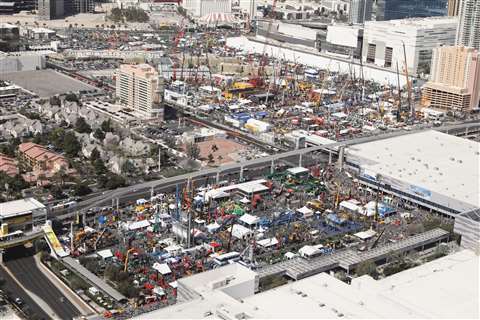 So this year's show is shaping up well and the mood is buoyant among exhibitors and prospective attendees. If you are making your way there this year then our comprehensive guide to what is new and interesting in the world of cranes and transport should prove useful. Make sure your shoes are made for walking, roll up this magazine, stick it in your back pocket and head out there.
What follows is a roundup of news from manufacturers and service providers, large and small, relevant to our industry. A full list of crane and transport-related exhibitors, with their booth numbers at ConExpo 2020, appears at the end of this article.
WHEELED MOBILE CRANES
Having set up in Virginia in 1970 Liebherr celebrates 50 years in the USA in 2020. It will have around 30 machines on display. Cranes on show include the 110 tonne capacity LTM 1110-5.1 and the 700 tonne LTM 1650-8.1, both of which were introduced in April 2019.
A star of the show will be a brand-new crane making its debut. Maximising what can be achieved within the constraints of a four axle carrier is Liebherr's aim with its new 120 tonne capacity LTM 1120-4.1 wheeled mobile telescopic crane.
The crane Liebherr describes as the most powerful 4-axle mobile crane ever will be launched at the vast US show which runs from 7 to 14 March in Las Vegas, Nevada. Its 66 metre telescopic boom, in seven sections (six plus the base section), puts it on an equal footing with 200 tonne cranes, Liebherr said.
"There's nothing more on four," proclaims Liebherr's slogan for this new 120 tonner. It is said to break into the performance class previously the preserve of five axle cranes. Its boom is claimed as the longest ever on a four axle crane. It is at an advanced stage of development and testing with deliveries due to start in the third quarter of 2020.
The LTM 1120-4.1 will replace the 110 tonne capacity LTM 1100-4.2 introduced in 2009. That outgoing model set new standards in its class with its 60 metre boom and 10.2 tonne capacity on full boom. With its boom set at 60 metres to match the old one, the new crane is 18 percent stronger than its predecessor. The boom on the new one is 10 % longer too.
Capacity of the new crane is 9 tonnes with the 66 metre Telematik boom fully raised so it is good for tower crane erection and dismantling and putting up radio masts. Adding the lattice boom extensions increases hook height to 94 metres. A 64 metre lifting radius is achieved with a 7 metre lattice extension and the 10.8 to 19 metre double folding jib. An option on this is to have hydraulic adjustment between 0 and 40 degrees. There is also a 2 metre erection jib with a runner which can be swung sideways.
The LTM 1120-4.1 will sit in the range above the LTM 1070-4.2 and LTM 1090-4.2. Where it will really score is on jobs previously done with a five axle crane, the manufacturer said. Eliminating the logistics work of obtaining route permits and licensing associated with five axles, means jobs can be done sooner, cheaper and with more flexibility. Fewer axles means better access to smaller spaces, on more congested sites.
A standard fitment is the VarioBase outrigger extension optimisation system. VarioBallast, a similar system for the counterweight, is an option. Fitting VarioBallast give a ballast radius of 3.83 or 4.77 metres. Radius can be reduced by 940 mm. In addition to getting into smaller spaces it means a wider range of work can be carried out without having to carry around as many slabs of counter weight.
A maximum of 31 tonnes of counter weight is available. Shifting it around can give evenly distributed axle loads of 12, 13.5, 15 and 16.5 tonnes per axle. At 12 tonnes per axle, the crane includes hook block and 2.1 tonnes of counter weight. In countries where higher axle loads are permitted, for example, at 16.5 tonnes per axle, 20 tonnes of ballast can be carried on board.
The new crane is designed as a fully global model. Advantages regarding permitting with a four axle crane can be realised in Texas and some other US states, in Saudi Arabia, in France, Spain and other European countries.
Power for the entire crane is from a 330 kW, six-cylinder inline Liebherr diesel engine mounted in the carrier. Maximum torque is 2,335 Nm. The engine is designed to meet the requirements of the stage V emissions directive in Europe. It can also be built to comply with other requirements, for example, Tier 4 in the USA or stage III for less regulated countries.
A TraXon gearbox from ZF offers benefits that include quieter running (lower than the ZF AS Tronic by 6 decibels) and high efficiency at 99.7 per cent, the manufacturer said. Coupled with Liebherr's established Ecodrive programming fuel is saved and the Hillstart Aid makes hill starts easier.
For crane operation the Ecomode function is now standard on Liebherr mobile cranes with a load-sensing control system. Engine output is matched to the level of demand from the crane's hydraulics to avoid unnecessarily high engine speed. It saves fuel and the machine operates more quietly overall.
Demag all terrain cranes shown in North America for the first time will be the 45 tonne AC 45 City and the 300 tonne capacity AC 300-6. An existing model on show, the 3-metre wide AC 220-5, is 14.49 metres long, making it the most compact crane in the 220 tonne capacity class, the manufacturer said. Its 78 metre boom is touted as the longest main boom of any 5-axle crane on the market. It is designed to remain under a 12-tonne axle load limit with a payload of up to 600 kg. Also displayed will be the improved four axle 100 tonne capacity AC 100-4L. It incorporates features to increase lifting capacity, especially when working at steep main boom positions.
USA-headquartered manufacturer Manitowoc said it will unveil six new cranes and show four models for the first time in North America. The new cranes will be from Manitowoc, Grove, Potain and National Crane.
Among them will be the latest model in the GRT series of rough terrain cranes, the Grove GRT8120. Capacity is given by the manufacturer as 120 US tons or 120 metric tonnes and the preliminary chart shows capacity as 240,000 pounds (109 tonnes) at an 8 foot (2.4 metre) radius with the boom set at 37.2 feet (11.4 metres) long.
Manitowoc said the GRT8120 has the longest boom – 197 feet (60 metres) – and strongest load charts in its class. It is a Megaform boom with Twinlock pinning system. Target markets include petrochemical, construction and wind power industries. Maximum tip height is 265 feet (80.8 metres) with the 57.6 foot (17.6 metre) bi-fold swingaway extension. It is available with manual or hydraulic offset.
Commenting on the new crane John Bair, rough terrain cranes product manager at Manitowoc, said, "Many of our customers wanted to fill a void in the 120 US ton class, and also increase their crane utilisation with easier transportability, greater reach and capacity, and improved access for serviceability." he said. "We were able to accomplish this through an all-new carrier design along with several other new features debuting on this crane. We're happy to say that the 197-foot boom length and strong load charts put this crane at the top of its class."
New on the GRT8120 is the Maxbase asymmetrical outrigger system. It also has a new wider cab with 20 degree tilt. The Boom Configurator mode is used to simplify telescoping the boom and offers on-board lift planning. Improvements over previous models include increased storage and better access for servicing.
Other Manitowoc cranes on display will include the Grove GRT9165 rough terrain, GMK5250XL-1 all terrain, TMS500-2 truck mounted crane, and a GHC140 telescopic boom crawler crane. The Potain Hup M 28-22 self erecting tower crane with a US-specific transport axle will be shown as will the National Crane NBT60L boom truck.
From its all terrain range, Tadano will show its 100 tonne capacity ATF 100-4.1 and the 120 tonne capacity ATF 120-5.1. Both models use the same 60 metre main boom. The five axle 120 can travel on public roads at just under 10 tonnes per axle – at a total weight of 48 tonnes, which Tadano says is unique in its class.
From its rough terrain crane range Tadano will show two models, the recently upgraded GR-150XL-3 and GR-800XL-4. With a 78.7 foot (24 metre) boom, a tail swing radius of 4.1 feet (1.25 metres) and asymmetric outriggers, the GR-150XL-3 was designed to cope with the obstacles of urban environments and congested plants. The 15 ton capacity compact RT has improved single line operation capacity of 7,050 pounds (3.2 tonnes); the longest boom in its class and a 97.4 foot (30 metre) maximum tip height; 360 degree swing cab; new cab; new generation crane control system (AML-E) and added cameras, including rear view and left front.
With a capacity of 80 tons and a boom length of 154.2 feet (47 metres), the GR-800XL-4 has a gross vehicle weight of 99,800 pounds (45 tonnes). It has more capacity than the previous GR-750XL; the longest boom in the 80 ton class and a maximum tip height of 211.3 feet (64.4 metres); a new cab design with 20 degree tilt; a new generation crane control system (AML-E2); and three new cameras, including winch camera, right front camera and backup camera.
China's XCMG will show a truck mounted crane in the shape of the XCT40U, which was shown at the previous ConExpo in 2017. It is mounted on a T880 universal chassis from Kenworth and the second axle is a steerable lift axle. Axle load requirements of different US states can broadly be met, the company said.
Terex Franna will make its North American debut with its mobile pick and carry crane line from Australia. On show will be the AT 22, a mid-sized, mobile pick and carry crane with a lifting capacity of 24 tons (22 tonnes) at a radius of 4 feet 7 inches (1.2 metres). It offers a maximum hook height of 55 feet 9 inches (17 metres).
Load King will show its 80 ton (73 tonne) capacity Stinger on a Kenworth T880 chassis. The crane has a six-section, 160 foot (49 metre) full power boom. It has a new double-keel design which is lighter and stronger than the old four-plate box boom it replaced. Two single-stage cylinders provide two different operating modes: one focused on stability, and the other for structural capacity, making a better chart throughout, Load King said.
This new crane also introduces a brand new 58 foot (17.7 metre) bi-fold lattice swing-away jib, making the maximum tip height 228 feet (69 metres). The crane will set up faster at the jobsite due to increased speed of the outriggers. The crane retains the modern tilt-cab from the 80-126 model, previously known as the (Terex) Crossover 8000.
A highlight from Manitex will be its 2485T tractor-mounted boom truck. It lifts 24 tons (21.8 tonnes) has an 85 foot (26 metre) six-section boom. Another boom truck on show will be the recently introduced 60 ton capacity TC600. Main boom height is 141 feet (43 metres) and, with full jib, that is increased to 194 feet (59 metres). Also new is the TC500X boom truck. It has removable counterweight, a 128 foot (39 metre) boom and a maximum tip height, including the optional jib, of 190 feet (58 metres).
The display of Manitex articulating cranes (MAC) from PM in Italy will feature the MAC 38.5 (PM 38.5 SP) and MAC 65 (PM 65 SP), plus the MPL74 wallboard delivery system. Manitex Valla will show its V80R and our 25EL electric industrial cranes.
Elliott Equipment Company will introduce a new 40 ton (36 tonne) capacity truck mounted crane. The 40142 has a 142 foot (43 metre) main boom with 152 foot (46 metre) tip height. Including the jib gives a 207 foot (63 metre) tip height. With the optional work platform the reach is 210 feet (64 metres).
Its user interface has a touch screen and the machine includes LMI and Bluetooth diagnostics so users and technicians can remotely access the machine to troubleshoot and make adjustments. Another feature is a tilting cab optimised for visibility, ergonomics and low cost of ownership, Elliott said.
CRAWLER CRANES
Demag will show its CC 3800-1 lattice crawler for the first time in North America. Capacity is 715 tons (650 tonnes) at a radius of 39 feet (11.9 metres) and its maximum load moment rating is 9,152 tonne-metres. It can erect wind turbines with a hub height of up to 384 feet (117 metres) without the need for a superlift system.
A Boom Booster capacity enhancement kit is available, increasing the main boom's stiffness and boosting capacity by up to 30 percent. Boom Booster kit lengths are between 79 and 276 feet (24 and 84 metres). With maximum Boom Booster, the CC 3800-1 can reach a hook height of 571 feet (174 metres) and lift 88 tons (80 tonnes).
Strong charts and low cost transport worldwide are the main features of Liebherr's new 880 US ton (800 tonne) capacity lattice boom crawler crane. The manufacturer said it is the most powerful 3 metre crawler on the market. LR 1800-1.0 is designed for use with a luffing jib and derrick system, for example, power plant construction and petrochemical industry projects. Boom section dimensions are such that three sizes can be inserted one inside the other to reduce transport volume. Another feature is the derrick ballast with VarioTray.
Another Liebherr on show, in the 200 tonne category, is the HS 8200 duty cycle crawler crane, based on its predecessor, the HS 895 HD. Its new drive system design gives a 15 % increase in drive system efficiency. Lifting capacity is also up by as much as 15 %.
In the telescopic boom crawler crane segment US manufacturer Link-Belt will unveil its 80 ton capacity TCC-800. It will be the sixth tele crawler model in the company's range. Field testing is ongoing and the first shipments are scheduled for the third quarter of 2020. The new crane's predecessor is the TCC-750 launched in 2008.
TCC-800 has a four-section 38 to 120 foot (11.6 to 36.6 metre) full-power boom that gives a maximum tip height of 184.5 feet (56 metres). It has the SmartFly system to help ensure a proper fly erection and stowage sequence while minimising work at height. A two-piece 35 to 58 foot (7.6 to 17.7 metre) fly is optional. The fly system can be operated by one person.
The new model is the first in the telescopic crawler line with V-CALC variable equipped and monitored track positions (V-CALC) system. V-CALC provides an operator with a full range of operating gauge widths between extended track position of 17 feet (5.2 metres) and the retracted 11 foot 5 inch (3.48 metre) position.
"V-CALC allows an operator to have one side frame in any position and other side frame extended or retracted, at any position, with a load chart and function kick out for all possibilities," said Collins. "The TCC-800's variable side frame combinations, combined with a full four degree of list available in its chart provide for a dynamic range of applications fitting for this new TCC-800 – everything from pile driving, bridgework to plant work and general construction."
The TCC-800 is powered by Link-Belt's first Stage 5 dual-compliant engine, a 232 hp Cummins QSB 6.7. Link-Belt said this means greater fuel economy, quiet operation and better cold-start capability. Other advances include pressure read-outs on all hydraulic circuits, which is viewable on the Link-Belt Pulse 2.0 display. The vision package includes a right-side swing camera, winch-view camera and rear-view camera for good visibility during setup and lifting. Single axis and joystick controls are available.
A new feature on this and other new Link-Belts is textured paint, now used on all vertical surfaces and slip-resistant paint on all horizontal surfaces.
On the hydraulics, "New high-performance variable displacement pumps provide power control and load sensing on the TCC-800 for smooth functioning of all operating processes," Link-Belt said. "Matching ¾ inch (19 mm) grooved drums have 834 feet (254 metres) of rope capacity with 18,603 pounds (8.4 tonnes) of maximum line pull and a 485 feet/minute (148 metres/minute) maximum line speed.
The TCC-800 assembles itself with 38,500 pounds (17.46 tonnes) of upper counterweight and two 3,000 pound (1.36 tonne) sections of carbody counterweight.
The TCC-800 moves in two loads with the main unit transporting at under 100,000 pounds (45.36 tonnes) with fly, side frames attached, hook block and ball, lifting sheave and full tank of fuel. The overflow load incudes the counterweight sections and weighs in at 44,500 pounds (20.19 tonnes). The clearance height of the crane on a lowboy trailer is just below 13 feet (3.96 metres).
An optional wireless remote-control system allows the operator to operate the TCC-800 from outside the cab.
Another new telescopic boom crawler will launch from Tadano Mantis. The new GTC-1600, a 160 ton (145 tonne) capacity model expands the GTC product line to six models. It has a 6-section, 42.8 foot to 200.1 foot (13 to 61 metre) hydraulic boom. There is a 33.8 foot to 59.1 foot (10 to 18 metre) bi-fold jib with offsets at 0, 20, and 40 degrees. Jib length of up to 105 feet (32 metres) is possible with two 23 foot (7 metre) optional lattice inserts, giving a maximum tip height of 305 feet (93 metres). An optional 11.8 foot (3.6 metre) heavy lift offset jib is available for tilt-up work.
Smaller scale
Moving down the capacity range, Italian manufacturer Jekko, via North American dealer Fascan, will show its flagship model, the SPX532, which lifts 3 tonnes and reaches 17.3 metres on the full main boom and jib. Others to see include the SPX429, SPX527 and SPX1275.
In a similar size range Maeda will have four new models, including the new generation MC285-3 with multi-angle outriggers, wireless remote control, new generation touch screen moment limiter, and a removable electric motor package for maximum versatility, all the while maintaining single doorway access to buildings.
Maeda USA will show the Japanese manufacturer's updates of the MC305-3 and MC405-3 mini crawler cranes. Both updated models are still narrow enough to fit through a standard double door (the MC305-3 is 51 inches (1,295 mm) wide and the MC405-3 is 55 inches (1,397 mm). Each still lifts 6,500 and 8,400 pounds (2.95 and 3.81 tonnes), respectively.
For the MC305-3 there are new lightweight, corrosion-resistant fibreglass body covers and a new tubular protection bar to help protect the operator. The larger of two cranes, the MC405-3, now has pick and carry capability with loads up to 1,100 pounds (500 kg). A 3,300 pound (1.5 tonne) capacity searcher hook will also be introduced as an option on both models to make them more versatile. As standard both come with remote control, LMI and continuous rotation.
TOWER CRANES
Tower crane manufacturer Potain has announced the MRH 175, a new hydraulic luffing jib model making its debut at the exhibition. The MRH 175 is the second hydraulic luffer from Manitowoc and at 10 tonnes capacity, is bigger brother to the 8 tonne MRH 125, first shown at the Bauma China show in Shanghai in November 2018. Since then dozens of examples have already been delivered to a range of markets, Manitowoc said.
Maximum jib length is 55 metres at the end of which capacity is 1.5 tonnes, or 2.7 tonnes with a shorter, 50 metre, jib. Line speed can be as high as 215 metres/minute with the high-performance 90HPL25 hoist. Hydraulic luffers can have a smaller counter jib and out of service radius (10.2 metres) than rope luffers. Target applications are urban projects, high rise construction and sites with limited space.
Design features of the MRH 175, for example, the fixed counter jib and flat top structure help with fast erection and dismantling. It only needs four standard shipping containers for transport. Elements weigh less than 7.7 tonnes and the counter jib and jib foot are in one package. Its hydraulic design means no wire rope to install and a smaller assist crane is needed for erection as there is no cathead to assemble.
Freestanding height can be up to 62.8 metres on the 2 metre K-mast. It can also be set on a 1.6 metre K-mast. Up to 956 metres of hoist rope is available with the 90HPL25 winch. Luffing from horizontal to vertical takes less than two minutes, the manufacturer said.
Thibaut Le Besnerais, vice president of global products for tower cranes at Manitowoc, said both models feature designs that give users capabilities not available with other cranes. "In recent years under The Manitowoc Way operating system our product development has accelerated and what's exciting about this is not only the number of new cranes we're introducing, but the innovation they bring to market."
Le Besnerais continued, "Potain customers have seen the advantages these new cranes deliver and how they help them achieve a stronger return on investment on their projects. We have a strong technical training programme to accompany our new MRH cranes, and the feedback from the market has been very positive."
Europe-headquartered international tower crane specialist Arcomet, part of the Uperio Group, will be exhibiting at ConExpo for the first time in its 64-year history. Its primary focus will be its A50 Eco self erecting tower crane which it builds in Belgium. Arcomet cranes are available in North America from P&J Arcomet. Self erecting tower cranes offer many advantages over both mobile or truck cranes and conventional tower cranes, Arcomet said.
Manufacturer Wolffkran will show its new Wolff 166 B US luffing jib tower crane. It is designed to meet US electrical standards and all requirements regarding structural components. Instead of a conventional rope and winch luffing gear it has an hydraulic mechanism. This eliminates the classical tower top and reeving of the luffing rope, Wolffkran says. Another benefit is a smaller out of service radius.
Capacity of the 166 B US is 26,460 pounds (12 tonnes) in two-fall operation and 13,230 pounds (6 tonnes) in single-fall. Jibs are from 82 to 180 feet (25 to 55 metres) and can be extended in 16.4 foot (5 metre) increments. With a 164 foot (50 metre) jib it achieves a best-in-class tip load capacity of 7,270 pounds (3.3 tonnes) the company claims. Its 60 kW hoist winch gives a line speed of 377 feet/min (115 m/min).
Spanish manufacturer Jaso will show its J265PA luffer. New to the US market, it offers a maximum line speed of 366 m/min and can be set freestanding up to 312 feet (95 metres). Features include a clamp type secondary brake system on luffing, an optional secondary brake on the hoist; a reduced free slewing device and park radius system, slack rope detection and a load levelling system.
Comansa will have its LCL310 luffing jib tower crane with the new Cube cab. Three versions are available, with capacities of 12, 18 and 24 tonnes. Maximum jib length is 60 metres, adjustable in 5 metre increments. The company says it is a compact design with reduced out-of-service position making it ideal for use in cities or congested jobsites.
Liebherr will show the 340 EC-B flat top tower. Capacity is 26,450 pounds (12 tonnes) and maximum radius is 256 feet (78 metres). Maximum hook height is 301 feet (84.7 metres). Three models in the range first shown last year are optimised for the use of synthetic fibre hoist rope.
New in Liebherr's fast erecting crane range is the 17,630 pound (8 tonne) capacity range-topping 125 K. Its maximum lifting radius is 180 feet (55 metres) and maximum hook height is 215 feet (41.5 metres). Civil engineering projects, for example, road traffic bridges, commercial and industrial building construction are expected applications.
TRANSPORT EQUIPMENT
Goldhofer's STZ-P 9 highway semitrailer has a loading length of approximately 90 feet (27.4 metres) and 3x3 pendular axle bogies. It has hydromechanical steering up to an angle of 60 degrees. Suspension stroke is 23.6 inches (600 mm). The STZ-P 9 was designed to handle narrow roads with tight bends as well as uneven and potholed road surfaces. The rear bogie can be retracted under load making it possible to reduce the length of the vehicle as required and then use a tractor to re-extend it. That makes it possible to negotiate obstacles and tight bends in, for example, city centres. The hydraulic axle compensation of the STZ-P 9 makes for easy loading and unloading with a wide range of cargos, with or without the use of a crane. Also, axle spacing between the bogies can be adjusted for operations in locations where different approval regulations apply.
Nelson Manufacturing will unveil its NextGen boom launch trailer, which includes hydraulic suspension and eight lines of kingpin steering axles. Axle spacing is configured to allow up to 20,000 pounds (9 tonnes) per axle and is legal in California. Nelson said this trailer will eliminate the need for removable stinger axles and front jeeps on larger cranes, greatly reducing launch and trailer set-up time.
The trailer will include Nelson's "Boots on the Ground," option allowing the operator to side shift the front trolley and pin to the front of the boom via a wireless remote control. The outrigger levelling legs are also on the remote control to allow the operator to position him or herself as needed. The new NextGen can be configured to handle multiple different crane booms and configurations, and it provides storage space for various boom saddles and adapters to remain on the trailer deck.
Scheuerle will show its new SPMT PowerHoss, which replaces the previous designation SPMT Light. The SPMT PowerHoss is compact and has a high payload with four axle lines and a diesel drive. Payloads of up to 86 or 176 tons are possible with two or four axle lines. The top of the platform has fastening points to fix special transport stools for long material transport, and it is available with diesel and electric drive.
Landoll Corporation will show a new option for its 400 series travelling axle and 900 series Traveling Tail trailers, namely air disc brakes. Air Disc 17 brake system has been integrated with a new custom air ride suspension. The collaboration between Dexter Axle and Landoll has developed a whole new system designed from the ground up.
Talbert Manufacturing will feature a 3+3+2 configuration, raised-centre version of the 65SA modular trailer. It has a 28 foot deck and is rated for 65 tons in a 13-axle configuration. Capacity increases to 70 tons in 15 feet with a 4-axle close-coupled configuration. The trailer can also be designed to accommodate an additional 10- or 15-foot section of deck, varying in type from beam to drop side.
It is engineered for customised axle configurations, including 2+3+2, 3+3+2. Adding a tri-axle jeep allows 3+3+3. With a 60.5-inch axle spacing, as well as an airlift on axle 3 and a chain lift on axles 1, 2, 4 and 5, the trailer is capable of running with 3, 4, or 5 axles in a row without a booster.
The base model offers a 120 inch (3 metre) swing radius with connections for up to 70 inch (1.78 metre) gooseneck extension and can be custom-designed to provide a larger swing radius if necessary.
Talbert's E2 or E3Nitro axle extension can also be engineered into the design. It uses a combination of hydraulic fluid and nitrogen to equalise axle pressures, providing proportionate weight distribution of each axle grouping. It optimises the range of suspension movement, which minimises stress and provides a smooth ride. In addition, the ENitro system features a bearing pivot and pivot lockout for backing the trailer. Users can also hydraulically lock in axle loads regardless of terrain.
Trail King will be exhibiting a monster perimeter expanding frame trailer. Designed for multiple load configurations, the trailer expands from 12 to 20 feet (3.7 to 6 metres) wide. The TK160 is decked out with hydraulic hat boxes on both front and rear goosenecks which allows for navigating unpredictable terrain. Trail King will also be launching updates to its travelling trailer series.
INDUSTRIAL LIFTING
Shuttlelift will debut its Shuttlelift DB Series rubber tyred gantry crane as well as its new E-Series electric RTG cranes. These cranes eliminate emissions at the point of use while maintaining lifting power.
Enerpac will highlight tools for construction equipment repair with several hands-on displays showing high force tools in action. A bucket maintenance display will demonstrate Mirage line boring machining for pin hole refurbishment, nut cutter tooth replacement and metal straightening using the MS2-1020 maintenance set. A vehicle maintenance display will demonstrate track bolt tightening and loosening using a hydraulic torque wrench and slew-bearing facing with Mirage portable facing machines. Other interactive features in the booth include a cylinder display with high-pressure hydraulic telescoping cylinders, a hydraulic cutter display showing Industrial re-bar cutting, a hydraulic pump display featuring new E-Pulse pumps and ZE pump series, lifting display with cube-jack self-cribbing lifting system, and puller display with lock-grip pullers and sync-grip pullers.
HIGH TECH AND SERVICES
A1A Software will demonstrate new integrations between features of is lift planning and fleet management tools, including 3D Lift Plan and iCraneTrax. Integration will allow users of both products to save 3D Lift Plans to iCraneTrax job records. Key features of the integration include the ability to attach 3D Lift Plan to a job record in iCraneTrax, run a crane search in iCraneTrax fleet records, checking for availability against scheduled maintenance or other project allocation; save 3D Lift Plans with job data and better manage documentation.
Prior to ConExpo, A1A Software will release the iTeleTrax app for iCraneTrax users. This app delivers access to six different information pages right from an Apple or Android mobile device, making it easier for operators, technicians or fleet managers to access critical information while on the go or at the jobsite, the company said. The iTeleTrax app includes a fleet map overview of key service items, engine hour and maintenance notifications, DMI engine codes, fleet position for location tracking, and a summary page.
Collision avoidance safety systems specialist AMCS Technologies will highlight the DCS 61-S, (Driving Control System Safety) now available for sale worldwide. DCS 61-S can detect in real time the risk of collision of all crane elements in interference (for example cable on jib, cable on counter-jib…) or the risk of entering a prohibited area (schools, railways, roads, etc.).
The AMCS Technologies system intervenes on the control mechanisms of the machine to ensure a slowdown and-or complete immobilisation of the lifting machine at a pre-set distance from the obstacle. The system provides the crane operator with working comfort by displaying all the parameters useful for operating the machine and allows him to program delivery zones and targets more intuitively. It also gives the possibility of viewing in real time the position of the crane in its environment as well as the positions of the interfering cranes while guaranteeing high performance on-site productivity.
Available for preview is a new telematic system called IoT Lifting with its mobile application which will be available during the second quarter of 2020.
CM Labs will focus on simulation-based operator training technology. Visitors can test drive new entry-level training solutions. Also on display will be a new way of allowing operators to work collaboratively – while one trainee operates an excavator, a second controls an articulated dump truck in the same virtual environment. This solution enables training organisations to provide rapid skills development opportunities to novices, as well as building crucial teamwork skills in a safe environment.
Crane Industry Services will introduce its Leading Safety Works certification programme for construction and utilities managers. Developed in partnership with Okos, a business and people strategies consultant, Leading Safety Works is designed to train construction and utilities leaders in the art and discipline of engaging teams in workplace safety. A key feature is practical tools to foster safety and continuous improvement, guide productivity, and protect profits.
With an educational focus on crane safety and lifting operations at ConExpo 2020, Crane Inspection & Certification Bureau (CICB) will be reprising its Preparatory Training for the NCCCO Mobile Crane Exams. It will be held on 8 and 9 March. The training will prepare attendees to take their OSHA-recognised and ANSI-accredited written exams provided by the National Commission for the Certification of Crane Operators (NCCCO).
A focus for Curtiss-Wright will be its human-machine interface (HMI) controls, electronic throttle controllers, transmission shifters, sensors and power electronics. A current trend is towards OEMs incorporating electronic HMIs that integrate fully into custom control boxes and armrest assemblies, providing operators with a wide range of new capabilities.
French collision avoidance system specialist SMIE will focus on its operator training simulator It will also take the ProSite anti-collision and zoning demonstrators. Also expect to see an announcement of the launch of a 4G remote product that will be in use at the show.
Wika Mobile Control (WMC) will introduce the LWG cable reel series upgraded with the latest mechanical signal transmission and electronics technology. Features include standardised gears and length sensors, optimised electronics, improved length cable connection, and a new slip ring design that provides higher current ratings.
Also new from WMC will be the gSENS LWG610 length and angle sensor. It is suitable for use on a range of lifting applications, including telehandlers, service trucks, industrial cranes, and reach stackers.
Netarus will launch its 5 Series HoistCam industrial grade wireless cameras. Three new models are: Low Profile (HC145), Armored Dome (HC185), and Pan-Tilt-Zoom (HC195). An option is the reporting and analytics capabilities to keep site supervisors informed of day-to-day activities and safety trends. The low profile HC145 offers day and night monitoring capability. It can be used on tower cranes, telescopic boom cranes, and overhead cranes.
WCS Permits & Pilot Cars has a new feature available in the Permit Portal app. The app has been live on both the App Store and Google Play for almost a year and has positive reviews for its simplicity. Drivers and dispatchers across North America have opted to receive instant automated text message notifications when oversize permits are approved. This latest version of the app took it a step further and links all required attachments with state and local permits. For years, the WCS online system known as the WCS Permit Portal has allowed customers to place orders, and view and download permits. The addition of this app allows drivers and dispatchers to quickly check the status of a permit.
LIFTING HARDWARE
Crane electronics and monitoring systems specialist TWG supplies OEMs, distributors and end users of cranes. In addition to showing Greer LMI and Greer Vision, TWG will launch Greer Intelligence.
Bigfoot Construction Equipment will show its Custom Composite Ultra Pads which come in stock sizes from 12 to 60 inches diameter and thicknesses of 1 to 4 inches (25 to 100 mm). Custom sizes can be made. Latest products include BigGrip, Slide Pads, Pole Puller plates, stop bar and boot style pads. Custom composite cribbing and wood cribbing is also offered. Pads can be customised with engraved logos, company name, and so on. Custom Composite Ultra Pads carry a lifetime guarantee. In addition to polymer and timber mats, for larger cranes, steel mats are available.
Dica outrigger pads and related products on show will include: FiberMax crane pads, SafetyTech outrigger pads, FiberMax outrigger pads, ProStack cribbing blocks, TrainSmart pole barriers, and Workforce pole hole covers.
New and recently updated products will be highlighted by Kinshofer. For the truck crane industry will be the KM461 Universal forks for wallboard loader cranes. Capacity is up to 6,000 pounds. The KM605U HPX is a clamshell bucket without HPX drive without exposed and vulnerable hydraulic cylinders.
Rope manufacturer Teufelberger makes ropes from steel wire and synthetic fibre. It says it is the only manufacturer to offer one with a fibre rope-based steel wire rope construction. It is designed to combine the best of both. Following extensive testing beginning in 2016 SoLite was made available on Liebherr tower cranes a year ago in early 2019.
WireCo World Group will present crane rope from the Casar, Union, and Oliveira brands. Products include Turboplast, Eurolift, Doublefit, Flex-X, NR Maxipact, HD8K PPI. Betalift SP is a new product for extend and retract assemblies on cranes. It uses drawn galvanized wire and offers an improvement of up to 50 % in fatigue life.