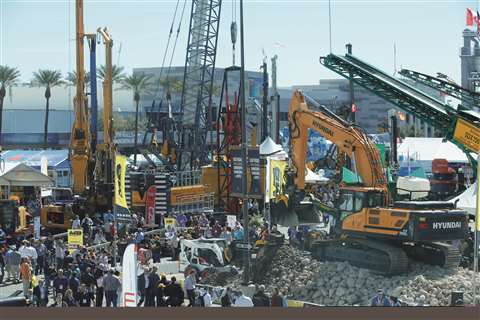 ConExpo 2020 was already breaking records for size and exhibitor numbers months before the show was due to start. North America's largest construction trade show returns to Las Vegas, USA, from March 10 to 14, and it has become a must-see for those in the construction, demolition, aggregates, concrete, earthmoving and related industries.
Attendees will be able to see cutting-edge technology and equipment from leading manufacturers and suppliers. All industry segments will be represented with products and services to improve productivity, enhance safety and make a demonstrable difference to the bottom line.
ConExpo2020 will feature a record 2.6 million net square ft (241,500 sq m) of exhibits. An expanded footprint includes a connected campus of the Las Vegas Convention Center and nearby Festival Grounds for a total 10 areas to explore. A sizable international attendance is also expected from an estimated 130 countries.
The 2020 show connected campus will include new and expanded transportation, attendee experiences and registration locations. Features will include multi-site drop off locations for shuttles, golf cart shuttles, and various experiential transportation options to accommodate attendees throughout the week.
"The AEM (Association of Equipment Manufacturers) is committed to bringing people together at ConExpo, as the show serves as a catalyst for industry growth and development," said Dana Wuesthoff, vice president of exhibitions and event services at AEM and show director.
"We wanted to make sure everyone can explore the entire show and have the best possible experience."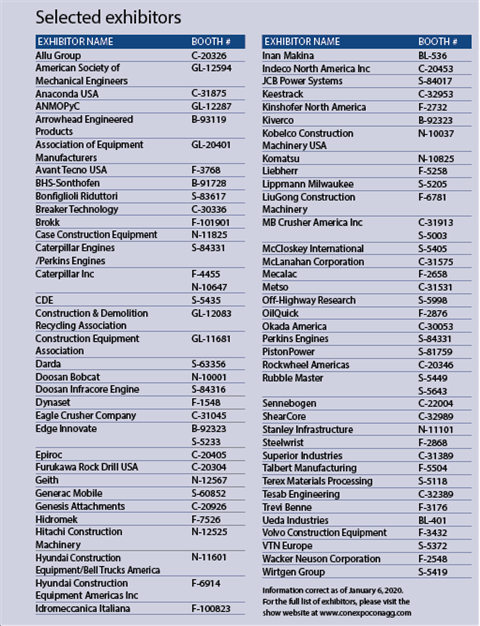 Education Sessions
Aside from the 2020 event's record-breaking statistics and numbers, ConExpo will offer opportunities within the show including with various networking and panel-based sessions, hundreds of education sessions and insight into workforce development programmes. These include highlighting the role that women can fulfil in the industry.
According to a US Bureau of Labor Statistics survey, women make up only 9% of the total workers in construction. As the industry continues to deal with a labour shortage, women are poised to help play a greater role in all areas of construction. To highlight women as a viable force of the construction industry, ConExpo has teamed up with the National Association of Women in Construction (NAWIC) and Women of Asphalt (WOFA).
Together, they are seeking to draw attention to and celebrate the important role women play in the industry. Throughout the event, they will showcase women industry leaders and reinforce the career growth potential for women, who today represent an opportunity to diversify the industry.
These three organisations are pooling their collective influence to sponsor and engage in education and other events at the show. They will kick things off on Wednesday, March 11 with a breakfast event – Genders on the Jobsite. Two special guests for the event, Vicki O'Leary, founder of Be That One Guy and Lorein Barlow, director and producer of Hard Hatted Women, plan to have a candid discussion on how women experience job site opportunities and challenges and explore how everyone has a role in keeping job sites productive and safe for all workers.
There will also be a social media influencer panel discussion and networking event in the Tech Experience on the Wednesday afternoon featuring construction business owner Missy Scherber who will be joined by influencers, including Aaron Witt of BuildWitt, Keaton Turner of Turner Mining Group and Stacey Tompkins of Tompkins Excavating. The group will answer the audience's most pressing questions on using social media to recruit new people, developing corporate values and culture, taking marketing to the next level and the changing face of the construction industry.
Other events include:
• Widening your workforce: executive lunch forum on Friday March 13
• New approaches to building female construction leaders
• Gain a competitive Advantage Through Construction Technology
• Attracting and Training Your Workforce: Operating Engineers' Innovative Solutions
• Several Tech Talks will feature influential women in the industry, including Allie Kelly of the Ray, Lorein Barlow. film maker of Hard Hatted Woman, and Desi Matel, chief wrangler at FIT.
The AEM believes that to stay competitive in the future, its industry needs to diversify, but it can't do so unless it educates those currently in the industry about the potential labour pool as well as share the opportunities in this field with people who would not normally consider the trades as a viable career choice.
The association adds that the show offers attendees the knowledge they need to help their companies succeed and to sharpen their professional skills, and its education programme is the leading source for contractors, business owners, construction material producers and end users to obtain cutting-edge information for today's challenging economy.
Topics and Tracks
The latest topics and industry trends are grouped into 10 tracks for ease in finding education that meets visitor needs.
Aggregates: Current methods and trends in quarry production and plant design
Asphalt: Techniques and innovations in asphalt paving, recycling, materials, and plant management
Concrete: The latest practices and advances in concrete materials, masonry, production, and plant management
Cranes, Rigging and Aerial Lifts: Innovations, regulations and safety in crane, rigging, and aerial lift operations
Earthmoving and Site Development: Current business and equipment practices for large equipment contractors
Equipment Management and Maintenance: The latest in fleet asset management and maintenance trends
Business Best Practices: Improving and building business strategies/tools needed to manage and strengthen your company for today's and tomorrow's success
Attract, Engage and Retain Talent: Developing and advancing your career skills and building your future workforce
Safety: Practices, training, and regulations designed to keep crews and plants safe
Technology Solutions: Industry innovations and future growth opportunities in the technology field.
New to ConExpo this year is the AEM's Workforce Solution Area at the trade show. This will invite the attendees and exhibitors – along with association members, job seekers and local students – to experience a trade right on the show floor. In addition, participants will learn about the industry and take away best practice ideas from what will be an interactive workforce pavilion.
"It's critical for the equipment manufacturing industry and the construction market it serves to do what it takes to engage the workforce of tomorrow to consider embarking on a career in the skilled trades," said AEM Director of Workforce Development Julie Davis.
"Our Workforce Solutions Area will provide a uniquely valuable opportunity to learn how to make a memorable connection with young people by tapping into kinesthetic learning methods that excite a hands-on workforce."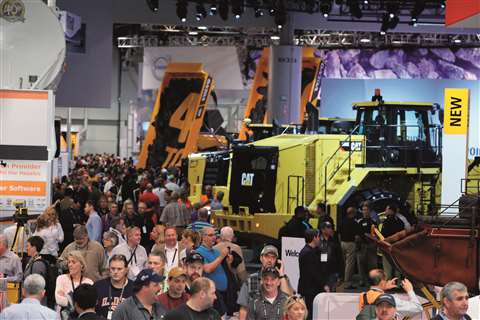 Overall, the AEM describes the whole show as a "can't miss" – due to the sheer magnitude of the event and what is on display, and most importantly, the people, and the chance to meet and get to know industry professionals from around the globe. It strives to foster an environment where the latest innovations, technologies, best practices and networking opportunities are readily accessible for industry professionals looking to gain an edge in an ever changing always competitive world.
First published in the January-February 2020 issue of Demolition & Recycling International