Connecting Russia and Crimea
By Thomas Allen29 August 2017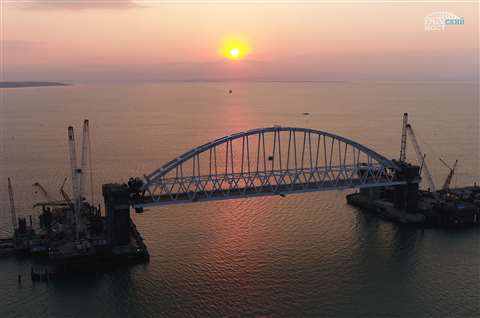 A large arch weighing 6,000 tonnes has been lifted into position on a road-and-rail bridge that will span the Kerch Strait, between Russia and Crimea.
Said to be one of the largest bridges in Russia, at 19km in length, it will start on the Taman Peninsula, pass along an existing 5km dam and the island of Tuzla, and then cross over the Kerch Strait to the Crimean shore.
The process of raising the arch took about 12 hours. The arch was initially raised off a floating system to a height of 1m and held there for an hour while 30 engineers, slingers, surveyors and quality specialists checked the reliability of all the mechanisms.
The ascent then continued, with the arch being hoisted on 700 cables with 16 jacks that were fitted to fairway supports in the water. Each of the jacks had a carrying capacity of 590 tonnes.
The arch was raised just above the target height in order to be lowered onto its supports, and over the coming days it will be fixed into position using wind connections. Next month, the construction workers will mount the end elements of the arch.
The 227m-long structure is for the railway section of the bridge. The road section will also have an arch, and both arches will provide a clearance height of 35m, meaning that ships will be able to pass underneath them unhindered.
The bridge's two-way railway was designed to have up to 47 pairs of trains cross it per day, while the road section will have a four-lane highway with a capacity of 40,000 vehicles per day.
The bridge is scheduled to be ready for cars to cross by the end of 2018, while the first rail traffic will be able to use it in 2019.