Consortium wins €233m contract on Toulouse metro
By Mike Hayes03 March 2023
French contractors Eiffage and NGE have been awarded a second major contract for construction work on the Toulouse metro network in France.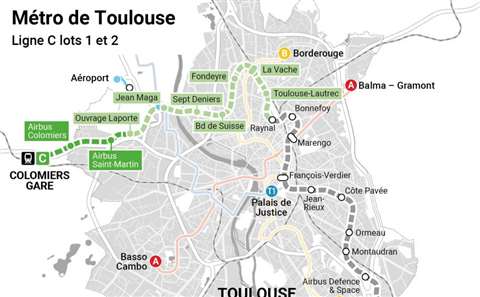 The Lot 1 contract, from Toulouse's metropolitan transport authority Tisséo, is valued at €233 million, with Eiffage (through its subsidiary Eiffage Génie Civil) taking 65% and NGE 35%.
The scope of work includes carrying out studies and constructing a 3.85km tunnel, three stations, and four inter-station ancillary structures on Line C of the network.
The contract also calls for the construction of three galleries connecting shafts to the tunnel.
Moder construction techniques
The construction team will use a tunnel boring machine for the tunnel excavation and the placement of fibre-reinforced concrete segments, which, according to the consortium, will use less steel across 95% of the project. A new plant will be built in the Toulouse area, for the manufacture of these concrete segments.
The consortium says it plans to recover over 80% of the excavated material. It has also given undertakings to reduce the project's carbon footprint through the use of primarily renewable energy, clean vehicles, and eco-designed, low-consumption installations.
Work is expected to start on the project in the spring, with construction completion slated for the summer of 2027, followed by up to a year of equipment installation works.
The consortium was previously awarded a contract worth approximately €590 million, to build Lot 2 of Line C and expects the new contract to create the need for an additional 150-200 people.