Construction Hoists: Moving up
Construction hoists are used for a number of applications. From renovations on high-rise housing and new construction in institutional development to industrial sites, the units can be used on jobsites ranging from 50 feet and taller.
"Construction hoists are used to transport both persons and materials on floors," says Jacques Lainé, director of marketing at Fraco Products. "They really represent the logistical pivot element of a construction project."
The market for construction hoists appears to be steady, if not climbing, in certain parts of North America. Most companies are reporting solid utilization of their equipment, thanks in most part to the economic upswing after the 2008 crisis.
"The commercial construction hoist (elevator) market has been very strong – as good as it's ever been in the last 30 years – and high demand has utilization up," says Chad Baumgartner, vice president of motorized, Safway Group. "Like much of our business, the hoist market is largely dependent on the economy. When the economy is strong and the construction industry is good, the demand for hoists is up, too, although ebs and flows will always remain due to job start timing."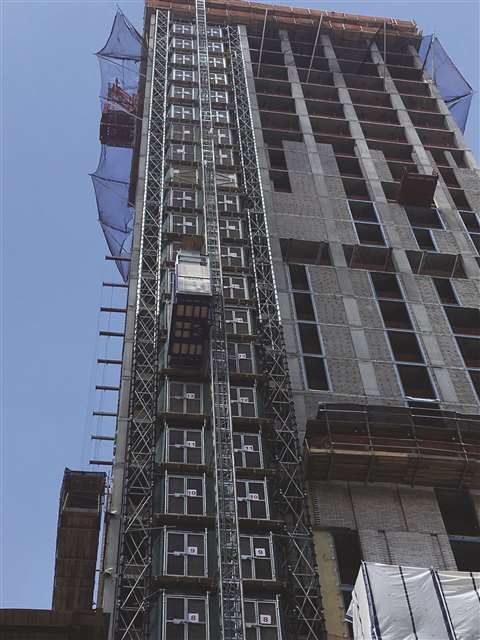 For Texas-based Century Elevators, the sentiments are similar.
"The construction hoist market in North America is as active as I've ever seen it," says Paula Manning, the company's vice president and general manager "The demand for construction hoists has increased at a higher rate than ever before. To meet that demand, the supply market is saturated with a variety of new and refurbished machines; even with this saturation the market remains very competitive and extremely aggressive."
Century Elevators is optimistic about the investments being made in infrastructure and in the private sector, however the company is cautious in its approach to forecasting work in its home base of the Gulf Coast region.
"In the Gulf Coast region we believe that corporate and office construction will go up and down as high-rise residential construction plateaus," Manning says. "We further believe that institutional work will continue to develop. Regional factors, such as the rising price of oil, will drive the trend of office and residential."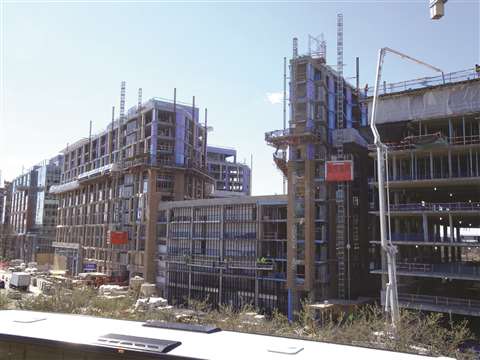 Canadian company Fraco Products also sees "very active" bumps from residential and commercial building.
"Fraco Products has a substantial back-log," Lainé says. "The New York Metropolitan area remains a very dynamic market, as does the rest of the East Coast region. That phenomena has motivated the coming of new players (rental companies) in the industry."
However, for Geda, the U.S. market isn't as hot as its Northern and Southern borders.
"For us, it is important to distinguish between the different countries in North America," says Geda Chief Executive Officer Johann Sailer. "For example, we note a growth in the Canadian market and the Mexican market is expanding. As far as the U.S. is concerned, the construction hoist market remains steady, but we capture positive signs in the oil and gas industry which means that we are expecting rising sales in the industrial hoist sector."
Reaching higher with new units
According to many, as buildings being built get taller and taller, the market for high-speed hoists will continue to grow commensurate with construction growth.
John Miller, president and CEO of the Millstone Companies, says there are a few trends to note on top of steady and trending growth.
"There is pent-up demand as a result of a late holding pattern during the final quarter of 2016 as markets waited for election result," Miller says. "Now, both commercial and industrial markets are moving forward with new projects; maintenance and restoration."
Miller says he has noticed more mast climbing work platform manufacturing companies branching out and into the hoist market as the mast climbing work platform market has become saturated. He says there has also been a move from counterweighted systems to rack and pinion hoists.
"There is also much more programmable technology built into the hoist systems today," Miller adds. "I have my eye on some regulatory changes needed to keep up with the recent advancements in hoist equipment. The current regulations are outdated and not consistent with today's improved technology."
Challenges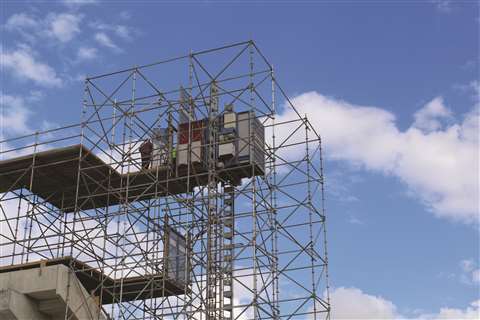 When asked what are the biggest challenges facing the industry, a range of topics were brought up.
Baumgartner, with Safway, says, "One of the biggest challenges is the high cost/value of hoist equipment, which might range from $350,000 on the low end to $5-$10 million on the high end. This is coupled with the fact that there is a very limited demand on the secondary market for hoists, so it's usually not cost-effective or easy to sell off excess equipment. The challenge then is to build a fleet that's both big enough in size to handle booms in the market, without busting in the down turn."
Meanwhile, at Fraco, the challenge is that the market has already started to require bigger, taller and faster cars to accommodate emerging construction materials and innovative methods.
"The cost of construction and fast-track project force manufacturers of material to be inventive in regards of prefabrication process and products," Lainé says. "That phenomena creates a need for large hoists. For example, curtain walls are delivered into larger size and need to be carried to final installation in their original crates. Existing hoist rental companies need to improve their fleet to meet new requirements."
Many agree that saving time and money is one of the biggest challenges – across the board.
"The challenges, however, are also the chances of the market," Sailer says. "The increase in efficiency has always been the focus of attention. Therefore using tools such as construction hoists are indispensable when it comes to saving time and money on the construction site. In this context, construction hoists could be an inducement for skilled workers."
Looking ahead
So what are the opportunities for this growing – and possibly saturated – market?
One area is new architectural shapes of buildings that create a need for temporary supporting structures that allow the installation of vertical hoists. Such a structure is known as setback structure and allows the anchoring of the hoist.
At Safway, it's about actual markets.
"We believe that the industrial market presents the strongest opportunities for growth," Baumgartner says. "We are just beginning to take the expertise we have developed in the commercial construction market to our customers in the industrial market.
But the company is also keeping its eye on ever-changing technology.
"Construction hoists are often at the heart of any high-rise construction, so keeping them running smoothly is critical to job productivity," Baumgartner says. "Fortunately, today's technology allows us to monitor the vital functions of a construction elevator. This allows us to adjust automated settings and troubleshoot service calls, so that we arrive prepared to keep the equipment in top shape."
Safway sees a number of changes happening to the industry in the coming years beyond just technology.
"Modular component fabrication is starting to shape the look of this industry," says Baumgartner. "For example, bathrooms are being fabricated as a unit, transported to site complete, put in the hoist and unloaded to the floor for quick installation. In addition, battery power might be something in the distant horizon as an option in helping us manage power cables."
Fraco perceives similar trends.
"In specific markets, non-conventional buildings will be constructed and will require special structures to ensure a safe installation and access," Lainé says. "Among them we
can cite common towers and quick back structures."
Construction hoists are used for a number of applications. From renovations on high-rise housing and new construction in institutional development to industrial sites, the units can be used on jobsites ranging from 50 feet and taller. "Construction hoists are used to transport both persons and materials on floors," says Jacques Lainé, director of marketing at Fraco Products. "They really represent the logistical pivot element of a construction project."The market for construction hoists appears to be steady, if not climbing, in certain parts of North America. Most companies are reporting solid utilization of their equipment, thanks in most part to the economic upswing after the 2008 crisis."The commercial construction hoist (elevator) market has been very strong – as good as it's ever been in the last 30 years – and high demand has utilization up," says Chad Baumgartner, vice president of motorized, Safway Group. "Like much of our business, the hoist market is largely dependent on the economy. When the economy is strong and the construction industry is good, the demand for hoists is up, too, although ebs and flows will always remain due to job start timing."For Texas-based Century Elevators, the sentiments are similar. "The construction hoist market in North America is as active as I've ever seen it," says Paula Manning, the company's vice president and general manager "The demand for construction hoists has increased at a higher rate than ever before. To meet that demand, the supply market is saturated with a variety of new and refurbished machines; even with this saturation the market remains very competitive and extremely aggressive."Century Elevators is optimistic about the investments being made in infrastructure and in the private sector, however the company is cautious in its approach to forecasting work in its home base of the Gulf Coast region."In the Gulf Coast region we believe that corporate and office construction will go up and down as high-rise residential construction plateaus," Manning says. "We further believe that institutional work will continue to develop. Regional factors, such as the rising price of oil, will drive the trend of office and residential."Canadian company Fraco Products also sees "very active" bumps from residential and commercial building."Fraco Products has a substantial back-log," Lainé says. "The New York Metropolitan area remains a very dynamic market, as does the rest of the East Coast region. That phenomena has motivated the coming of new players (rental companies) in the industry."However, for Geda, the U.S. market isn't as hot as its Northern and Southern borders."For us, it is important to distinguish between the different countries in North America," says Geda Chief Executive Officer Johann Sailer. "For example, we note a growth in the Canadian market and the Mexican market is expanding. As far as the U.S. is concerned, the construction hoist market remains steady, but we capture positive signs in the oil and gas industry which means that we are expecting rising sales in the industrial hoist sector."
Reaching higher with new units According to many, as buildings being built get taller and taller, the market for high-speed hoists will continue to grow commensurate with construction growth.John Miller, president and CEO of the Millstone Companies, says there are a few trends to note on top of steady and trending growth."There is pent-up demand as a result of a late holding pattern during the final quarter of 2016 as markets waited for election result," Miller says. "Now, both commercial and industrial markets are moving forward with new projects; maintenance and restoration."Miller says he has noticed more mast climbing work platform manufacturing companies branching out and into the hoist market as the mast climbing work platform market has become saturated. He says there has also been a move from counterweighted systems to rack and pinion hoists. "There is also much more programmable technology built into the hoist systems today," Miller adds. "I have my eye on some regulatory changes needed to keep up with the recent advancements in hoist equipment. The current regulations are outdated and not consistent with today's improved technology."
Challenges When asked what are the biggest challenges facing the industry, a range of topics were brought up. Baumgartner, with Safway, says, "One of the biggest challenges is the high cost/value of hoist equipment, which might range from $350,000 on the low end to $5-$10 million on the high end. This is coupled with the fact that there is a very limited demand on the secondary market for hoists, so it's usually not cost-effective or easy to sell off excess equipment. The challenge then is to build a fleet that's both big enough in size to handle booms in the market, without busting in the down turn."Meanwhile, at Fraco, the challenge is that the market has already started to require bigger, taller and faster cars to accommodate emerging construction materials and innovative methods."The cost of construction and fast-track project force manufacturers of material to be inventive in regards of prefabrication process and products," Lainé says. "That phenomena creates a need for large hoists. For example, curtain walls are delivered into larger size and need to be carried to final installation in their original crates. Existing hoist rental companies need to improve their fleet to meet new requirements."Many agree that saving time and money is one of the biggest challenges – across the board. "The challenges, however, are also the chances of the market," Sailer says. "The increase in efficiency has always been the focus of attention. Therefore using tools such as construction hoists are indispensable when it comes to saving time and money on the construction site. In this context, construction hoists could be an inducement for skilled workers."
Looking ahead So what are the opportunities for this growing – and possibly saturated – market? One area is new architectural shapes of buildings that create a need for temporary supporting structures that allow the installation of vertical hoists. Such a structure is known as setback structure and allows the anchoring of the hoist. At Safway, it's about actual markets. "We believe that the industrial market presents the strongest opportunities for growth," Baumgartner says. "We are just beginning to take the expertise we have developed in the commercial construction market to our customers in the industrial market.But the company is also keeping its eye on ever-changing technology."Construction hoists are often at the heart of any high-rise construction, so keeping them running smoothly is critical to job productivity," Baumgartner says. "Fortunately, today's technology allows us to monitor the vital functions of a construction elevator. This allows us to adjust automated settings and troubleshoot service calls, so that we arrive prepared to keep the equipment in top shape."Safway sees a number of changes happening to the industry in the coming years beyond just technology. "Modular component fabrication is starting to shape the look of this industry," says Baumgartner. "For example, bathrooms are being fabricated as a unit, transported to site complete, put in the hoist and unloaded to the floor for quick installation. In addition, battery power might be something in the distant horizon as an option in helping us manage power cables."Fraco perceives similar trends."In specific markets, non-conventional buildings will be constructed and will require special structures to ensure a safe installation and access," Lainé says. "Among them we can cite common towers and quick back structures."