Construction milestone for Saudi waste plant
The Saudi Investment Recycling Company (SIRC), a wholly-owned subsidiary of the Public Investment Fund (PIF), is marking a major construction milestone at its first construction and demolition waste recycling plant in Saudi Arabia.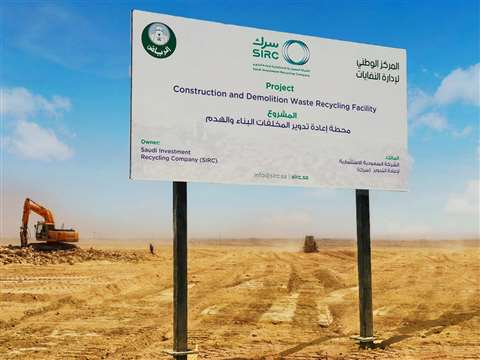 The plant is in the final stages of construction and is scheduled to be operational by the end of next month, signalling the first step towards meeting the national ambition of diverting 60% of construction and demolition waste from landfills by 2035 as the Kingdom accelerates its transition to a circular economy.
The facility is the first to be developed under the memorandum of understanding (MoU) signed in July 2019 between SIRC, the National Centre for Waste Management, and Amanat Al Riyadh for embracing integrated waste management and recycling activities in the capital.
Located in northern of Riyadh, SIRC's new plant covers over 1.3 million sq m (14 million sq ft) of land allocated by Amanat Al Riyadh. Once commissioned, it will treat up to 600 t of waste per hour and achieve recycling rates of over 90%.
"Amanat Al Riyadh welcomes the strategic partnership with the Saudi Investment Recycling Company (SIRC)," said His Highness Prince Faisal bin Abdulaziz bin Ayyaf, Mayor of Riyadh Region.
"The waste recycling facility in Riyadh will offer numerous economic, social, and environmental benefits to society that are above and beyond the direct return on investment."
Eng. Jeroen Vincent, CEO of the SIRC, added: "It is an honour to be working alongside Amanat Al Riyadh to build a state-of-the-art facility that sets a benchmark in every aspect of design and construction."