Construction tech startups competition
By Andy Brown10 June 2020
Cemex Ventures, Cemex's Corporate Venture Capital Unit, has launched the fourth edition of its Construction Startup Competition.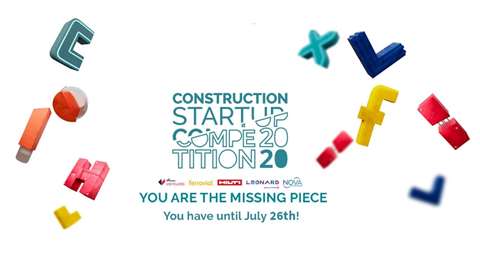 The competition aims to identify and foster startups to lead the transformation of the construction industry.
Ferrovial, Hilti, VINCI Group's Leonard, and NOVA by Saint-Gobain have added their support to the competition this year. The five industry players invite all entrepreneurs worldwide with innovative construction solutions to participate in this year's edition by submitting their projects before 26 July 2020.
The winners will be evaluated on five areas of opportunity within the industry. These range from smart cities and buildings to optimisation of supply chain management, construction with innovative materials or methods, and optimisation of productivity, efficiency, and quality in daily project management, among others.
"For the past three years, we've seen how more startups joined our call on each edition and created an ecosystem of over 1,000 startups in 80 countries," said Gonzalo Galindo, head of Cemex Ventures.
"For this edition of Construction Startup Competition 2020, we made possible the union of five industry leaders in order to really promote a change in our sector that will allow for it to be more advanced, innovative and technological,"
Startups from anywhere in the world can participate in the competition.
Once all proposals have been evaluated, the most promising startups will engage in a further set of activities, such as workshops, pilot projects and investment opportunities, that will allow startups to establish a relationship with industry decision makers.
In this edition of the competition, the winning startups will be invited to Chicago, US, to present their solutions to an audience of global leaders in innovation, investment, and construction, tentatively on 2-3 December 2020.