Contract awarded for US$315m Penlink project
By Leila Steed05 July 2022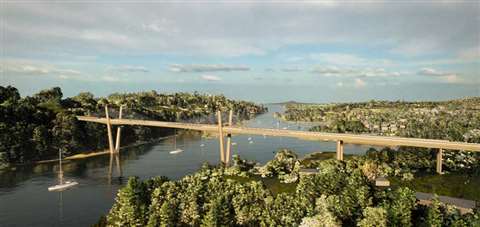 A consortium comprising HEB Construction, Fulton Hogan, Aurecon and Tonkin & Taylor has secured a NZ$510 million (US$315 million) contract for the new Ō Mahurangi-Penlink expressway in North Auckland, New Zealand.
The 7km-long Penlink roadway will connect the Whangaparāoa, Hibiscus Coast and Silverdale regions, as part of an NZ$8.7 billion (US$5.2 billion) government project to upgrade the county's infrastructure.
The consortium was appointed to the project by New Zealand's transport agency Waka Kotahi, and will be responsible for design and build of the expressway, which will comprise two bi-directional traffic lanes and a shared mobility lane for pedestrians and cyclists.
Construction of the Penlink expressway, which is due to be completed in 2026, will see the erection of six new bridges - including an extradosed bridge that will span the Auckland's Wēiti River. 
With reducing carbon emissions and minimising the environmental impact of the project a key concern for the transport authority Waka Kotahi, its national manager for infrastructure delivery, Mark Kinvig, said, "Waka Kotahi identified that the Wēiti River Crossing would be the largest single contributor to Penlink's embodied emissions, so exploring innovative solutions and ways to reduce its carbon footprint was a strong focus for the alliance during the procurement process."
With a structure that combines the main elements of both a prestressed box girder bridge and a cable-stayed bridge, the design and build methods chosen by the consortium for the extradosed bridge aim to "reduce carbon emission by up to 20% compared to a conventional design". 
Vinci, parent company of HEB Construction, said, "The lowered entrance to the extradosed bridge by 550m will be integrated into the landscape while reducing the total length of the bridge by 235m and, in fact, the amount of steel and concrete used. The crossing was designed with two piers instead of three in the Wēiti River."
The company added, "Construction will be carried out protecting local flora and fauna through upstream studies and continuous monitoring throughout the duration of the work."