Contract of the Year $1m or over
Winner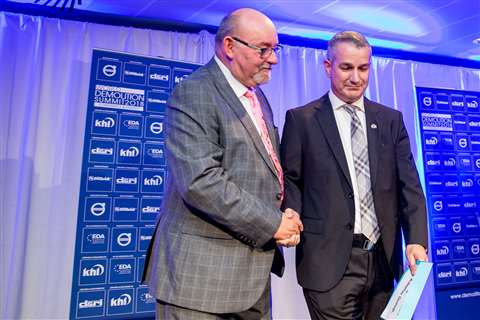 Adamo Group
Country
USA
Project
Georgia Dome, Atlanta
Also shortlisted
Edifice Engineering (India);
Erith Contractors (United Kingdom);
Ferma Corporation (USA)
Judges said
"The engineering dimensions of the project were enormous and to do this safely and with the world watching personifies the incredible strides the industry continues to make"
Excluding the World Demolition Award, this was the penultimate presentation of the night, and it was by far the most emotional and intense, with Richard Adamo of the winning company dedicating it to his father and brother, both called John.
John Adamo Sr had started the company; his son – who became CEO of the business – died tragically in an industrial accident in 2015, so it was a reflective Richard Adamo who accepted the award.
The winning project was one of the more high-profile demolitions of the 2018 entries – namely the Georgia Dome in Atlanta.
From a demolition point of view, it was hardly in an ideal location, as it was hemmed in by another stadium and convention centre and a subway transit system. The solution centred on demolishing the stadium's ring beam, which was 700 m (2,300 ft) long, 8 m (26 ft) wide, and 1.5 m (5 ft) thick.
Adamo was aware that demolishing the columns conventionally would risk bringing down the ring beam uncontrolled, while implosion was not universally favoured either.
In the event, Adamo chose the specialist company Pettigrew to develop the precise plans to bring down the ring beam in a single implosion. The plans were put through finite element analysis by design engineer and subsequently put into practice.
This was achieved in 15 seconds on a Monday in November 2017, using more than 2,000 kg (4,400 lb) of explosives, 9.7 km (six miles) of detonating cord and 1.6 km (one mile) of electric circuits.
But the story didn't end there – in the following three months, Adamo recycled more than 14,000 t of steel and crushed and placed over 220,000 t of concrete materials.
The project was completed at the end of February 2018, on time and on budget, and from safety point of view was a total success.
Adamo had said in its entry to the awards that: "The demolition of the Georgia Dome was a challenging endeavour in a congested downtown area that was completed safely and professionally by all who were integral to its success."