Contract of the Year under US$1 million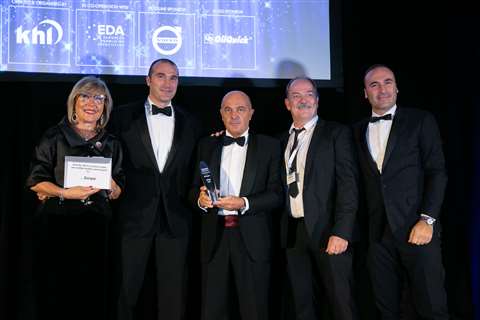 Winner
Despe
Country
Italy
Project
Eurpillo Gateway
Also shortlisted
Howard Stott Demolition (United Kingdom)
Liberty Industrial (Australia)
O'Keefe (United Kingdom)
Two Rivers Demolition (USA)
Summary
As the old saying has it, "time is money", so Despe's ability to complete its winning project in just 24 hours was a big factor in the company taking the award for the first of the Contract of the Year categories and its second of the night.
The cement works and factory in Como, Italy, had been shut down for a long time, so the service connection from the quarry to the factory plant was no longer needed, leading to the decision to demolish the cable way that provided the connection.
This iron structure was located above a main road and a municipal road, and literally passed over the roofs of two houses which were to be protected and not "demolished" during the works.
Despe lowered the bridge to about 8 m (28 ft) from the ground and then moved it to a field away from the roads and the two houses, which were not touched in any manner.
The speed at which the job was completed was not lost on the judges, who said: "This was a tough job to complete in 24 hours."