Contractor boss urges scaffolding rethink
The managing director of a United Kingdom-based demolition contractor has called on the industry to change its mindset following recent scaffolding collapses – with three reported injuries in one incident.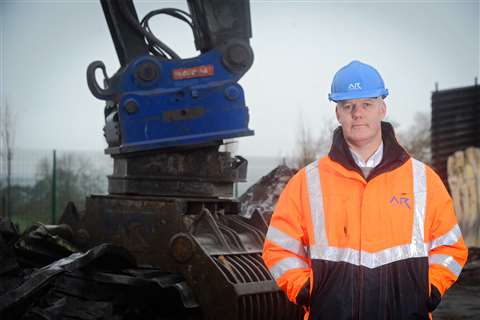 Richard Dolman, managing director of AR Demolition – based in the English midlands – and vice-president of the UK's Institute of Demolition Engineers, said it was time for the sector to consider new ways of dust suppression and protection from flying debris on demolition jobs. He has invented a modular debris protection frame and has pioneered the use of blast mats – methods which he said have been successfully used by AR Demolition in recent months.
Now he is calling on other contractors to embrace change and modernise to increase levels of safety, efficiency and cost-effectiveness.
"For many years, I've never understood why people think is a good idea to fasten scaffolding to a building, then demolish the structure behind the scaffold using a machine," Richard said.
"Scaffolding is useful if it's used to take a building apart in reverse of how it was constructed, but I've never thought that it goes well with big machinery.
"Our modular frame system took six months to design and can be transported in sections and bolted together in a day. The mats hang off a crane or a demolition rig – they're 6 m (19 ft) wide, 15 m (49 ft) high and act as shield to stop debris and dust. Only a few companies use it."
In the past three years AR Demolition has invested heavily in cutting-edge machinery, and Richard said he is keen to develop the company into one where quality, safety and innovation in sustainability and recruitment are at the forefront.
"Of course, embracing new technology requires investment, but the fact is that many contractors are set in their ways and afraid either of costs or of change. My fellow contractors should embrace change, not be afraid of it."